Heating and Cooling Adelaide
Home » Heating and Cooling Adelaide
| Mitsubishi Electric | Toshiba | Carrier | Actronair | Braemar |
Heating and Cooling Adelaide
Inverter Ducted Reverse Cycle Air Conditioning
If you are considering Heating and Cooling Adelaide look at Ducted Reverse Cycle Air Conditioning is the ultimate climate control heating and cooling solution for your whole home.
Advanced technology makes Mitsubishi Electric Power Inverter ducted air conditioning the premium choice for creating your living environment. For Heating and Cooling Adelaide it provides energy savings when compared to non inverter models. The reason our Power Inverters are more energy efficient is because the system output varies constantly to maintain your perfect living environment. This means that a Power Inverter will cool or heat your home more rapidly and maintain the desired temperature without fluctuations while using less energy.
Mitsubishi Electric's Ducted Inverter Technology gives you the edge. Mitsubishi Electric's Advanced Technology Inverter Systems are more economical and efficient than conventional systems.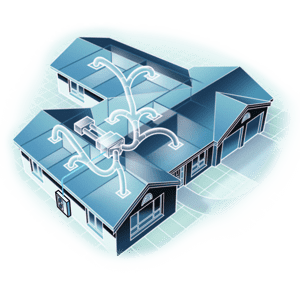 To overcome this problem Mitsubishi Electric's advanced inverter technology gently increases or decreases power to suit the prevailing conditions reaching the desired temperature quicker, more efficiently without severe temperature fluctuations. The resulting reduction in electricity consumption by our energy saving technology not only saves you money but also reduces your carbon footprint on the environment.
Mitsubishi Electric's Outdoor Inverter units have been aesthetically designed to minimise their visual impact on your environment. Each contains a number of innovative features that makes them quieter, more energy efficient and reliable, placing them at the cutting edge in the industry.
Whole of home solution: Every room is air conditioned summer and winter
Large Range: To suit every home, shop or office with different systems available including Inverters, Digital Scroll and Premium systems from 7kw to 40kw. Models are available in single and three phase. This huge range means there is a Ducted solution for you.
Aesthetics: With only grills mounted in the ceiling or floor visible, ducted systems do not intrude into the overall look of your rooms like a Wall Hung Unit.
Easy control: Central temperature and zone control with set and forget timers
Even air distribution: No hot or cold spots in your home
Noise: With all the noise producing equipment in the ceiling, under the floor or outside, ducted air conditioning is the quietest of all air conditioning options.
Value: In most houses it is cheaper to install ducted air conditioning than to install wall hung split systems in every room. Adding ducted air conditioning also adds to the overall sale value of your home.
What Our Customers Are Saying About Us !
Mel Palmer
The guys that came were friendly, quick, really neat & tidy, and finished up by midday as they indicated.
Plus the price was nearly $1000 less than a competitor quote!

Julie Freeman
Dealing with Rite Price has been a pleasant experience. Professional team from sales to trade. Efficient, on time, courteous.
Would highly recommend

Pat GRIFFITHS
Competitive prices, great people. Installers were professional, efficient and friendly.
I would definitely recommend Rite Price

Todd Smyth
From the first phone call. Everything was done in a timely manner and very professional.
Would recommend Rite Price to anyone