Braemar Ducted Reverse Cycle
Braemar Ducted reverse cycle air conditioning is an ideal solution for whole-of-home or office cooling or heating. Ducted reverse cycle air conditioning consists of an indoor unit and an outdoor unit called a compressor. The indoor unit is placed within the roof space and is connected to a series of outlets within the house via ductwork. Depending on the climate function selected, warm or cool air is circulated to all rooms via vents in the ceiling.
Braemar Ducted reverse cycle air conditioning can be designed to operate in different zones, which can be cooled or heated at different times, saving money on energy costs.
The inverter technology ensures an uninterrupted comfort and significant savings in running costs (see page 6 for more information). Braemar Ducted reverse cycle air conditioning is superior range of Minimum Energy Performance Standard (MEPS) compliant systems includes 7 inverter models. The inverter range has sizes from 7.0 kW to 16.0 kW single phase, with 23.5 kW and 26.5 kW three phase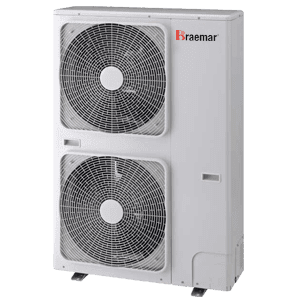 Inverter Ducted systems allows you to air condition your home without having to install the indoor units on your wall, making your home look neat and tidy.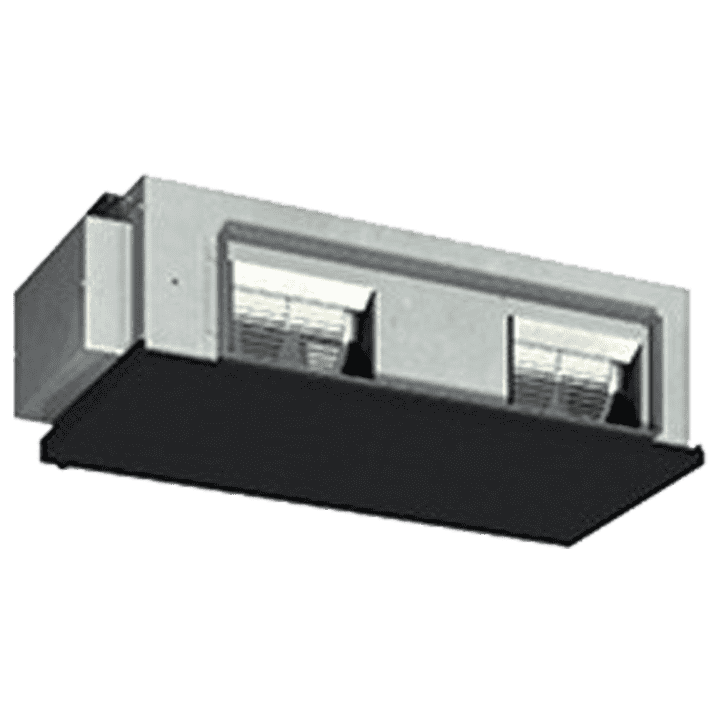 The indoor unit is installed in a confined space and ducts run through the ceiling leading to air outlets in your room. Air is allowed into the room through vents on the ceiling or on the wall.
Apart from its significantly reduced running costs, inverter technology has two distinct comfort advantages over conventional air conditioners:
Whether cooling or heating, it will reach the selected "Comfort Zone" more quickly as shown in the graph below.
It can then maintain operating temperatures within the "Comfort Zone" at all times, which conventional air conditioners are unable to do – also as seen in the graph below.
Inverter systems deliver substantial energy savings compared with conventional start/stop systems, under normal operating conditions. By optimizing energy consumption, not only will energy be saved, but CO2 emissions will also be reduced.
Barmier compressors feature powerful neodymium magnets which are 10 times more powerful than conventional magnets.
The result is:
Higher energy efficiencies than conventional compressors
Wider operating ranges
Less vibration, resulting in quieter operation.
When an inverter air conditioner is switched on, it supplies the exact power needed to heat or cool the room rapidly. This enables the air conditioner to reach the set temperature in around half the time required by conventional models.
Air conditioning noise levels inside and outside the home are dramatically reduced by Braemar ducted reverse cycle air conditioning because they always seek the lowest operating level, while providing the maximum heating or cooling effect.
What Our Customers Are Saying About Us !
Mel Palmer
The guys that came were friendly, quick, really neat & tidy, and finished up by midday as they indicated.
Plus the price was nearly $1000 less than a competitor quote!

Julie Freeman
Dealing with Rite Price has been a pleasant experience. Professional team from sales to trade. Efficient, on time, courteous.
Would highly recommend

Pat GRIFFITHS
Competitive prices, great people. Installers were professional, efficient and friendly.
I would definitely recommend Rite Price

Todd Smyth
From the first phone call. Everything was done in a timely manner and very professional.
Would recommend Rite Price to anyone

Why choose Braemar
Made by a large global manufacturer – you can feel confident that your air conditioner will perform and is reliable
DC Inverter technology – it provides more precise temperature control, but uses less energy
R410A refrigerant – better for the environment
Compact design
Filter – Impurities are removed from the air before it is conditioned and redistributed, for cleaner and healthier air.