Ducted Air Conditioning and Reverse Cycle
whether it is consistent heating and cooling for the home or office, reverse cycle air conditioning prices are great and worth the product, because it offers you state-of-the-art technology that is quiet, simple to use, reliable and above all, energy efficient.
The Benefits
Mitsubishi Electric reverse cycle ducted air conditioner offers you a fantastic selection of DRC systems that are all based on being reliable, quiet and energy efficient. Mitsubishi Electric ducted reverse cycle air conditioning systems also give you a "whole of house" solution to your air conditioning requirements. Gone are the days of air conditioning that has hot and cold spots around the home. With Mitsubishi Electric, you are choosing a system that gives you even air distribution every time you turn it on. It is also a system that is easy to use with central temperature and zone control and "set and forget" timers.
With a large range to suit every home, shop or office, and models available in single and triple phase, there is a Mitsubishi Electric air conditioning system to suit your needs. Different systems available include Inverters, Digital Scroll and Premium systems from 7kw to 40kw. They are also attractive and subtle in design with grills mounted in the ceiling or floor. It will not intrude on the overall look of your rooms like a wall hung unit can and with all the noise producing equipment in the ceiling, under the floor or outside, ducted air
Inverter Ducted systems allows you to air condition your home without having to install the indoor units on your wall, making your home look neat and tidy.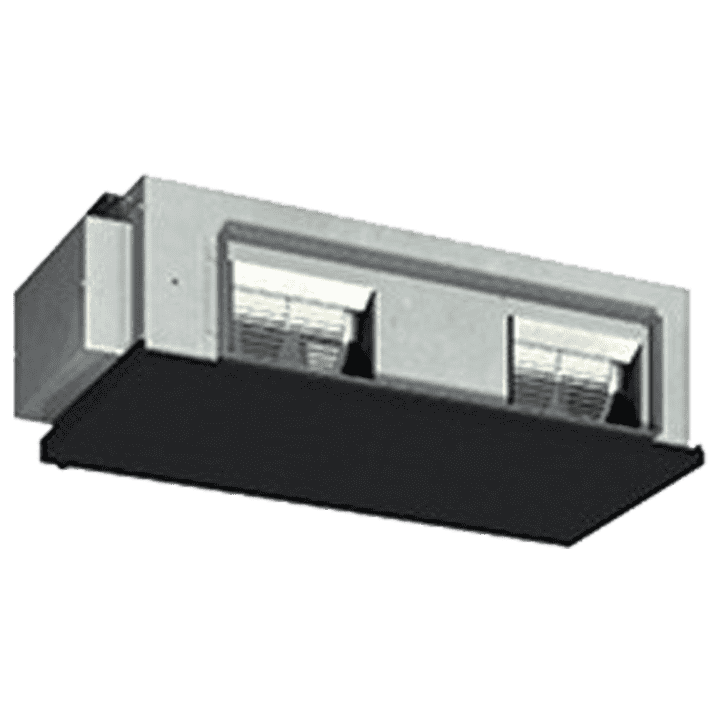 The indoor unit is installed in a confined space and ducts run through the ceiling leading to air outlets in your room. Air is allowed into the room through vents on the ceiling or on the wall.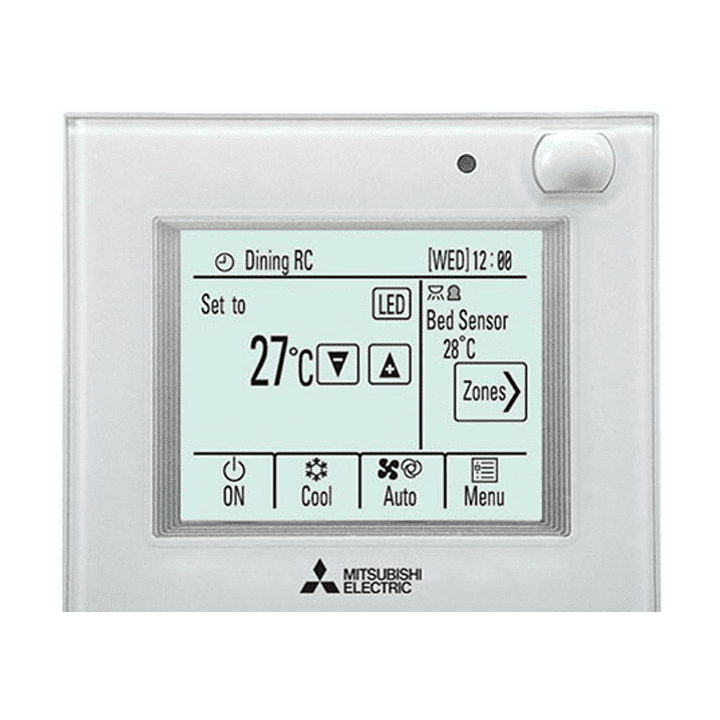 With the controller sleep mode, you can enable the air conditioner to automatically increase(cooling) or decrease (heating) 1ºC per hour for the first two hours, then hold steady for the next 5 hours, after that it will switch off. This maintains both energy saving and comfort in night operation.
Energy Saving
The more energy efficient a ducted reverse cycle air conditioning system is, the cheaper it is to run. Our commitment to quality, service research and development has helped us gain a leading position in todays marketplace in heating cooling and air-conditioning for the home or office.
Powerful capacity, quick cooling & heating
Making the most of your ducted reverse cycle air conditioning all starts with the controls, these allow you to create the comfort levels that match your demands. As air conditioners are becoming more advanced, so are the controls to allow accuracy and ease of use to maximize the functionality of your air conditioner Peace of Mind
Precise control, constant temperature
We recognize that noise affects comfort, so we constantly work to make our air conditioners as quiet as possible. With improvements to our fan blades combined with a new frills shape to our outdoor unit it's even quieter when in low noise mode. we want you to feel it, not hear it.
Wide startup voltage & operation temperature
Mitsubishi Electric ducted reverse cycle air conditioning systems allow for a range of diffuser designs to best suit your home decor, talk to your installer about what is right for you.Mitsubishi Electric ducted reverse cycle air conditioning used in residential applications are covered by a full 5 year parts and labor warranty. Delivering optimum performance year in year out. See website for terms & conditions.
What Our Customers Are Saying About Us !
Mel Palmer
The guys that came were friendly, quick, really neat & tidy, and finished up by midday as they indicated.
Plus the price was nearly $1000 less than a competitor quote!

Julie Freeman
Dealing with Rite Price has been a pleasant experience. Professional team from sales to trade. Efficient, on time, courteous.
Would highly recommend

Pat GRIFFITHS
Competitive prices, great people. Installers were professional, efficient and friendly.
I would definitely recommend Rite Price

Todd Smyth
From the first phone call. Everything was done in a timely manner and very professional.
Would recommend Rite Price to anyone

Live in Ultimate comfort with ducted reverse cycle air conditioning
With Mitsubishi Electric ducted reverse cycle air conditioning Systems, Climate control is at the touch of a button. Our ducted units are ideal for multiple room applic
SEZ Series: Reverse cycle ducted air conditioner is designed for homes, offices, restaurants or shops, the SEZ series operates at low noise levels and is virtually invisible when installed within a suspended ceiling. Its 200mm height design guarantees ease of installation, providing optimum air conditioning efficiency and comfort.
PEAD Series: Our low profile ducted reverse cycle air conditioning PEAD has a wide range of static pressures, that allows airflow to be directed to different areas of your home or office with ease, making it ideal for heating or cooling a number of rooms. It is a perfect answer for the air conditioning requirements of buildings with a ceiling height of 250mm making installation possible in low ceiling spaces.
PEA Series: For elegance and style, the PEA series complements the room environment with aesthetically pleasing ceiling installation and vast line-up of performance functions. Ability to set higher static pressure allows for high air volume which satisfies air conditioning needs perfectly in large Australian homes.
Outdoor Units: Mitsubishi Electric's reverse cycle units prices meet the needs of homes, shops and offices with the ability to select the model that best match your requirements. The maximum operating heating/cooling capacity of the Mr. Slim Power Inverter units have improved(compared to conventional non-inverter models) when operating in either low or high outdoor temperatures. With a wider performance range operation is now possible at lower speeds, comfort is improved while power consumption is reduced.
Air Diffuser - Diffusers are available in many designs to suit the decor of your home. Diffusers include the 4 Way Diffuser and Round Diffuser.
Ductwork - Delivers the conditioned air throughout the rooms of your home.
Indoor Fan Coil Unit - Indoor unit concealed in the ceiling space.
Return Air Grille and Filter - Filters the air as it returns it back to the indoor unit.
Zone Controller - Located conveniently within the home generally near the return air grille.
Outdoor unit - Located outdoors in an unobtrusive location, quietly delivering to the indoor unit.
Freedom in Installation: Versatile and easy installation is possible, for example, it is possible to adjust the distance between the air-intake and the air-outlet vents to create the optimal airflow configuration.
Easier handling: The ducted fan coil unit (PEA-RP170/200/250) has a two-piece construction. This allows separation of the indoor unit heat exchanger and the fan deck assembly for easier handling into the roof space.
Flexible duct design: A flexible ducts design and 150Pa external static high-pressure are incorporated. The increased variation in airflow options ensures operation that best matches virtually all room layouts.
Longer Maximum Piping Length: It is now possible to pipe refrigerant up to 75 meters to the concealed ceiling unit, therefore creating a wide range of layout possibilities for unit installation.