Braemar Evaporative Cooling Evolution Series
Braemar evaporative cooling comes with tremendous advantages. Not only that evaporative cooling systems are nature's way of cooling your home, but also, braemar evaporative cooling has been providing Australian families with the world's best, natural cooling, energy efficient, effective, reputable, highly trusted and most innovative Australian brand. Braemar evaporative cooling is a proven high performer and a household name for evaporative cooling in Australia. The coldest ultra-low profile evaporative cooling air conditioning
With energy prices escalating and our summers getting hotter, evaporative cooling has a significant and increasing edge on reverse cycle, when it comes to energy efficiency, performance and lifestyle. Running an evaporative cooling system give you the following advantages:
You get to leave your windows and doors open so the air you breathe into your lungs are fresh and healthy
evaporative cooling will not dry your skin, nose and eyes.
evaporative cooling systems is energy efficient which means you get to do your part to protect the environment.
evaporative cooling gives you the best sleeping experience as its whisper-quiet.
Braemar Evolution Series
The coldest ultra-low profile evaporative air conditioner.
Highest capacity ultra-low profile evaporative air conditioner
Low profile, streamline, below the roof ridgeline look
Save up to $346 per year in running costs.
World's first high performance Inverter Axial braemar evaporative cooling is here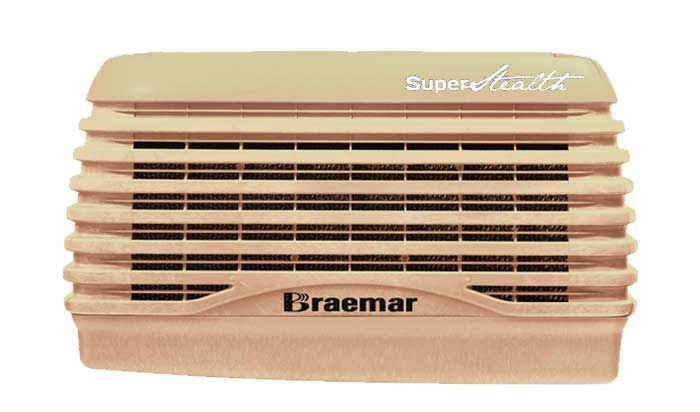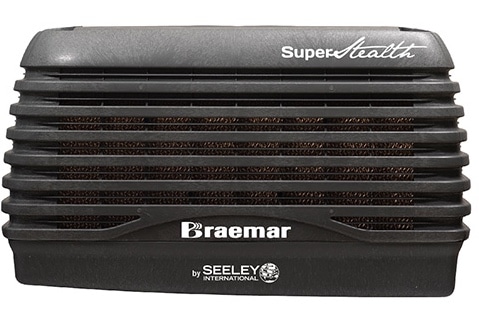 Braemar evaporative cooling features and benefits
Tornado® Pump
Australian designed and manufactured water pump
Provides exceptional reliability in the most extreme conditions

Empties the reservoir automatically when system is not in use, leaving it clean and dry
Ensures the system is operating at maximum efficiency, while using the minimum amount of water
Helps to avoid seasonal maintenance* as required by some other similar products

Braemar evaporative cooling features and benefits
Automatic sealing system
Reduces draughts and heat loss in winter


Uses the minimum amount of water to achieve high efficiency cooling
Ensures water savings
Monitors water quality
Keeps the system clean

Advanced aerodynamic design
Super quiet in operation
Produces a constant, cool, quiet, welcoming breeze

Totally enclosed tropic proof motor
Ensures long term performance and incredible reliability of your system
variable speed motor offers maximum control over your family's comfort level at all times

Free flow water distributor
A world patented water distribution system
Delivers continuous, even water coverage to the Chillcel pads for maximum cooling
WHY CHOOSE BRAEMAR EVAPORATIVE COOLING?

Fresh, healthy air
High energy efficiency
Low running costs
Whisper quiet cooling
Environmental benefits
Whole of home cooling
So easy to use
Trusted Australian company
Built to out-last
Superb engineering
Mel Palmer
The guys that came were friendly, quick, really neat & tidy, and finished up by midday as they indicated.
Plus the price was nearly $1000 less than a competitor quote!

Julie Freeman
Dealing with Rite Price has been a pleasant experience. Professional team from sales to trade. Efficient, on time, courteous.
Would highly recommend

Pat GRIFFITHS
Competitive prices, great people. Installers were professional, efficient and friendly.
I would definitely recommend Rite Price

Todd Smyth
From the first phone call. Everything was done in a timely manner and very professional.
Would recommend Rite Price to anyone

Braemar evaporative cooling – an overview
Ducted evaporative cooling is a fantastic way to cool your home as it is efficient, cost-effective and easy to operate.
At Rite Price, we are proud to offer you access to the best brands in the business, brands like Breezair, Braemar and Coolair all locally made by the multi-award winning Seeley International at Lonsdale.
We are also pleased to provide you with a FREE quote and inspection as well as giving you prompt and reliable installation and follow up support.
It's customer service at its best and it is why Rite Price, a proud South Australian company has an outstanding reputation in the air conditioning industry.
Braemar evaporative cooling
When it comes to delivering powerful cooling performance during the harshest Australian summer, Braemar has no peer. Every part of the Braemar cooler is designed to deliver maximum cooling performance with minimum energy and water consumption. With decades of air conditioning experience, superior design and advanced technology, braemar evaporative cooling will deliver wonderfully cool comfort even during the hottest heatwaves
Braemar evaporative cooling is renowned for its whisper quiet operation. The secret is its state of the art, Stealth® fan that ensures a constant, even flow of air through the Chillcel pads, giving you a cool, quiet and welcoming breeze.
Braemar's incredibly smart automatic drain valve and its AUTOWinterseal features, reduce the need for seasonal maintenance as your system will automatically empty its reservoir, leaving it clean and dry while closing off the air conditioning ducts to prevent cold draughts and heat loss in winter.
Braemar an industry leader
Braemar evaporative cooling was the first evaporative cooler to integrate the water distribution system into the design of the cabinet. The result is a robust free flow distributor that not only reduces the number of moving parts in the cooler, but also ensures an even and reliable water coverage of the Chillcel pads. The Braemar water distribution system won't block the flow of water to the pads and can't move out of place over time. That's clever!
More great reasons to choose Braemar evaporative cooling
A Braemar ducted evaporative cooling system delivers you 100 percent fresh air whenever you turn it on and that's good to know when you have your family and friends around. There is nothing stale, odorous or unhygienic.
It also uses up to 80% less electricity than comparable refrigerated systems and that translates to big savings on your quarterly power bills.
Another great benefit of choosing a Braemar evaporative cooling is that you can keep the air fresh and circulating by leaving the doors and windows open which in turn, guarantees a natural, fresh and healthy form of "lifestyle" cooling.
It's an allergy free asthma-safe environment and for many families today, that is a key criteria, plus it never dries out your eyes, your skin or your indoor plants .. and that makes it pet-friendly too!
Evaporative Cooling Adelaide
Evaporative cooling is a unique and highly efficient means of cooling your home or workspace using natural processes. It's becoming a popular home cooling solution for homeowners in arid regions, where the hot, dry air is a major nuisance. If you're considering an air conditioner purchase in the near future, an evaporative cooler might be the ideal solution for you. Here are just a few things to consider when searching for your next air conditioning solution.
Evaporative Cooling: Atmospheric Science At Its Finest
Evaporative coolers are different from traditional air conditioners in that they do not use refrigerants or heat pumps. Instead, an evaporative cooler relies on the water cycle, using the science of evaporation to cool your home. An evaporative cooler works by passing hot air over wet pads. The air absorbs the water from the pads and turns it into water vapour through the process of evaporation. Evaporating the water is a process that requires molecular energy (heat), which means the air gets cooler after evaporating the water.
A Cost-Effective (and 100% Natural) Home Cooling Solution
Evaporative cooling is one of the most cost-effective home cooling solutions available. In extremely dry areas, like South Australia, evaporative cooling is often up to 80% less expensive than traditional forms of air conditioning. That means by installing an evaporative cooler, you'll save a bundle on your home cooling costs. The evaporative cooling process is also entirely natural – your evaporative cooler will keep your entire home comfortable using the natural evaporation process. Instead of using potentially harmful chemical refrigerants that create greenhouse gases, you'll have peace of mind knowing that your air conditioner runs on safe, natural water.
Discover The Best in Home Cooling – Discover Rite Price
Rite Price Heating and Cooling is your go-to source for all the latest and greatest in home heating and air conditioning solutions. We're proud to be South Australia's top evaporative cooling dealer, and we offer a host of evaporative coolers from well-known companies like Breezair, Coolair, and Braemar – all manufactured by the award-winning Seeley International in Lonsdale. We'll give you a quote and inspection for free, and we back our evaporative coolers with a 10-year structural warranty and a 25-year warranty on the injection moulded cabinet. Our convenient Adelaide location means you have easy access to our knowledgeable experts, who can help you find the evaporative cooling solution that is right for you.
Living comfortably in your own home is easy with an evaporative cooler. When it comes to evaporative cooling Adelaide families come to Rite Price for our great service and our value guarantee. Rite Price is a local, family-owned business and we're proud to be part of the Adelaide community. For more information or to join the evaporative cooling revolution today.
Ask about our fantastic offers on Braemar Evaporative systems. Call now or visit one of our stores.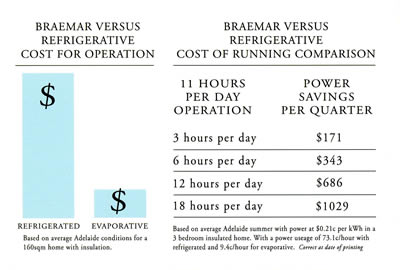 Contact us now for your free in-home quote on Braemar Evaporative Air Conditioners