When is a ducted evaporative cooling system the right choice?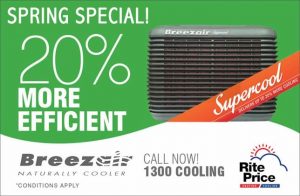 Ducted evaporative cooling systems based on evaporative cooling can be ideal options for homes looking to reduce their energy bills with more energy efficient air conditioning systems, while also benefiting from clean and fresh air rather than air that has been recycled. Please visit our evaporative cooling page for more information.
How an evaporative cooling system works
Unlike refrigerated air conditioning, evaporative cooling utilises the natural process of water evaporation with a practical air moving system, which uses less electricity by drawing air from outside and circulating it through homes using a blower. The water-moistened pads on the front of evaporative air conditioners are usually made of wood shavings or other absorptive materials that hold on to moisture without being at risk of mildew developing, and water is replenished as required through a float valve.
How to choose an air conditioner
Evaporative air conditioners are among the most cost-effective air conditioning options available, but depending on the size and type of property you own, you could achieve greater success with other types of air con systems. Refrigerated cooling can deliver faster results and may be better suited to larger rooms, such as offices, while small rooms may be cooled by portable air conditioners installed in windows or ceiling fans.
Split system and ducted air conditioners in Adelaide
Rite Price Heating & Cooling sells a range of heating and cooling systems in Adelaide for different types of properties, including evaporative air conditioners. Phone 08 7007 0168 for more details of air conditioner installation and repairs. Or walk into one of our stores in Adelaide that's nearer to you and one of our friendly experts will be happy to welcome and assist you with all your needs.
If you are searching for a cost-effective way to cool your home, the innovative evaporative cooling models may have caught your eye. Generally, these are durable, high-quality products that are designed to cool your home in an energy-efficient way. In fact, their design makes them among the most energy efficient cooling options available on the market today. However, there are several models available for you to choose from, and you may be wondering which models are worth taking a closer look at. While there are several great options, two of the top options are the Breezair model and the Braemar system. If you're comparing evaporative cooling models, seek out the expert advice from Rite Price Heating and Cooling
Breezair Evaporative Cooling System
Through Rite Price, you can request the installation of the Breezair evaporative cooling system. This is a highly popular model because of its revolutionary technology and relative affordability. Its technology makes it one of the more energy efficient models available for you to consider. For example, its Icon evaporative feature is designed to use as much as 90 percent less electricity than most refrigerated AC units on the market today, and this can save you a considerable amount of money when you run the system for years to come. In fact, with its ultra-enhanced design, the cost to run this unit is about the same as it would cost you to run a light bulb. It is also highly durable, and it features a non-clogging system and features that are resistant to corrosion.
Braemar Evaporative Cooling System
You can also request assistance with the installation of a Braemar evaporative cooling system through Rite Price. This is a system that is ideal for cooling the whole home, and it also is known for its advanced energy saving features and its quiet operation. This model is designed with a Stealth fan, Chillcel pads and AutoWinterseal features. These features together make it energy-efficient and highly durable. They also make the system intelligent and with minimal maintenance and repair requirements. Furthermore, the system has superior features that essentially improve indoor air quality. This can promote health and well-being for those inside the home, and it can make your home smell fresher.
If you are thinking about replacing your home's air conditioning system and you are looking for a superior model that is known for energy efficiency, investing in an evaporative cooling system through Rite Price is a great idea. You can begin learning more about the different models of evaporative cooling systems available today, and you can compare the options to find the right model for your needs and your budget. Through this effort, you can keep your home's interior cool and comfortable throughout the warm weather season for many years to come.