Ducted air conditioning Adelaide prices
When the heat hits, there is nothing better than being in the comfort of your own home in a climate controlled house, free from the sticky heat of summer. With the summer heat getting hotter and hotter it seems that ducted air conditioner is the only way to fight the heat and keep cool. If you have started to build a house or you're looking to install ducted air con, you're probably in the process of accessing the pro's and con's of which system to choose, what budget you're going to set, the features you need and the process of installing the system. There is plenty to consider when you install ducted air system in your home in Adelaide, and surprisingly price is only a small factor in the process.
In this article, we explore the myriad of information surrounding ducted air conditioning prices in Adelaide, the best options for ducted air conditioning system, features and all the information you know ahead with your new air con.
Why install a ducted system into your home or office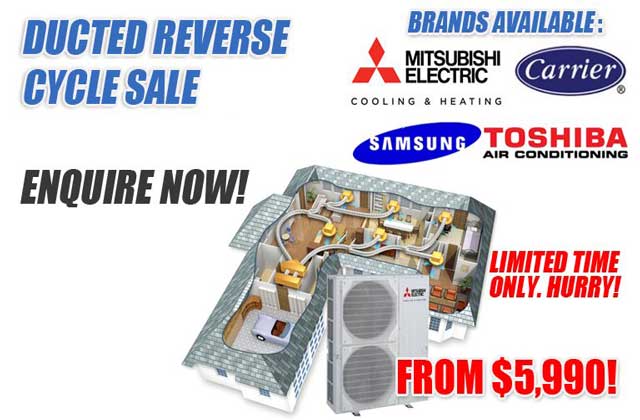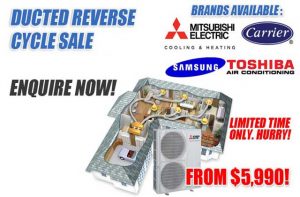 If you've ever experienced an Adelaide summer without air conditioning you probably don't need to be convinced of the benefits of installing an AC. While ducted system might be the more expensive type of AC available on the market, it is by far the most efficient and offers a broad range of benefits for property owners.
Ducted air conditioners are priced on the higher end of the AC systems scale due to their efficiency, seamless look and quiet operation for heating and cooling. If you have the option of installing a reverse cycle ducted air conditioning system, you'll be able to perfectly climate control your home during summer and winter using a heat pump that works to cycle heated air into the home.
Heating and cooling aside, ducted systems properly cools your home via one central electrical unit and allows for filtered, quality air to be pushed through your property so you can be free from the heat or cool and enjoy perfectly climate controlled comfort.
The inclusion you need to know
Ducted systems include a range of essential elements that work to create the perfect temperature within your home or office.
The system will include the following features:
– Outdoor unit (condenser) – this contains all the parts of your AC unit and is positioned in a central area away from bedrooms next to your home or office. The condenser works to treat the air and push out any unwanted air once it is circulated.
– The indoor unit – hidden within the roof cavity and free from view, the indoor unit or fan coil works to distribute the air throughout the home via the ducts and controls the air flow to ensure a perfectly cooled or heated environment.
– Ducts or ceiling registers – this is usually the only part of the AC system you will see within the property, apart from the control panel, and the ducts come in a range of shapes and sizes all based on the room and the style of the property.
– Control panel – this is the central way to control the temperature, features and zoning for your ducted AC system. The control station is a touch pad that works in with the home or office décor and is located in a central position for ease of use. All the zoning and functions for the air conditioner will be controlled through this device.
It's important to be aware of the need for regular servicing for a ducted air conditioner system. Servicing by a professional AC technician is required every 12 months or as per manufacturers warranty.
While a basic clean and maintenance such as a filter check and change can be carried out by the owner, it is essential that a professional service is engaged to ensure the system is working efficiently. Professional AC services include refrigerant checks and a full check of the internal and external components of the system as well as a check of the outdoor unit, all essential steps to ensure the unit is working at optimum levels.
Get your duct prices rite
If you want to install a cooling system that you can easily adjust the temperature to fit your needs inside the home, then you should consider getting a ducted air con.
For a basic ducted air conditioning system, you can expect around $5,000 for a single apartment including the installation fees. Of course, the bigger your home, the higher will be the expenses for system with a larger 4 to 5 bedroom two story home costing anywhere between $8,000 to $12,000+ for ducted AC. While it might seem steep – there is a range of reasons for the variance in price for ducted air con.
The cost of running an air conditioner system comes down to a range of factors including insulation, total area, the weather, time of day being used and the temperature. The average cost based on HP of the unit is outlined below:
– 2HP – 12c per hour
– 3HP – 18c per hour
– 4HP – 25c per hour
– 5HP – 28c per hour
– 6HP – 30c per hour
*All of the figures above are average approximates
Rite Price has a team of experienced and dedicated staff who can work to your budget and needs to find the perfect ducted system to meet your price specifications.
Why you need ducted air conditioner
Ducted air conditioner isn't just for home use. It can also be utilised for commercial spaces, no matter how big or small the area is. Ideal for offices, shops and any area that experiences the extreme heat and cool, ducted cooling and heating works to perfectly climate control any space to any condition you want.
Reasons why you might consider ducted air con for your property include:
Fresh air – ducted systems offer clean, fresh and filters air into your environment that keeps your family healthy and comfortable. Dehumidify areas of a property – often the humidity in the air is hard to bear, and ducted air systems work to heat and cool the air and remove the humidity from areas, which causes condensation. The unit's safety tray collects the water and catches any overflow and sends it out through a drain.
Low noise – compared with a wall mounted system which will have outdoor condenser units directly outside the window to bedrooms, a ducted system has an outdoor unit that can be placed away from bedrooms and located in an area that is far away from living spaces and areas when you live day to day. This lowers any noise from the system when it is in operation and ensures a good night's sleep.
Inverter control – many ducted systems have inverter control technology that works to provide a more economical way to operate the AC systems. The inverter allows the unit to vary its speeds and can work to provide a 30% increase in efficiency – which provides lower running costs meaning the system is cheaper to run.
Sleek and seamless design – a ducted system doesn't have bulky wall units, so the seamless design works into the décor and styling of a property and provides a clean look. Ducts work to push the filtered air throughout the property and provide the heating and cooling required for the perfect climate controlled environment. More information on ducted air conditioning.
Why choose Rite Price for your ducted system
Thanks to their expertise and decades of experience, Rite Price can help in the narrowing down your options when choosing a ducted air system. They can show you the features and advantages of a wide range of brands from Toshiba, Actron Air right through to Mitsubishi Electric. Rite Price stock a wide range of makes and models of ducted systems are suitable for the Adelaide weather and climate.
Thousands of homeowners from South Australia trust Rite Price for their AC needs. With a team of AC specialists available to assist, you can't go wrong purchasing a ducted system from Rite Price. The team also offer after sale support and maintenance, to ensure your ducted system is kept in good conditions for many years to come.
Rite Price offers the perfect solution for your home cooling and heating dilemma and offers a full 10-year warranty with your ducted air conditioning system. To find out more about suitable units for your needs, speak with the team from Rite Price Heating and Cooling today to find out more about how to find the perfect system to meet your needs.