Ducted Air Conditioner and its benefits
If you're looking at which air conditioning system is the best for your needs you're probably looking at whether a split system, ducted air conditioning system or even an evaporative cooler is the bets option. Ducted air conditioners are one of the most popular options for homes and offices, due to the complete air conditioning solution they offer throughout the entire space, not just cooling and heating in one room, which split systems offer. Read more about this air conditioning system here.
There are mountains of reasons why you should invest in a ducted air conditioner, however, as a starting point, it could be a great idea to determine if you need a ducted air conditioning system and secondly if you home or office is able to have a new ducted system installed.
What is a ducted system and how is it different to other air conditioners?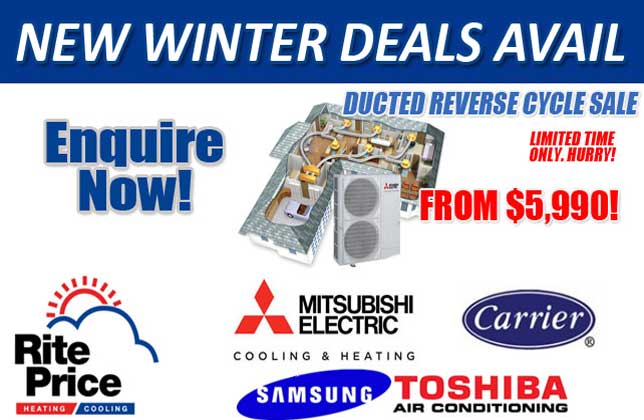 A ducted system is unique for a number of reasons, the biggest reason of all is the fact that ducted systems are installed on the roof or wall cavity of your home, so they are, in effect, a seamless system that operates without ugly overhead units in each room.
Ducted air conditioning offers tremendous aesthetic benefits especially for individuals who are looking for a clean and sleek interior décor without bulky overhead units and remotes for each room.
The system is installed within internal cavities of the home or office space with air conditioning ducts installed in the roof or walls of the property. All rooms are controlled via a central controller which is often installed in a location such as a kitchen in residential homes and the entrance to an office in the case where the installation is in an office building.
Ducted systems are different to other air conditioning systems due to the fact that the central air conditioning system can control each room all via the one main controller. Each room can be individually temperature controlled, and the air conditioning can be broken down into 'zones'.
Zoning is a massive feature of ducted air conditioning systems due to the fact that if individuals residing in the home or office aren't using a particular space, for example, the bedrooms or downstairs living area, specific areas or zones can be turned off so that heating or cooling is not wasted in specific areas and the temperature isolated to certain areas.
Can ducted air conditioners be installed in every property?
Ducted air conditioning systems can be installed in most properties, however it is ideal to install this type of air conditioning in new builds or renovations, due to the fact that the vents and air conditioning system need to be installed in the wall cavities and run throughout the internal workings of the home, so installed as a retrofit can be more expensive than for a new build, as walls will need to be partly removed, and access is restricted.
As well as this, installing ducted air conditioning for existing two storey homes can also be a challenge due to the need for existing cavity space. If you are looking to install air conditioning in an existing two-level or more home, it's best to speak with your air conditioning specialist to find out more information on installation options.
How do I know what size system I need?
If you're looking to install ducted air conditioning into your home or office it's really important that you get clear and expert advice on the size of the system you need, if you get a system that is too small you won't get the heating and cooling you require.
As an example, if you decide to get a kW system that is too small for your 4 or 5 bedroom house your energy costs will surge and reaching the optimum heating or cooling levels you require will take longer, which isn't ideal on a super hot or a chilly day.
The technical set up of a ducted system is quite detailed, and an expert air conditioning company should visit your home or office to measure the size of each room and focus on the layout of each room to ensure whatever system you end up deciding upon will offer the best air conditioning for your needs.
What aspects will my air conditioning expert need to consider for ducted air conditioning?
An air conditioning expert will review the following elements when providing a quote for air conditioning for your home:
– The size of the system required – this is the kW size of the system, and the size of the system will dictate the cost. It's important you are aware that by choosing a cheaper system due to the size won't necessarily mean that over the life of your system you will save money. Often choosing a system that is lower kW will mean your operating costs will be higher.
– Number of outlets and size of outlets – these are the number of vents that are distributed in specific rooms. You can choose extra or less based on your needs and the layout of your house or property.
– Number of zones for your property – most homes or properties will have specific 'zones' including kitchen/dining, living room, TV room and bedrooms. By zoning each of these areas you can save on running costs and ensure only the rooms you are using are receiving the benefits of air conditioning.
– Location for external unit – your ducted air conditioning system has an external unit, which can be placed outside the home (away from bedrooms). You air conditioning expert will be able to suggest a number of locations for your external unit and can provide advice on how to maintain the external unit once it is installed.
Other aspects to consider for your ducted air conditioning system include warranty and servicing inclusions as this might affect the overall cost of your system. Having an extensive warranty is essential and will help if there are any issues with your system. Purchasing a reputable brand will ensure that you are covered by a warranty; many good brands offer a ten-year warranty on installation and workmanship.
Benefits of ducted air conditioning
If you've ever had ducted air conditioning, you'd be well aware that it's difficult to go back to other types of air conditioning once you've experienced the climate control of ducted systems.
The main benefits of ducted air conditioning include:
– Whole house air conditioning – this means that every single room in your property is air conditioned throughout the year. During winter and summer your home will be the perfect temperature.
– Centralised controller – the air conditioning system in a ducted property is easily controlled via a central controller which means that timers can be set and zoned can be turned on or off based on the needs of the people within the property, no more wasted heating or cooling.
– Even air distribution – some of the negative aspects of split systems and other types of systems is the uneven air distribution, and ducted air conditioning solves this issue by providing no cold or hot spots in your home or office.
– Wide range of sized systems – no matter how big or small your property there is a ducted air conditioning system to suit. Ranging from as small as 7kW, ducted air conditioning can be tailored to suit your home or office, no matter the size or style.
– Low noise – ducted air conditioning systems are whisper quiet, so you can barely hear the system when it is operating. The external compressor is based outside your home, which means any noise is pointed away from the home and inside the property the air conditioning can barely be heard.
Ducted systems offer a wide range of benefits to property owners including aesthetics as well as value. It is cheaper to install a ducted system as opposed to individual split systems in each room of a property, and ducted systems also add significant value to properties for resale.
Need a ducted air conditioning system? Speak with the experts from Rite Price Heating and Cooling.
Rite Price Heating and Cooling offer a complete air conditioning solution for home and commercial property owners across Adelaide.
The team at Rite Price are proud to offer affordable and tailored air conditioning options for every customer.
We're proud to be a family-owned and run business and operate all across Adelaide and surrounds.
If you're looking for a quote, we offer free quotations for all home and can speak with you over the phone or visit your home to provide a comprehensive quote onsite.
We also offer interest-free finance options for air conditioning systems, offering you the opportunity to install a ducted air conditioning system and pay via regular monthly instalments for your convenience.
Rite Price stock a wide range of air conditioning brands including Breezair, Braemar, Coolair, Mitsubishi Electric, Carrier and Toshiba. We also cater for split system air conditioning customers and evaporative cooler customers.
Speak with the team today and arrange your free air conditioning quote!