What is the cost of installing split system air conditioners?
Split system air conditioners are an excellent way to keep your home or office cool in summer and warm in winter.
We often see great specials online or in a catalogue for the split system air conditioners themselves, but there is a lot more to consider when budgeting for your split system. Installation is a key component in getting your system up and running, and often there are queries on who can install them and how much it costs – for this reason, we will go through all the points you need to consider when installing your split system and what are the costs.
In this article, we explore what is the cost of installing a split system air conditioners system and why these units are a great option for your home or office.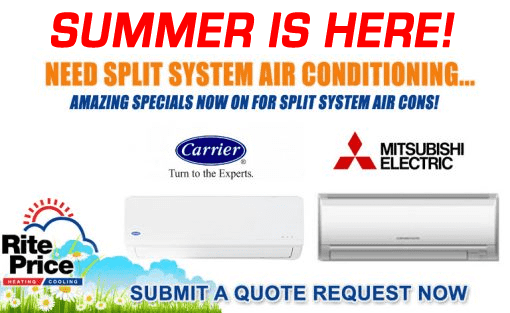 Purchasing your split system air conditioners
As can be expected, one of the key cost components to installing your split system air conditioners is that cost of the unit itself. Starting from around $650 all the way to $3500+ there is a wide range of systems, solutions, features, advantages and benefits that need to be considered.
When purchasing your unit, you need to ensure that you are purchasing a unit that is powerful enough for your space, that you have the features you want and the systems fits within your budget.
When setting out your budget, remember that the unit alone will not cool your home or office, it needs to be delivered, installed and maintained, so these costs need to be factored into the decision process, otherwise you may be left with a great air conditioners, sitting on your floor with all the features in the world, but no money to install it into your home!
Is delivery standard?
When purchasing split system air conditioners from a retailer that does not offer installation services or a complete package for your needs, delivery may become another factor in the cost of your air conditioners unit.
These large retailers don't do anything for nothing and if you through because you spent $3000 on an air conditioning unit so you should be able to get it delivered to your home around the corner free of charge – you have another thing coming.
This cartage or delivery fee can be anything from $30 through to several hundred depending on the retailer and the distance from your home and the store. Our tip is to speak to a specialist air conditioning specialists such as Rite Price Heating & Cooling, who can offer a complete solution where the unit, the installation and delivery are all included.
Who should install my split system air conditioners?
There may be people who 'say' they can install your split system air conditioners into your home, but they are not qualified to do so.
The best thing to always ask is are they qualified, licenced, ticket holding air conditioning specialists – if they answer no to any of these questions, then speak to someone else.
Always ask an air conditioning specialist to install your system, as you are dealing with electrical, water and refrigerating agents that all need to be managed and handled in certain ways to ensure the safety of you and your family. If you do install with someone who is not qualified your warranty may be voided and you may not be able to claim on any issues down the track should you need repairs or parts during the warranty period.
What are the things that may impact the price of the installation?
When you have selected your licenced installer, there are also other factors that need to be taken into consideration that impact the price of your installer. Although installers usually provide their services based on 'time' they take at your home installing the unit, the below may have a bearing on the amount of time they require to get the job done.
Access to the internal and external walls
Having access to both the internal wall where the head unit will be situated as well as the external walls where the condenser will be placed is paramount. If the installer has to spend time moving furniture, debris, or trees to get access, this will take time and time is money.
How close the unit and condenser are located
If you are setting up your air conditioners head unit inside a room, but the split system condenser on an external wall a long distance away there will be additional labour, piping and materials required to install your system into your home.
This should be considered when speaking with your qualified installer at all times, ensure you know how much you need to pay in extras should your split system air conditioners not be located nearby one another.
Stand alone home?
If you are a stand-alone house, with access to all four sides and roof or a high rise unit with access only to a small balcony? There is nothing 'standard' about any home these days. With the increasing urbanisation of Australia, there are more and more home solutions that will require different split system cooling systems and installation costs due to where the units can be placed outside the home.
Heights?
Like any trade, if your licensed air conditioning specialist is having to deal with heights, scaling roofs or balconies to install your system, then you will inevitably be up for some additional costs. Again, planning around things elements at the start of your process will save disappointment and additional costs in the long run.
With all the above in mind – What is the price?
So, we have worked through the majority of the elements that you should consider when installing your split system air conditioning unit, so lets look at the costs.
For a standard installation you will be looking at around $600 for an installation in metro areas. However you should look at the overall cost of installing your system on a more general per hour rate, from $60 – $120 per hour is generally the rate range that air conditioners will charge at. Again, the variance in price maybe effected by the elements mentioned above, the number of air conditioning installation services in the local area – or the competition – and of course, how busy the air conditioning installer may be, they may not want the work so they price themselves too high.
The tip is, to always speak to your licenced expert retailers or 'air conditioning specialists' such as Rite Price, to ensure you are managing your costs and getting the best price on the installation of your new split system. It is often better to get an 'all in one' package, as costs can be saved on the unit sometimes, which will bring the price of the installation down and vice versa.
Always look at your split system air conditioners installation as a whole, include the purchase, transport, installation and any extra costs in the whole process, so you understand fully what you could be up for. This will allow you to be sitting in your comfortably cooled room in no time.
To find out more about installing an air conditioning unit, speak with the experts from Rite Price Heating & Cooling today.