Carrier Air Conditioning – Split system
What is a split system?
Split system air conditioners can be the ideal choices for cooling larger rooms or business premises, and some systems can also provide a source of heating in the winter.
Features of split system air conditioners
As their name suggests, split systems are divided into two separate components, with the evaporator core and controls located inside the home and the compressor, condenser and fans located outside the property, either mounted on the wall or free-standing. Some modern split system air conditioners use sensors to determine when the ambient temperature in rooms rises above a certain point, after which the unit is switched on to reduce temperatures without consuming too much electricity.
Advantages of split systems
Split system air conditioners can be more economical and more energy efficient than some other types of home cooling systems, such as portable or window mounted air conditioners. Locating the condenser outside also avoids the need to ventilate heated air outside the property through ducts and can improve the air quality in rooms. Split systems may be used to cool or heat multiple rooms from a single external unit, and some systems are programmable for greater convenience.
Heating and cooling systems in Adelaide
Rite Price Heating & Cooling provides full air conditioning and heating solutions for many types of properties, including sale and installation of split system air conditioners in Adelaide. For more details about split systems and other cooling units for your home or commercial property, call 08 7007 0168.
Carrier Invented Modern Air Conditioning.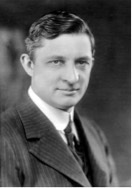 Carrier Air Conditioning will forever have the advantage that their founder, Willis Carrier, became the "Father of Air Conditioning". Born in New York in 1876, Willis earned an engineering degree from Cornell University in 1901. Just a year later, he invented a device to control humidity, which became the fundamental building block for modern air conditioning.
It was while standing on a foggy Pittsburgh train platform that Willis Carrier stared through the mist and realized that he could dry air by passing it through water to create fog. This idea would make it possible to manufacture air with specific amounts of moisture in it.
The machine he invented was initially designed for the Sackett-Wilhelms Lithographing and Publishing Co. in Brooklyn, N.Y. and was known as 'The Apparatus for Treating Air. It could blow air over cold coils to control room temperature and humidity, keeping paper from wrinkling and ink aligned. Finding that other factories want to get in on the cooling action, Carrier established the Carrier Air Conditioning Company of America.
Willis Carrier was inducted into the National Inventors Hall of Fame in 1985 and in 1998 was named one of TIME magazine's "100 Most Influential People of the 20th Century".
How air conditioning has changed our lives.
Willis Carrier's invention gave rise to numerous industries that power our economy today. Manufacturing of everything from baked goods to wartime supplies was made possible by air conditioning. Air conditioning led directly to summer movie blockbusters as people came to cooled theatres to escape the heat. The precise control of temperature and humidity made possible by his invention even enabled shopping malls, transatlantic flight, and the computers and servers that power the internet.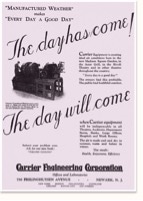 Today the Carrier legacy lives on as the company founded by Willis Carrier continues to reinvent the industry and shape the world we live in. Carrier Air Conditioning continues to be innovative in their approach to sustainable manufacturing practices and their production of energy-efficient products. Every day, Carrier brings comfort to the world.
When consumers across the globe want to improve their home health, energy efficiency and comfort, they can rely on innovative Carrier products and systems. You will find a complete range of Carrier air conditioners, together with expert advice and service, available from Rite Price Heating and Cooling.
Reliable Hi-Wall Split System Air Conditioners
Carrier are market leaders in producing air conditioners that combine comfort with power saving features. The Carrier 'Elite' range of wall-mounted inverter split system air conditioners offer DC Inverter technology balanced with efficiency levels that provide a comfortable heating or cooling solution.
Comprising an indoor unit and an outdoor unit which can be separated by up to 30 metres in distance, the 'Elite' indoor unit offers sleek, minimalist design. The cabinet sits unobtrusively high on your wall and is finished in a subtle white colour palette to blend with your existing décor.
Rite Price Heating and Cooling are proud stockists and installers of this world-leading Carrier range, with features that include a 5 year warranty, customised air distribution, a clean-air filter, advanced sleep function and error diagnosis. Prices retail from around $650 for a 2.5kW split system to around $1,650 for a powerful 9kW split system.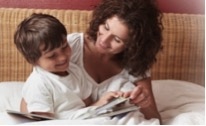 The 'ELITE' range includes many innovative features:
Advanced Inverter Technology: With infrared remote control and LED display
Superior Performance even in extreme temperatures: Cools even when the outdoor temperature is at 50°C, and heats even when it's as low as -15°C outside.
Customised Air Distribution: You have a choice of six fan speeds for customised airflow.
Better Indoor Air Quality: Has an electrostatic carbon filter which traps and helps to eliminate many unpleasant odours and gases inside the conditioned space.
Automatic Error Diagnosis: If something goes wrong, you'll know exactly where the problem is.
A clever 24 hour ON/OFF timer: Which means your living environment is always at the temperature you choose with no hot or cold spots.
Auto Restart Function: In the event of a power failure, when the power restores, the unit will restart automatically with all the previous settings preserved by the memory function.
Auto, Sleep, Drying & Turbo Modes:
AUTO operation – When you select AUTO mode, the room temperature will be controlled automatically at the temperature pre-set by you.
SLEEP operation – When you select SLEEP mode, the air conditioner will automatically increase (cooling) or decrease (heating) per hour for the first 2 hours, then hold steady for the next 5 hours; after that it will switch off. This maintains energy savings and comfort for night operation.
DRYING operation – The fan speed will be automatically controlled. If the room temperature is lower than 10°C (50 F), the compressor stops operation and restarts until the room temperature is above 12°C (54 F).
Louver Position Memory: When you start the unit (after shutting down), the louvers will restore to the angle you originally set.
Supplied with a 5 year warranty for total confidence.
Call Rite Price Heating and Cooling for a FREE QUOTE on (08) 8261 2277. We are a South Australian family business with stores across Adelaide, and a solid history of great service and customer satisfaction. Unlike Carrier, we may not have invented air conditioning, but we understanding every aspect of how it works, and we can advise you on the right system for your home.