"Top tips for getting the most from your air conditioning service"
Cooling and heating your home is essential for ensuring your family are comfortable, and your home is the perfect temperature. Air conditioning is a serious investment and one you're going to want to ensure is maintained to get the best results for your money.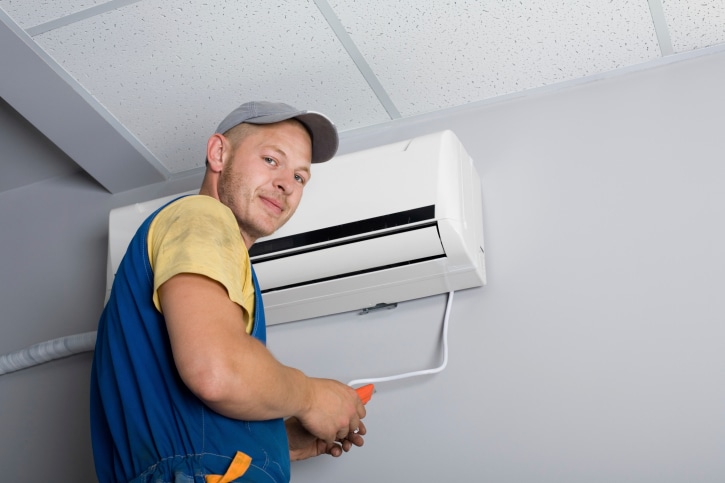 By servicing your air conditioning unit on a regular basis you can enjoy a wide range of benefits including lower energy bills, reduction in breakdowns and an increased life span for your air conditioning system. If you're looking to ensure your air conditioning unit stays in tip-top condition, there are plenty of things to consider to prolong the life of your air conditioning and ensure your home or office is perfectly climate controlled to meet your exact needs.
Tips for getting the most from your air conditioning in between a service
We've put together some tips to consider in between your air conditioning service to ensure you get the longest life and the best output from your air conditioning unit.
Replace filters if required
If your air conditioning unit uses filters ensure you change the filters on a monthly basis to ensure you get the best performance in between air conditioning services. While it can be tempting to leave all maintenance to your air conditioning contractor, this small step can help to increase the lifespan of your air conditioning and also will ensure your unit is running at optimum levels.
If you don't have any filters, it is recommended to use a vacuum cleaner to clear out any debris from your filter. When you get your ducted air conditioning installed your installer will step you through the process of changing filters if your outdoor unit requires this.
Clean your filter
Like everything else in your home, your air conditioning unit filter requires a clean from time to time in between official air conditioning services. To ensure your family or workplace is breathing clean air free from mould or debris, it is important to clean your air conditioning filter whenever you change your filter. Keeping your filter clean is an important step in the basic maintenance of your system in between major services.
Clear away any leaves or debris around your outdoor unit
If you have ducted air conditioning, you will have an outdoor unit installed beside your property. Having an outdoor unit allows for the air conditioning process to take place however being in the elements provides a wide range of dirt, debris and leaves to be exposed to your air conditioning unit.
Clearing any bushes, leaves or debris from around the air conditioning ensures that your ducted air conditioning system has optimum airflow and air can circulate around the unit freely. Ideally ensure a one metre radius of clear space around your outdoor unit if possible.
Ensuring the area around your ducted air conditioning system is free is essential and an inspection should be conducted on a weekly basis to ensure nothing has grown too close to the unit and obstructed the airflow.
When should you get a air conditioning service?
Your ducted air conditioning unit should be serviced by a registered air conditioning technician twice a year. Ideally, due to the high usage in the Australian heat it's best to service the air conditioning unit ahead of the summer season and again ahead of winter for best results.
As well as this, if you have any issues with your air conditioning unit in between these two visits it is important to call in a registered air conditioning technician to ensure all maintenance and repairs are conducted under the unit warranty.
Benefits of a air conditioning service
There is a broad range of benefits for having your air conditioning unit regularly serviced by registered and qualified air conditioning technicians. Homeowners and business owners can experience decreases in power consumption, improved heating and cooling capacity, and the reduction in the chance of failing of the system, all worthwhile benefits of a service.
Standard air conditioning services will involve the following steps:
– General check over including inside and outside units, controller and any other elements of your ducted air conditioning system that you may be concerned about
– Clean and deodorise of filters
– Clean of outdoor unit as required
– Check of gas as required
– Polish outdoor unit
– Check any exposed pipes to ensure good condition
– Anti corrosive spray for outside air conditioning unit
– Check fan housing
Whether you have a home air conditioning or commercial air conditioning, it's important to keep your system in tip-top shape. To ensure an air conditioning system operates effectively and cost efficiently it is important to engage a technician twice per year to maintain your unit and address any problems or maintenance issues as they arise.
Air conditioning servicing provides complete maintenance, program service, parts as required and ensures your air conditioning is kept in pristine conditioning during the life of the warranty.
Whether you have recently built a new home or moved into a property with existing air conditioning, it's important to ensure you have a fully qualified expert service your air conditioning unit to ensure the highest level of output for your unit. While it may be tempting to do any maintenance yourself if you have a ducted air conditioning system, it is essential to arrange an expert to maintain and service your system to ensure it is running properly and bringing your property the best results.
Always ensure your technician is experienced with your brand of air conditioning unit and engage the services of a superior conditioning service professional that is recommended in your local area. It is important to look at the review on the air conditioner provider you intend to go with. This way, you can gain some insight on how other people feel about their experience with the air conditioner service provider you intend on giving the job. Air conditioning servicing will ensure your air conditioning system stands the test of time.