Looking for air conditioner in Adelaide? Find how much it costs for ducted air conditioning
If you've been listening to people raving about the efficiency of a ducted systems in their homes and you're keen to find out more about the price for installing a system, it's important to do all your research.
Ducted AC systems have numerous features and benefits and even the thriftiest of customers prefer to have this type of cooling system installed in their offices or rooms. But what is it about this type of air conditioner system that is so popular and is ducted air conditioning priced within your budget?
For starters, ducted air conditioning is a simple and seamless way to perfectly climate control your entire home or office. While wall units might work to cool individual rooms, a ducted system will cool the entire property, whether you have a 2-bed unit or a five-bedroom house and ensure every zone is perfectly temperature control to meet your needs.
When Australia's summer can peak in the forties, a wall unit just won't cut it when you're trying to cool your home or office however a ducted system that is properly maintained can provide the perfect cooling system for your home or office.
In a summer heatwave you can set the temperature control of a ducted AC unit to 21 to 24 degrees and be free from the stifling heat and humidity outside so you can relax an enjoy summer without the sweat and stickiness.
In this article, we explore why you should install ducted AC in your Adelaide home, how to find the right air conditioner for your needs, the cost for ducted systems and why you should buy your ducted unit from Rite Price Heating & Cooling.
Why install a ducted air conditioner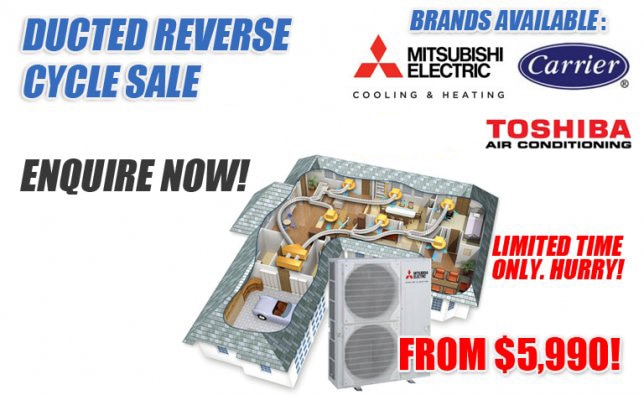 The aesthetics of your home plays a big factor when considering a ducted air conditioner and if you don't want ugly wall units and a system that is placed all throughout each room of your home having a ducted system offers a seamless look and feel for your property.
Using easy to conceal vents or ducts, your systems blends into your décor with the great majority of the system built into the inner working of your home or office.The ducts are placed within your walls and ceiling, the hanging unit is placed in your roof and the compressor is outside, so the only thing you can see of the ducted air system is the small ducts in the roof or floor and your central control panel.
Ducted air systems allows you to have enough air circulating in various parts of the house. The ducts allow you to cool even the hard-to-reach areas in your home during summer. This is a more flexible option if you have oddly shaped rooms that require air conditioning when the temperature is intense outside. While some wall mounted systems can be powerful, they often isolate one small space and don't reach the areas you need most, making them unreliable for climate control throughout the entire space.
Another benefit of installing this type of cooling system is the low running cost. This type of system is simple and easy to use and systems that are properly managed are economical to run and spend a fraction of the running cost compared to other kinds of cooling systems.
Despite its high performance and excellent quality, ducted air conditioning systems don't consume huge amounts of energy, and if you use the system to meet manufacturer's instructions and set the system at a temperature that works efficiently throughout the home the price to run the system can be a few dollars a day, a small price to pay for a perfectly cooled home or office.
Finding the right ducted air conditioning unit for your needs
Now that you know some of the advantages of owning a ducted system, what's next?
If you're ready to find the right ducted system for your needs it's important to start by looking for a reliable company that gives you plenty of information about a full range of the best ducted systems available on the market.
Rite Price carries a vast range of brand names that boasts quality as well as performance including brands such as Toshiba, Mitsubishi Electric, Braemer Air, Actron Air and many more. Whether it is for heating or cooling your home, you can find a broad range of this system that have the features that you need. Rite Price will help you narrow down your options, so you will end up choosing the right one suitable for your home and budget.
After reaching a decision on your ducted unit, Rite Price provide the very best AC experts to install ducted air conditioning into your home.
There are quite a few variables to determine the price for your system ranging from the kW of the system to suit your home or office, the features, the energy rating and also your budget.
If you're ready to purchase a ducted system it's important to engage expert advice and support to ensure you find the perfect system to meet your needs. Whether you are installing ducted air conditioner into a home that is existing or a new property, there are a wide range of options and features available for every need and budget.
As well as plenty of options, you can purchase Australian made ducted air conditioner systems as well as plenty of world renowned AC brands such as Toshiba and Mitsubishi Electric, all of which have a reputation for being some of the best AC units on the market. To see more about the products we offer, visit our ducted air conditioning systems page to find out more.
Prices for ducted air conditioners
If you want to install a cooling system that you can easily adjust the temperature to fit your needs inside the home, then you should consider getting a ducted air conditioner. While they are often seen as expensive to install, ducted air conditioner units are comparable if you are looking for a complete AC solution for your home or office.
Consider this, if you are looking to cool a five bedroom home and need five separate wall units for each bedroom plus one to two additional wall units for living spaces within your home, the price for split systems will far outweigh installing a fully ducted system into your home. While installing in a existing home is more expensive, if you are looking to install in a new properly the costs are much lower for ducted air conditioner due to the fact that the ducts, vents and control panels can be installed during the building process, saving plenty of man power and issues if a ducted system was to be installed to an existing swelling.
For a basic ducted air conditioner system, you can expect around $5,000 for a single apartment including the installation fees. Of course, the bigger your home, the higher will be the expenses for your system. With a larger 4 to 5 bedroom two story home costing anywhere between $8,000 to $12,000+ for ducted air conditioner.
The cost of running an AC system comes down to a range of factors including insulation, total area, the weather, time of day being used and the temperature. The average cost based on HP of the unit ranges from 12 cents per hour for a 2HP system right through to 30c per hour for a 6HP system. All of these costs are estimates, and it really depends on your system and the time of day you are running it as system run at peak times can incur highest costs for electricity.
Why choose Rite Price for your ducted system
Thanks to their expertise and decades of experience, Rite Price can help in the narrowing down your options when choosing a ducted air conditioner system for your home or office. They can show you the features and advantages of a wide range of brands from Toshiba, Actron Air right through to Mitsubishi Electric. Rite Price stock a wide range of makes and models of ducted air conditioner systems are suitable for the Adelaide weather and climate.
Thousands of homeowners from South Australia trust Rite Price for their air conditioning needs. With a team of AC specialists available to assist, you can't go wrong purchasing a ducted system from Rite Price. The team also offer after sale support and maintenance, to ensure your system is kept in good condition for many years to come.
To find out more about suitable ducted air conditioning units for your needs as well as the price for installing a system into your home or office, speak with the team from Rite Price Heating and Cooling today to find out more about how to find the perfect system to meet your needs.