Carrier Split System Air conditioner
Split System Air Conditioner units are now available from Rite Price Heating and Cooling. Call now for your FREE QUOTE on the entire range of Carrier Split system air conditioners on (08) 8261 2277 or enquire from the right of this page.
High Performance
The Carrier wall split system air conditioner features a cooling high performance even at 48°C outdoor temperature and as low as -15°C for heating.
Also, the air conditioner features a highly customized air distribution system with triple fan speeds.
Smart
The Carrier split system air conditioner is intelligently designed to help users operate the Follow me mode. With the Follow me mode, the sensor that is built into the remote controller is active and the air conditioner will regulate the room temperature in comparison to the temperature around the remote controller.
You do not need to stress about your machine running into error because the carrier split system air conditioner will automatically diagnose your errors.
Convenient
With the new intelligent Carrier split system air conditioner, you don't have to reset your air conditioner swinging positions overtime you turn it on. The Louver Position Memory is designed to restore the original angle you set your air conditioner to before you shut it down when you turn it on.
Comfort
Imagine sleeping in a cool room in the middle of the hot summer without the uncomfortable noise from your air conditioner. Well, with the newly improved Silent Mode that's built into the Carrier split system air conditioner, you are offered the ability to bring your imagination to life.
5 year warranty for consumer confidence.
Hidden display features allow you to turn off light by remote controller when unit is running.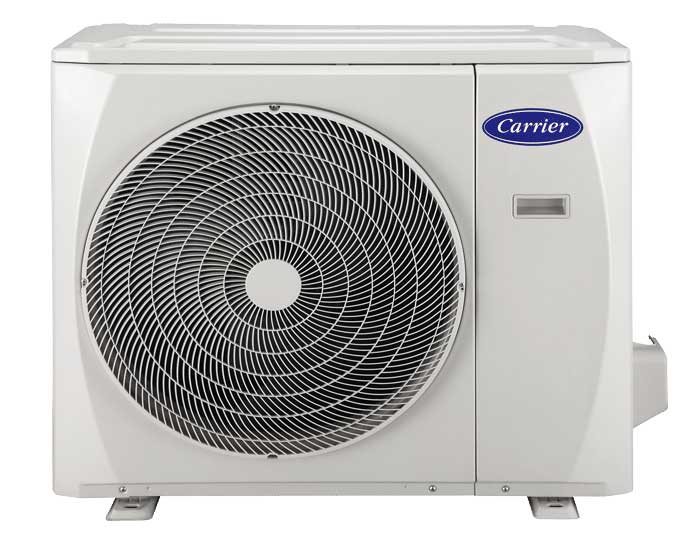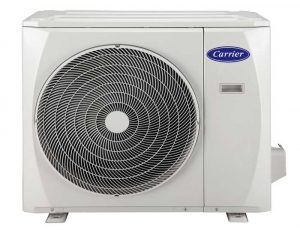 Carrier split system air conditioner – a superior selection
There is not a single doubt that Carrier's air conditioner products are superior to any other air conditioners. With centuries of experience in innovative technologies, carrier air conditioner was first built in 1902 and the brilliant minds of the iconic air conditioners have been improving on the technology ever since. As a matter of fact, Carrier continues to rank among the world's best year after year.
Aspire Hi-Walls:
The Carrier split system air conditioner Aspire range of Inverter Hi-Walls is fortified with unbeatable DC Inverter technology that is built with unprecedented efficiency level that is aimed at giving you and your family all the comfort of life an air conditioner can give. The Carrier split system air conditioner comes with a 5 year warranty, silent mode, automatic error diagnosis and unbeatable specially made air distribution. As a matter of fact, Carrier split system air conditioner if you preferred choice if you aim at saving some cash on your electric bill and also having a total comfort in your home.
Split System Air Conditioners
Wall split air conditioners are the most effective way to keep a single room warm during the winter or cool during summer. When you opt for Carrier split system air conditioners, you are in for a year round comfort. The system that powers your home with very low noise output, cleanliness and the inverter technology which give you an effective use of your home energy. Also the carrier split system air conditioners are one of the most efficient method of achieving a year round climate control with your family.
Why Choose Carrier split system air conditioner:
The superiority of Carrier split system air conditioner climate control is a good enough reason for any homeowners to opt for carrier wall split air conditioner. However, there is more to Carrier split system air conditioner. If you want to install a wall split air conditioner and leave no dirt or damages on your wall, then carrier split system air conditioner is your right choice. With the newly improved DC Inverter technology balanced with efficiency levels to give you and your family a comfortable environment confidently backed by The Carrier's Manufacturer warranty
Carrier split system air conditioner style and function
The amazement of carrier split system air conditioner is endless, with wide range of selections which is centered on its Hi-Wall Split systems. The beautifully made air conditioner can be installed perfectly high in an unobtrusive position anywhere in your home. sitting perfectly high up above anything else, allowing the air to flow from top to bottom of your house hence keeping the entire family happy. It's hard to walk into a home where Carrier air conditioner was installed and not notice. With the suitable color palette that works great with your existing decor, indeed the carrier air conditioner is an addition of glamor and modern design to your family environment. As a leader in innovative technology, the carrier air conditioner is built with advanced functions which provide whisper-quiet operation so that you can hardly notice when your air conditioner is turned on. Carrier also provides you with the latest in infrared remote control, air ionisers to keep the air fresh and hygienic and advanced air filtration and dehumidification so that the days of having to change and wash filters are now a thing of the past.
Carrier air conditioner is smart
The Carrier wall split air conditioner can do the thinking for you. With the clever 24/7 auto on/off timer, you can keep your home temperature at your selected level knowing that come cold or heat, the temperature of your environment remains the same. With the ultimately advanced air conditioner sleep functionality, you are in your perfect comfort zone where you can have a great night rest and also stay comfortable regardless of the outdoor temperature. Comprising the indoor coil and fan unit, and the outdoor compressor, coil and fan section, these two parts can be separated by up to 30m, being joined by copper refrigerant piping and electrical cables. This means we can install your outdoor unit out of sight so that your living areas are not compromised by any bulky equipment.