Best ducted gas heating brands
A brand is so much more than just a word, image and a few taglines. A brand represents a company, its products, services, value, quality and the expectations we as consumers can be ready to receive should we purchase a product.
When we buy a 'home brand' product, we know that it will not be a premium product, but a product that will 'get the job done'. On the other hand, when we buy a premium brand, we have expectations that what we purchased will make you feel premium, provide a seamless experience that is premium. Ducted gas heating is no different, with the premium brands in the market holding expectations of longevity, a quick heating system that is energy efficient and keeps your family warm throughout the winter months.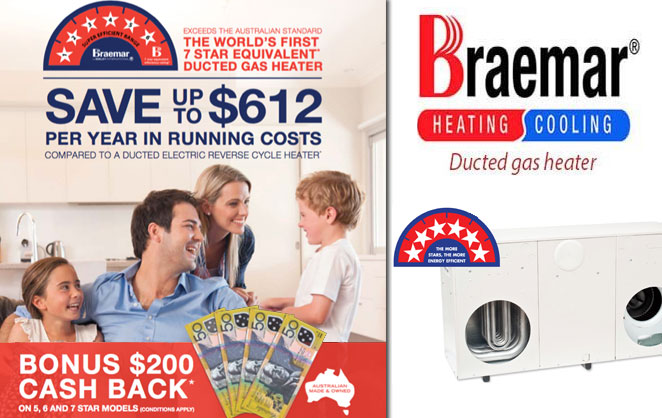 Who are the best brands in ducted gas heating?
If you have committed to getting a ducted gas system, you have taken a plunge. You know you are going to be having an installer coming into your home, making holes in your ceiling or floor all in the name of heating. So here are a few of the leading Australian brands for you to consider:
Braemar
Fielding an extensive range of 3 to 7-star ducted gas heating systems, Braemar are one if the most trusted names in gas heating in Australia.
Boasting being Australian owned and manufactured; the company has won national business, service, innovation and industry awards the company is proud of its achievements in the heating and cooling of Australian homes.
Built exclusively for Australia's harsh climate, your home could do a lot worse than installing a Braemar ducted gas heating system in your property.
Brivas
Having being proudly heating Australian homes for the past 50 years, Brivas systems are tailored made for the Australian winters and coming with warranties of up to 10 years, which provides a peace of mind to you and your home. With after sales services and customer care available within Australia, you can rest easy knowing that any issues you may be having will be promptly sorted out by the Brivas team. Brivas have an extensive range of traditional, efficient and feature packed systems that range again from 3 to 6 stars in energy efficiency and have zoning, cleaning and modulating technology that allows your home to be running at maximum heat and efficiency all year around.
Bonaire
As one of Australia's leaders in heating and cooling, Bonaire is all about choice, with a range of heaters from 3 to 6 stars in energy efficiency, ranges that are better suited for retrofitting existing homes and others for new homes.
In addition, Bonaire controllers have a range of features from the very basic models to those that offer a vast range of Wi-Fi, zoning and functionality that allows you to optimise your heating experience down to a finite level, room by room.
So which one is gas ducted heating system is the best?
There is honestly no way to work out which ducted gas system is best suited for your home without arranging an onsite measure and quote by a professional ducted gas heating expert.
There are many factors including how large your home is, how many rooms you have, are you looking for heating and cooling, what is your budget and what sort of features are you wanting. With all that in mind, if you are looking for the most economical system in terms of running, then the Braemar 7-star would have the lowest running costs and capabilities for your home.
If your home requires a retrofitted system, then maybe looking at a Bonaire would be the best way to go, that being said if warrantee, after sales service and support is key for your system then Brivas could be for you.
What do you need to do next?
The next step to work out which is the best ducted gas heating system for your home, is to go and speak with an expert and have them come into your home and review the options. There are so many options to choose from it's best to speak with someone who has experience and a deep understanding of all the options available to help you make a decision that meets your needs.
There are so many options, variations and extras that may not suit every household. For example, your home may not have enough room on the external wall to put a larger outdoor condenser of the unit you think you want. On the other hand, you maybe in a huge house and need multiple heating units.
The key is speak to licenced, qualified and expert heating and cooling specialists, such as the team at Rite Price Heating & Cooling, they can point you in the right direction on the ducted gas system or any heating or cooling air conditioning alternatives that are best suiting to your home, your budget and your needs.