Benefits and features of split air conditioning systems
Commonly used in smaller homes, apartments and offices, a split system air conditioners can be installed on a wall inside a room and has an outdoor unit directly outside the wall of the space you wish to cool.
The air conditioners blast cool air into one specific room via the indoor unit while the outdoor unit removes the heat from the cooled area. These units allow for a more specific cooling to take place and are easily installed in existing properties where ducted air conditioning is problematic.
Current Promotions
Split systems air conditioners are popular for compact areas when heating or cooling is required to targeted areas of a home, the fact that they can be quickly installed in a few hours and can regulate the temperature of a room quickly offer property owners a quick and affordable option for home heating and cooling.
Benefits of split system air conditioning
While ducted air conditioning is a popular choice for home and commercial space cooling and heating, split system wall mounted air conditioning units shouldn't be disregarded as viable options for air conditioning systems. There are a wide range of benefits and features of split system air conditioning units as outlined below:
Easy to install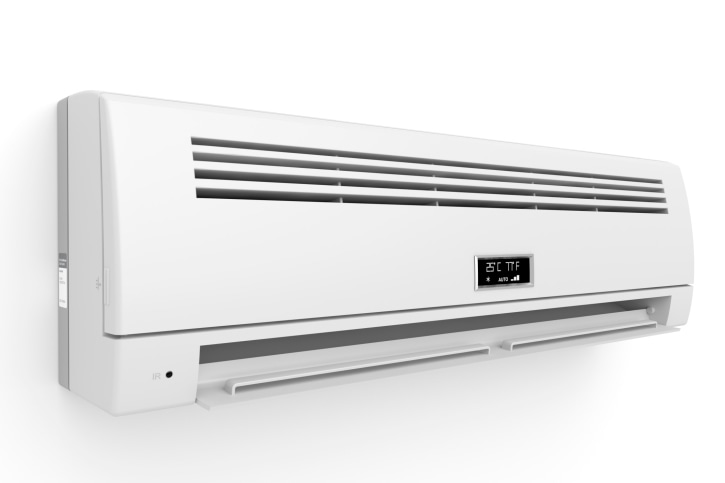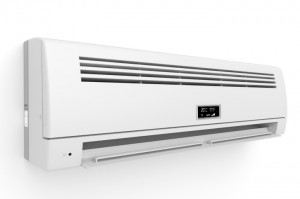 Split system air conditioners are very easy to install and work without ducts, which allows for a system to be installed cheaply and quickly. With only a small copper tube and some cabling required to install the unit, the split system air conditioner is designed to blend in with a room and not need a great deal of installation.
If you need a kitchen or living area or a bedroom cooled or heated, a split system air conditioner can be installed within a few hours and will only set you back a small amount of money compared with larger systems that are centrally controlled and zoned.
No eyesores for outdoor units
Split system air conditioning units have outdoor units that can be placed close to the wall of your home so that the outdoor compressor is easily concealed. The compressor simply needs to be 30 metres or less from you home to ensure it works as required. Split system air conditioners have far less components than larger systems and can easily be installed by a registered air conditioning technician in a few short hours.
No windows are required
Some air conditioning units require a window for installation however the split system does not require a window and can be installed high on a wall or in any space you wish within a unit or property.
As opposed to ducted air conditioning units that have metres of internal duct systems within walls and cavities, split system air conditioners do not require the internal wall cavity and fit in a small area in any room.
Low cost
Wall mounted split system air conditioning units are perfect for investment properties due to the small cost of purchasing and installing the unit as well as the long term cost savings for the unit. When the wall mounted unit is set to the correct temperature the costs can be controlled and energy use can be minimised.
Easy maintenance
Simple to clean, split system air conditioners are easy to maintain and use little more than a filter each month. This feature is ideal for property owners and renters, and mean maintenance and servicing is kept to a minimum. Some filters can be cleaned and put back into the system and others can be discarded and new filters be installed. The clean and compact design of split system air conditioners makes maintenance easy for both renters and property owners.
As well as this, in the winter months the system is safer than some traditional heaters such as bar heaters that can be dangerous for small children and the heating can be set on a timer to ensure the property is climate controlled perfectly.
Quiet to run
Split system air conditioning units are quiet to run and come free of large motors making them a quieter alternative to larger air conditioning systems.The units can be installed in bedrooms and study areas and will not disrupt sleep or concentration. As well as being quiet, the split system air conditioners can be set on a timer to turn on or off as required to maintain a certain temperature for optimum comfort.
What to look for when purchasing a split system air conditioning unit
No matter what brand of air conditioning unit you choose there is a wide range of things to consider when making a decision on your unit.
Firstly energy consumption should be considered ahead of installing an air conditioning unit into your property. Energy costs can affect the running of a property and you'll want to ensure you purchase a split system unit that is affordable to run and will not impact on your lifestyle. In addition, if you are installing a unit for an investment property you will want to ensure the unit has a long warranty.
Next, you will want to compare prices for air conditioners. There are a wide range of prices out in the market all based on whether you choose a well known brand like Daikin, Panasonic, Samsung, Mitsubishi, LG or similar, or if you choose a less well known brand for your property. Lastly, it is important to ensure your split system air conditioning has the features you need in an air conditioning unit including timer, temperature control and economical mode.
Whatever split system air conditioning unit you choose, it's worth doing your research to determine if the system suits your needs. While split system units can be affordable and cheap to run, you should always ensure you engage the services of a qualified and experienced air conditioning expert to provide guidance and install your unit and carry out regular maintenance and servicing as required.