All you need to know about Actron air
Rite Price Heating and Cooling is your Actron Air expert in South Australia. We have all your Actron Air ducted reverse cycle requirements.
So many great features
The Actron Air ESP Plus ducted air conditioning range uses advanced airflow control to deliver even more savings.
Independent energy modelling indicates energy consumption can be reduced by up to 61%* vs conventional air conditioning systems. And with a digital variable capacity compressor that is capable of delivering 10 to 100% capacity for maximum performance, choosing Actronair means you are choosing lower power bills.
Actron air also has "Quiet start Variable Fan Technology (VFT)" so that it can automatically sense when zones are on or off and intuitively adjust airflow.
Its home automation is compatible for ON/OFF control of your air conditioning system and there is an easy to "see in the dark" display for room and set temperature functions.
Actron Air invented Energy Smart performance, which led to the development of the award winning ESP Plus.
Now Actron Air raises the bar even further with the release of the ESP Platinum Series. The most advanced residential air conditioners ever built in Australia. ESP Platinum utilises Tru-Inverter technology to deliver the most comfortable ducted air conditioning on the market with the lowest running costs.
The leading Australia owned air conditioning brand, Actron Air is passionate about designing and engineering the most comfortable and efficient air conditioners in the world.
After all, when you live in one of the harshest climates on earth, you need a system that's built to handle it.
This obsession with innovation and quality has also resulted in many energy saving solutions.
ESP Platinum Ultima combines Energy Smart Zoning with the ability to control different temperatures in different zones all at the same time, providing the ultimate in comfort levels and improving energy efficiency even further.
ESP Platinum Plus uses Smart Zoning to deliver better energy efficiency and enhanced comfort levels.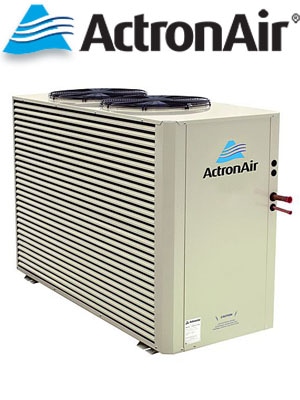 ACTRONAIR OUTDOOR
---
Inverter Ducted systems allows you to air condition your home without having to install the indoor units on your wall, making your home look neat and tidy.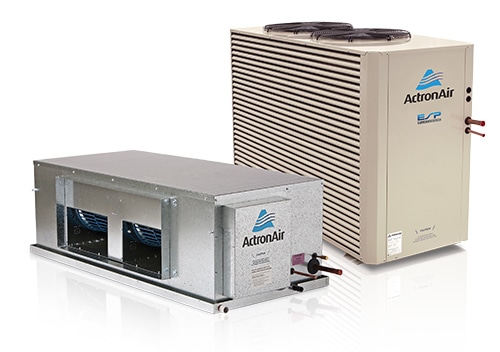 ACTRONAIR INDOOR
---
The indoor unit is installed in a confined space and ducts run through the ceiling leading to air outlets in your room. Air is allowed into the room through vents on the ceiling or on the wall.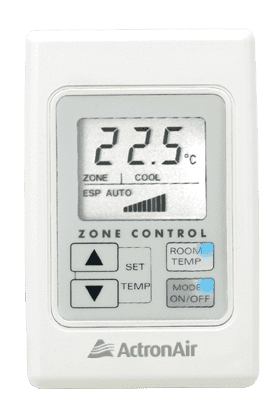 ACTRONAIR CONTROLLER
---
With the controller sleep mode, you can enable the air conditioner to automatically increase(cooling) or decrease (heating) 1ºC per hour for the first two hours, then hold steady for the next 5 hours, after that it will switch off. This maintains both energy saving and comfort in night operation.
Master Controller
---
The slimline Master Controller features a backlit display and easy to use 8-zone integrated touch pad. This sets the Master temperature for the areas with Zone Sensors and can control system operation including fan speeds and timers.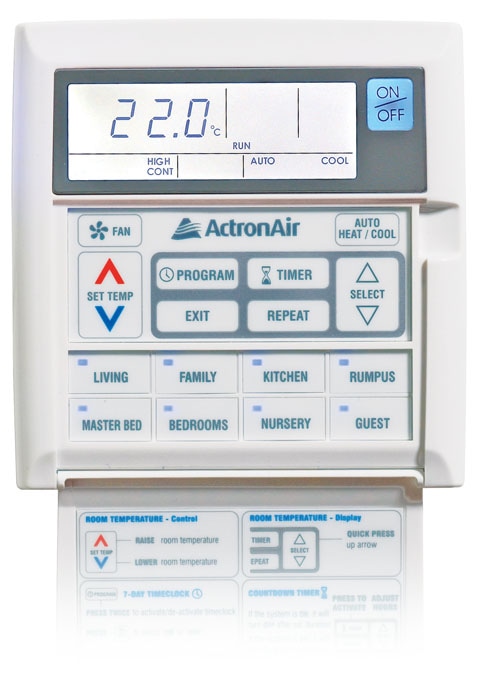 Individual Zone Controller
---
The Zone Controller can adjust the comfort settings for each zone. This allows you to adjust the temperature of the zone, or turn the zone on or off.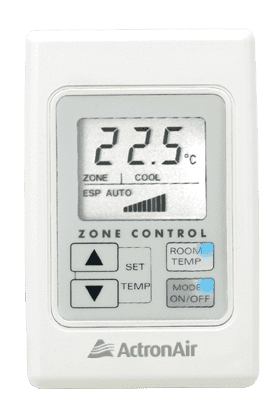 Zone Sensor
---
The Zone Sensor can be used in areas where you want the Master Controller to control the temperature of that zone. This is a simple alternative to the zone controller. Ideal for kids' rooms where you don't want little fingers making any adjustments.
Ducted Reverse Cycle Air Conditioning
Rite Price has the right brand for you
Choosing a ducted reverse cycle air conditioning system for your home or office is a big decision.
Here at Rite Price, we want to make sure you get it right. That's why we are proud to offer you a selection of the world's premier brands so that no matter what you choose, we know you'll be happy with your decision not just now, but for years to come.
We are also proudly South Australian and with stores right across Adelaide, we have built a reputation for great service, quality and installation by qualified experts.
We look forward to providing you with the best air conditioning prices available, but we won't cut costs along the way. Instead, you'll receive a FREE quotation and then a result that will far exceed all your expectations. Visit our ducted air conditioning page for more information.
Actron air service and support
The Actron Air Technical Support team is available to assist you with any enquiries
5 year Warranty backed up by the Actron Air® National Service Network to provide you with quick and reliable service when you need it
And don't forget, Actron air comes with a 5 year warranty backed up by the Actron air national service network to provide quick and reliable service.
Actron Air Wireless Controller
---
Modern design. Classic good looks
Air conditioning controllers are very visible products, usually installed in full view of the household. We believe that a control should be something you are proud to display, not something you would prefer to hide. That's why QUE features a beautiful, timeless design that has been specifically developed to match well with a variety of wall colors and textures. Using noble materials like anodized aluminum and brushed stainless steel, it also feels as good as it looks. And with your choice of black or white, you can mix and match to suit every décor.
---
Actron air
The Actron air range offers you award winning style and design in an energy-efficient ducted reverse cycle air conditioning system.
With its unique and fully integrated "ESP Plus" 8 zone controller, you can heat or cool your entire home or operate as little as one zone which is ideal on summer or winter nights when you only want to keep your bedroom comfortable without wasting energy on other parts of the house.
An Actron air system also has quick and precise temperature controls and a sound reduction system (SRS) to minimize noise levels.
With an easy to operate slimline design master wall controller, you have the option of setting up a 7 day programme complete with a 24 hour timer and in-built temperature sensors.
An Actron air ducted reverse cycle air conditioning system is also easily adapted for 2 storey or larger homes with optional secondary master controllers and temperature sensors available and easy to install.
Tru-Inverter. The Next Generation in Energy Smart Performance.
Choosing a new air conditioner isn't a decision to be taken lightly. Things like effectiveness and running costs have to be carefully considered. But thanks to the advanced technology of the ESP Platinum Series, you get the best of both worlds.
To begin with, ESP Platinum offers incomparable temperature control, thanks to Tru-Inverter technology. Tru-Inverter will deliver the ideal amount of heating and cooling in your home – a feature that not only maintains better comfort levels, it can also reduce energy costs at the same time.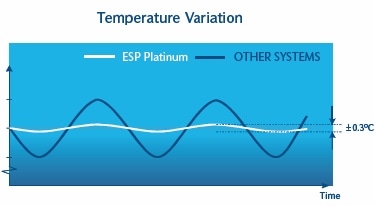 Engineered to deliver the optimum balance in temperature stability, the ESP Platinum Series reaches an ideal comfort level quickly and maintains it intuitively. In fact, precise temperature of within + – 0.3 degrees of the set point can be achieved at the sensor location.
Tru-Inverter technology is a full variable system that can ramp down to as low as 20% capacity to keep your home comfortable and operate continuously between 20-100% capacity. (Other, less advanced, Inverters will only operate down to 40-50% capacity, resulting in greater temperature fluctuations and more energy use).
Most Inverters use step rest and stop cycles during the heating cycle, leading to larger temperature fluctuations and much higher energy usage.
ESP Platinum is the only system with Tru-Max technology. Which means that once maximum capacity is reached, it can be sustained for as long as is required.
Other conventional inverters simply cannot maintain maximum capacity without the drive overheating. The Tru-Inverter drive is engineered with larger heat sinks and an independent cooling fan so maximum capacity can be sustained.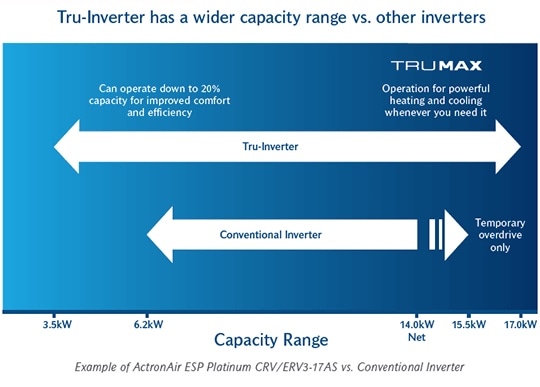 The ESP Platinum Series. Taking comfort to a whole new level.
The ESP Platinum Series changes the game for comfort levels. In fact, thanks to advanced technology, ESP Platinum can heat and cool faster when compared to conventional inverter systems by reaching maximum capacity up to 5 times faster.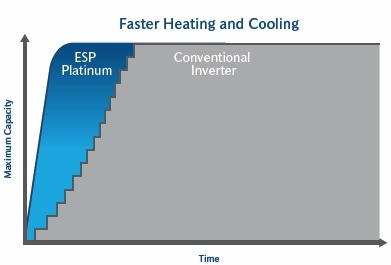 Fastest heating and cooling.
From the moment it switches on, ESP Platinum uses Tru-Inverter technology to seamlessly ramp up to maximum capacity, to deliver the fastest cooling and heating. This is far beyond the performance of less advanced Inverter systems that have to "step and rest". and take considerably longer to reach maximum capacity.
Quieter Operation
A Sound reduction system (SRS) reduces sound levels from the Outdoor Unit. In addition, the Tru-Inverter has improved sound quality compared to conventional technology. As the system reduces to part load capacity sound levels are minimised even further.
Indoor sound levels are reduced with the use of quieter EC indoor fan technology. In addition, as zones are switched off, airflow is automatically adjusted to minimise sound levels.
Minimise Cool Drafts In winter.
Actron Air systems have an inbuilt Preheat Delay function. This preheats the indoor coil before the fan starts – ensuring drafts are minimised on start-up during heating cycle.
Superior operating range.
Actron Air understands the requirements of the harsh Australian climate, and that's why all its systems are engineered to survive extreme conditions.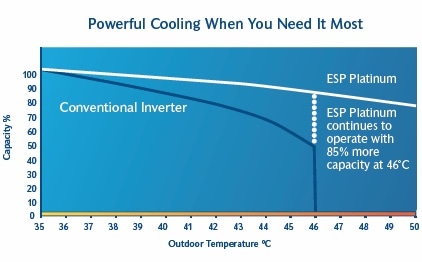 For example, heatwave conditions are unpredictable and may last several days during summer. But even while air temperature may be 43 degree Celsius, your air conditioner could be in a position where the temperature reaches as high as 50 degree Celsius.
Most systems are only designed to a maximum operating range of 43-46 degree Celsius and have inbuilt safely mechanisms that reduce output in extreme conditions. Discovering that your system has effectively stopped working during a heatwave would be an unpleasant surprise to say the least!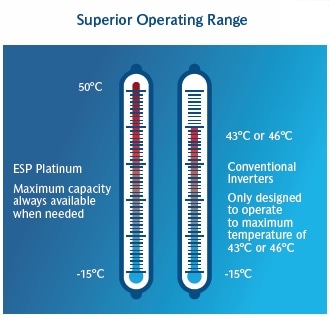 Up to 75% energy savings with Energy Smart Zoning.
ESP Platinum Plus is up to 75% more efficient than conventional fixed speed technology and 50% more efficient than a conventional inverter.
Typically, Australian homes have large individual living areas. When air conditioning is installed, these areas are split into 'Zones' that can be switched off when unoccupied. On the surface, this sounds like a sensible energy saving feature. But while traditional systems may be able to shut down a zone, most don't automatically adjust their airflow. in other words, the zone may be turned off, but the system's fan continues at the same speed, wasting energy and producing excess noise as a by-product.
That's why ESP Platinum Plus has Energy Smart Zoning. It enables the system to adjust airflow and system capacity, intuitively. The Variable Fan Technology (VFT) delivers exactly the right amount of conditioned air to the zones that are on, decreases excess air velocity and associated noise, and significantly reduces energy usage.
Which is perfect for those hot summer nights when you want just enough air conditioning to keep bedrooms cool and quiet, without wasting energy.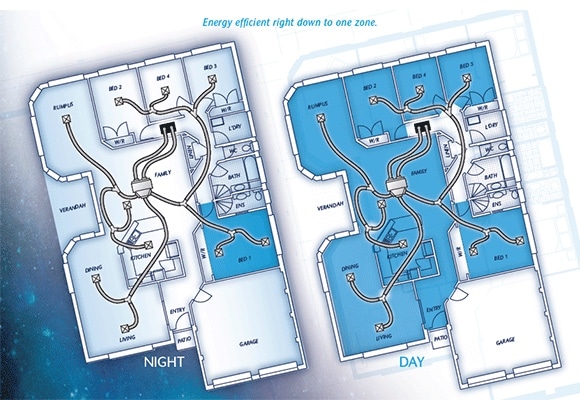 Energy Efficiency puts ESP Platinum Plus in front
Energy modelling of a typical 4-bedroom home in Sydney's west was conducted for 3 technologies:
Conventional fixed speed
Conventional Inverter
ESP Platinum Plus with Tru-Inverter technology and Energy Smart Zoning
Cooling energy consumption was calculated for each of the technologies.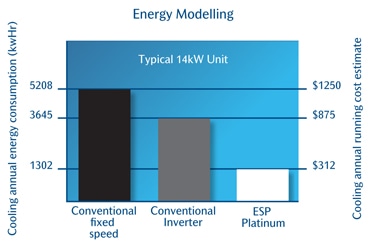 Based on electricity price of 24c per kw/H and the cooling energy consumption, this translates to a saving of up to $900* per annum compared to conventional fixed speed systems.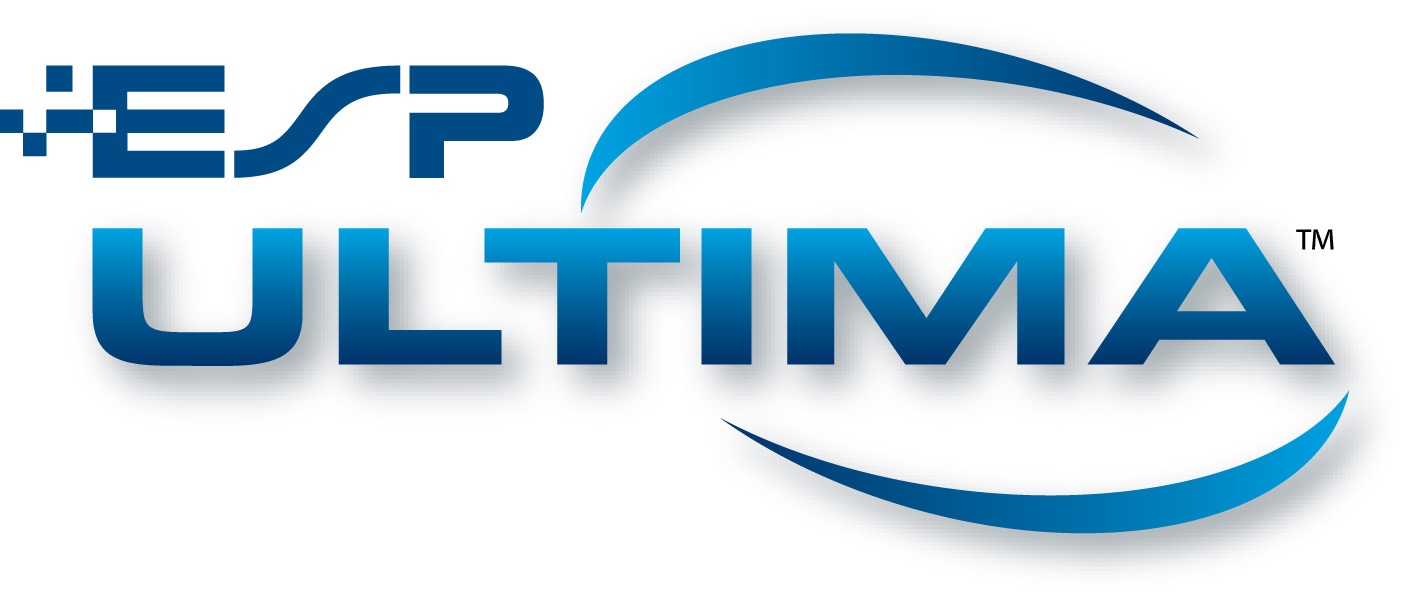 Different temperatures in different zones all at the same time.
The Ultimate in comfort has arrived. With ESP Platinum Ultima, you now have the ability to set different temperatures in different zones.
So while a baby sleeps comfortably in a bedroom at one temperature, a lounge room full of guests can have a different temperature and a games room for the kids can have a different temperature again.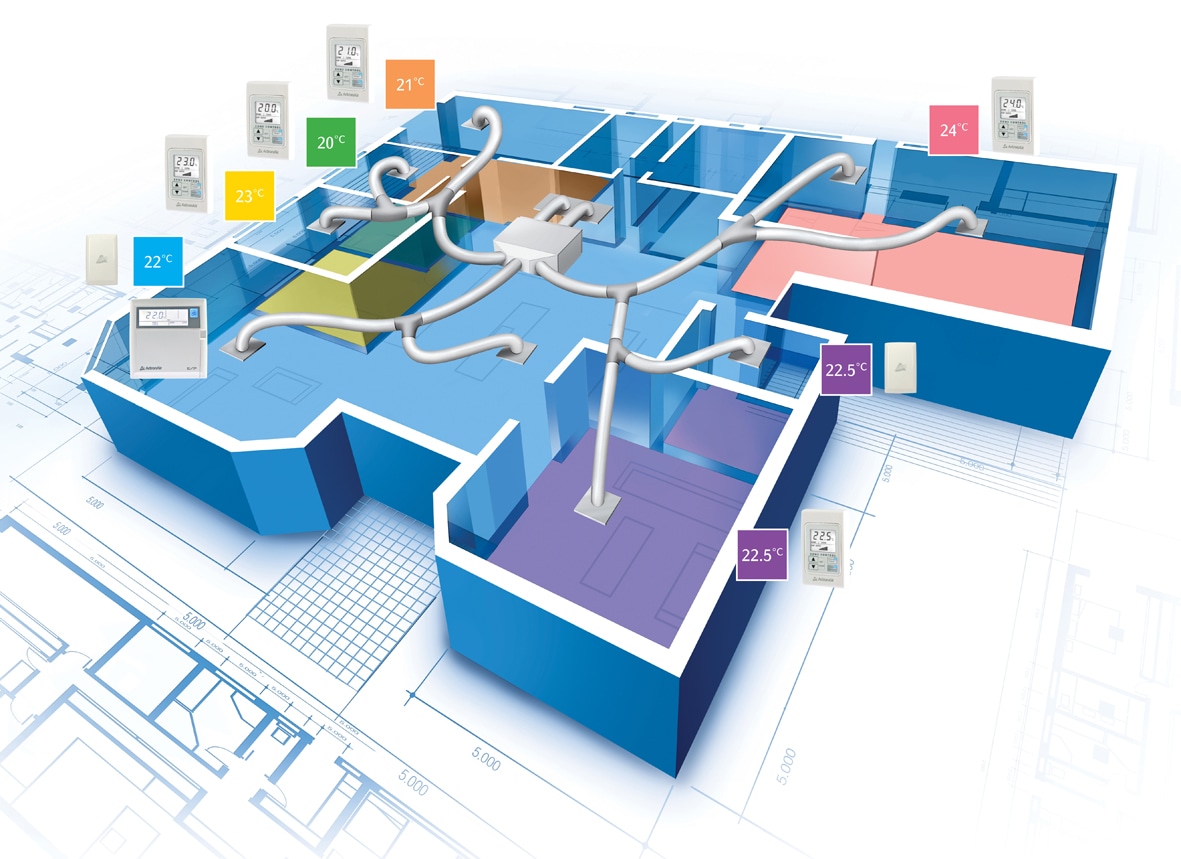 Up to 8 individual zone controllers or sensors can run off the system, so you can create the ideal environment in virtually any area of your home
In fact, ESP Platinum Ultima is the most comfortable year-round air conditioning available. Different areas of the home or office have different temperature loads at different times throughout the day, not to mention the different seasons.
That's why, depending on the location of the sun in the sky, a room may be cooler in the morning and warmer in the afternoon. However, having a sensor within the room ensures the set temperature is maintained at all times and rooms do not get over conditioned which also further saves energy.
So, call Rite Price Heating and Cooling today and we will arrange a member of our friendly team to come out and give you a FREE quotation.