Why Mitsubishi wall split system air conditioner is superior amongst split air conditioner
Split system air conditioners are Australia's favourite way to keep your home the perfect temperature all year round. From the stinking hot summer nights to the bone-chilling experience of walking into your home after a day at work to experience a frosty reception, your split system air conditioner is one of your most important home appliances for creating the perfect climate for your living and working space.
So, when it comes to choosing your split system air conditioners unit, it is sometimes difficult to choose which one is best for you and your family. Your split system becomes one of the most important appliances in your home, so you should not take the decision lightly.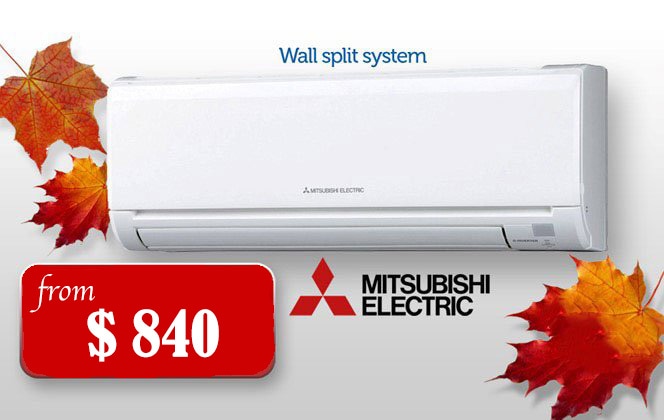 What is the superior air conditioning brand?
As with almost any purchase we make, there are recognised, trusted and established 'brands' then there are 'the rest', split system air conditioner is no different.
There are many great brands in air conditioning, however, it really comes down to what specific needs you and your family need for your home, what features, advantages and benefits you a looking for and of course what your budget is. While there are many great brands such as Carrier, Daikin, Samsung and LG to name a few, there is also a full range of 'tier 2' or generic brands that offer many of the same benefits, without the backing of an established brand.
There is, however, one name that has stood out for decades in the split system air conditioning market, that being Mitsubishi. A brand with a long tradition of providing an extensive range of products that are built to perform out and outlast all other competitors, Mitsubishi split system air conditioner is no different with a range for every budget and usage.
What makes Mitsubishi superior?
As previously mentioned, with well-known brands, comes an established sense of quality, longevity and a range of products that are not only fit for purpose but exceed it.
Range
Mitsubishi have one of the most extensive ranges of split system air conditioner units on the market, with products that are designed to perform in any condition.
Mitsubishi have a product for every occasion, from the stylish MSZ – EF series which blends a combination of style and functionality, looking more like a piece of artwork with sleek styling and a range of colours. From small wall units all the way through to the powerful MSZ – GE series with a range of energy efficiency and sensors offering powerful options for your home, office or commercial space.
The only issue with such an extensive range of exceptional split system air conditioners, is working out which one is best suited for you and your family is one of the hardest things to do, however, Mitsubishi has a solution to suit most homes and offices.
Diamond Dealerships
Mitsubishi have a range of diamond dealerships, which are specialists in working with and recommending the Mitsubishi reverse cycle air conditioning unit that is perfect to heat and cool your space as effectively and efficiently as possible.
The Diamond Dealers are a cut above, with trained and qualified experts who understand that not everyone's needs are the same, with many people wanting a sleek, powerful, efficient or maybe budget conscious air conditioning unit – while others simply don't mind. Your Mitsubishi Diamond Dealers will be sure to provide the best solution for you.
Innovation
Where many air conditioning companies may include a range of features as extras (at an additional cost), Mitsubishi provides most of these as standard – then raise the bar through additional innovation that raises the bar.
From systems that are 19db in sound output – or the quietest on the market – through to advanced self-cleaning, sensors and air filtration systems that are simply ground breaking.
Getting the right system
While Mitsubishi has the superior range of split system air conditioners designed in every way to make your home more comfortable, the key to getting the right system is understanding which system is best suited for your specific needs.
Either having a licensed, professional and qualified air conditioning installed coming out to your home or visiting a diamond dealership – such as Rite Price Heating & Cooling – with the dimensions, floor plans and/or photos of the space you are looking to heat or cool is the best start to getting the heating and/or cooling solution you are looking for.
There are many issues that you could incur by getting the wrong split system air conditioning unit in your home. In selecting a Mitsubishi split system air conditioning unit, you are not only selecting a superior system, but you have a range of systems that will suit every need, every budget and deliver temperature controlled comfort every time. To find out more, speak with the experienced air conditioning specialists from Rite Price Heating & Cooling.