Split System Air Conditioner Range
Leading split system air conditioners manufacturers touts themselves as the ultimate in air care, and when it comes to conditioning your home or property, Mitsubishi is one of the best in home appliances.
If you're a homeowner or property owner in Adelaide and you have your heart set on one of the air conditioners in the Mitsubishi range you have a wide range of options available. From split system, ducted and cassette, the options and models from Mitsubishi split system air conditioners are considerable and making a decision on which one to choose will be a challenging one as you will be spoilt for choice.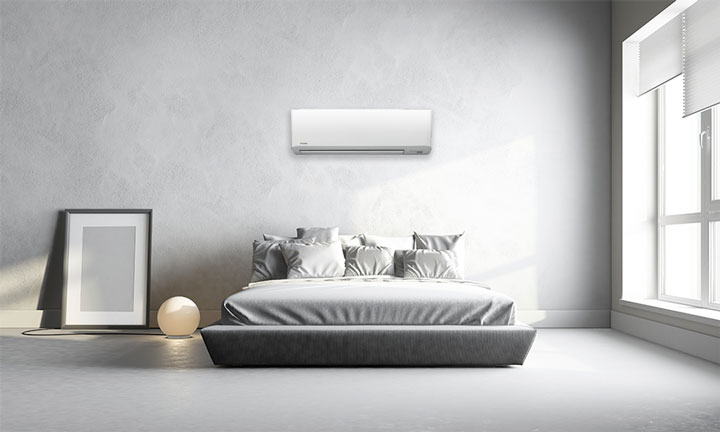 A little history on Mitsubishi Electric
The history of Mitsubishi is the history of technology revolution in the early nineteen centuries. Mitsubishi saw the development of modern Japan, being founded in 1921 Kobe, Japan, the company was transformed from the a shipbuilding manufacturer to the now known Mitsubishi Heavy Industries, Ltd. The 1921 saw the ushering in of a consumer oriented manufacturing company. Mitsubishi hit it off with its electric fan, which became the most demanded product of the company.
From the shipbuilding in 1921 to the manufacturing, installation and maintenance of elevators and escalators as well as power generation equipment. Mitsubishi became highly successful, trusted and reliable company with rapid growth rates. The 1960s saw the emerge of the most innovative diversified electrical equipment manufacturers in Japan when Mitsubishi electric turned its attention on manufacturing environmentally conscious techniques.
Being the leader in anything innovation, Mitsubishi Electric extended its technology advancement into air conditioning system, automobile electronics, satellites technology, and nuclear-powered generation. From the 80s till now, Mitsubishi Electric has lead the way by raising the boundary of innovation and technology breakthrough in products that benefit the world.
Mitsubishi doesn't just offer incredible air conditioning, the company also has created and distributes a wide range of home appliances including cars, refrigerators, first large-scale LED screen for sports arenas, the world's largest CRT television screen for the consumer market, the world's first spiral escalator and the world's fastest elevators etc.
When you're such a world leader in electronics, it is fair to say that your brand is a popular one for homeowners and Mitsubishi certainly has a reputation for quality services and the finest products that stand the test of time.
The key to Mitsubishi's success is the company's dedication to its global community to constantly create and distribute groundbreaking innovations that create significant value to consumers throughout the world.
Split system range from Mitsubishi
Mitsubishi offers an extensive range of split system option in air conditioning ranging from 2.5kW cooling, 3.5kW, 5,0kW, 7.1kW and 8.0kW. There is something for everyone when it comes to heating and cooling using a wall mounted split system.
One of the most exciting developments from Mitsubishi of late has been their new GL Series range that has taken wall-mounted air conditioning to the next level.
Due to the fact that energy rating is such a major focus for consumers, Mitsubishi has been driven by the goal to create a very quite and powerful system, all with the highest energy rating. Some of Mitsubishi's split system models include Wi-Fi connection that allows users to control the systems from almost anywhere simply by downloading an app on a smartphone or iPad.
The Mitsubishi range of air conditioners includes the following models
• Mitsubishi Electric MSZ-GL25KIT 2.0kw cooling/ 3.2kw heating
• Mitsubishi Electric MSZ-GL35KIT 3.5kw cooling/3.7kw heating
• Mitsubishi Electric MSZ-GL42KIT 4.2kw cooling/5.4kw heating
• Mitsubishi Electric MSZ-GL50KIT 4.8kw cooling/5.8kw heating
• Mitsubishi Electric MSZ-GL60KIT 6.0kw cooling/6.8kw heating
• Mitsubishi Electric MSZ-GL80KIT 7.8kw cooling/9.0kw heating
• Mitsubishi Electric MSZ-GL71KIT 7.1kw cooling/8.1kw heating.
The systems all come complete with sleek design and a wide range of exciting features that are focused on energy efficiency ratings. Suitable for small to large rooms all based on the kW outage, each split system can heat and cool a room and climate control a space perfectly.
It is important to note, that while split systems range in price based on the kW outage, you should arrange an air conditioning professional to visit your home and measure your space to ensure you are purchasing a split system wall mounted unit that adequately fits the floor space you are trying to heat or cool.
By not getting the kW outage calculations correct you can run the risk of selecting a system that is inadequate for your needs and wind up not being able to heat or cool your space properly. For more information please follow this link.
What to look for when you are choosing your split system
Choosing a split system can be daunting and if you have a bit of an idea of what to look out for you're going to have a better chance at choosing a system to meet your individual needs.
Split systems are a great option for a wide range of uses, whether it is cooling a TV area or living space, climate controlling a small office or workroom, heating or cooling a bedroom or conditioning the air within a small shop, there really is a broad range of uses for Mitsubishi split system air conditioners.
Things to consider or look out for when you are making your decision include:
Capacity – by far this would have to be the most important factor as if you choose a system that is too big or too small your running costs will increase dramatically, and you won't be buying a system that suits your ideal situation.
Efficiency – energy efficiency is a major factor to consider. When you purchase an air conditioning unit that's not the end of your spending, you need to run the system and ensure it is now chewing up valuable energy and driving up your electricity prices. Focus on the energy efficiency rating and also the COP (Coefficient of Performance) when you are looking to purchase a system.
Specs – the specifications such as the dimensions and weight do have some bearing on your decision making as well. Having a system that doesn't fit into the space you have is going to be an issue so you should measure the area you have available to ensure the dimensions of your system will fit the space. As well as this, it's important to be aware of the weight of your split system to ensure you're not trying to wall mount a system that is too heavy for your wall space. Also, keep in mind that there is an outdoor unit involved in the split system so you will need to have adequate space to fit the outdoor unit. These outdoor units can be up to 100kg of weight, so be sure you have a space that will accommodate this compressor box.
Connectivity – having a system that is Wi-Fi connected is a fantastic way to control the function of your air conditioning unit all via a handy app. By controlling your system via an app, you can turn it on en route to your property and ensure the space is perfectly heated or cooled before you arrive, no more waiting for the air con to kick in when you arrive.
Warranty and maintenance – buying a system from such an established company as Mitsubishi allows for a huge support network should you need major service or need to activate the warranty. Whatever model you choose from Mitsubishi each system is backed by a comprehensive warranty.
No matter which split system air conditioner you choose from Mitsubishi there is a system to suit every need and budget. If you're looking for a unit that is affordable and small Mitsubishi has just the thing while at the other end of the scale if you need an 8kW system with all the bells and whistles Mitsubishi has got you covered.
Warranty periods for a Mitsubishi split system
One of the greatest features of a Mitsubishi appliance is the peace of mind that you have an extensive warranty for your time. Mitsubishi split systems come with a five-year manufacturer's warranty, which starts, from the date of purchase. All technical support is provided by Mitsubishi and consumers can be assured that when you're buying Mitsubishi, you're buying quality backed by a satisfaction and manufacturers guarantee. Ensure you keep your date of purchase in mind and perform regular basic maintenance such as cleaning the filter to ensure your system is kept in pristine condition.
If you're looking for a split system, speak to Rite Price
Heating and cooling your home can be a challenge if you don't have the right information or appliances and the team from Rite Price Heating & Cooling are experts in their field and offer a wide range of split system options to meet your needs.
Family owned and operated, Rite Price Heating & Cooling take the time to ensure whatever system you purchase is perfect for your needs and you get great value. With handy locations in Munno Para, Valley View and Clovelly Park, Rite Price can visit your home or office and provide a detailed obligation free quote to ensure you get the perfect split system for your property.
Phone the team from Rite Price today to find out more information and to arrange your obligation free onsite quote for your air conditioning system.