Reasons why you should opt for a split system air conditioner
Australia is a land of harsh environmental conditions with plenty of heatwaves and humidity followed in the southern states by bitter cold mornings with below zero degrees. Air conditioners are a way of life in Australia, and with an increase in new home builds and renovations across the country, there are huge benefits from being informed on the features, advantages and benefits of the systems available.
Air Conditioning Adelaide
Air conditioned homes and commercial properties are a way of life for Australians and ensuring you find a split system to fit your needs is essential when you want to ensure your family and colleagues are cool, warm and generally comfortable year round. Split system air conditioners are a popular choice for homes and offices, due to their ability to be quickly installed in a particular room and without the need for expensive ducted air conditioning set ups. Opting for a split system air conditioner is often one of the easiest ways to heat or cool two story properties that aren't suitable for ducted air conditioning as well as provide a dedicated air conditioning system in a particular room that requires treated air.
In this article, we explore the types of air conditioning units on the market today, their associated installation, running and maintenance cost as well as their performance to provide sustainable cooling and heating solutions to keep your family comfortable all year round.
Considerations when looking at split system air condition options
There are many retailers, wholesalers and experts in the industry that are always too happy to upsell customers to the latest and greatest systems, that are often far beyond the requirements (and budgets) of the average household. When looking to install a split system air conditioning unit into your home or commercial property, there are a range of key considerations that need to be made. Considerations such as what areas am I looking to cool in my house? How many rooms are you looking to cool? How much am I looking to pay for installation and operating costs? While these considerations are often the starting point, there are many other considerations that must be taken into account when looking at the options:
Why install a split system air conditioner?
Split system air conditioners not only create the ideal climate control in your home or office but ensure that you and your family can escape the heat or cool of the day or rest peacefully at night in temperature-controlled comfort. With a range of split systems options available across the market at a range of different prices, there are many considerations that buyers need to assess.
What is a split system air-conditioning unit?
Split system air conditioners are cost-effective units that are designed for single room or open spaces. Less expensive than ducted air, the systems are cheap to purchase and require much lower energy to run.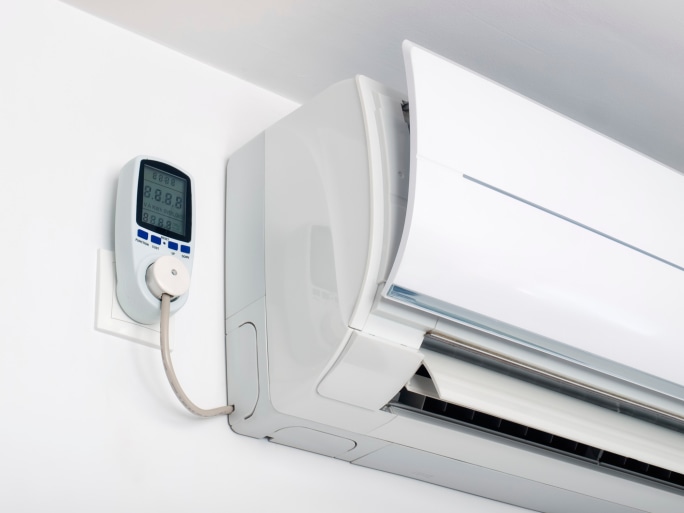 Split systems have key advantages of being more affordable to run and replace should any issues occur. In addition to this, as the household budget allows, systems can be added to other rooms and sections of the house to increase the reach and cooling capacity. The beauty of split systems is that they can be added to rooms as needed or where ever the heat or cool is affecting your lifestyle or working environment. As the name suggests, the split air conditioning unit is comprised of two pieces, the external component or condenser as well as the internal 'fan coil' which distributes the warm or cool air around the house.
Many new homes are fitted with multiple split system units, to increase the airflow around the house, cool in summer and heat during the winter. Being able to pin point the heating and cooling in a property is a massive advantage to lower energy costs and isolating air to rooms that are being used. Split systems allow each room with a unit to independently control the temperature to suit the specific needs of the occupant.
Split systems vs. ducted
Ducted air conditioning units as the name suggest have a number of ducts running into numerous rooms around the house controlled from a central location. On face value this may seem like an excellent option, however installation involves an extremely large undertaking and units can easily run into the tens of thousands of dollars.
The ducted system cools the entire home and for additional costs can be upgraded to reverse-cycle and 'zoned areas' which limit the flow of air to only selected rooms. While these zoned areas sound similar to a split system, the catch is that most systems dedicate a large 'main area' that must always be running, despite you zoning the section. Therefore, costs are much higher than that of split systems – say in a home office, bedroom or children's play area.
Updating an existing dwelling
When moving into an existing household or property without air conditioning units, considerations need to be made about several key areas before committing to your purchase. The size of your home is a key consideration in choice of system and the number of rooms that will need consistent air conditioning. Smaller homes wouldn't require more than one or two split system units strategically placed to maximise airflow.
In contrast larger homes may look at ducted or a series of split systems depending on the cooling requirements of your home. It must be noted that some homes would be unable to install a ducted system due to the space required and the inability to install the system to an existing home. Installing a ducted system is an extremely large undertaking requiring professional installers who will require your home over several days to be available to undertake significant works. While installing a split system is relatively easy and can be done within a day or less into one or more rooms. Outside space and neighbours are also a significant consideration, with external units of both ducted and split systems being considered by some as unsightly and noisy – although technology has significantly reduced this in recent times. If you are renting your home, then a split system is the only option as ducting is a significant home project that is extremely costly.
New home builds
New home designs have more flexibility in the type of system they can install. Similarly to existing dwellings, the size available, number of rooms required to be consistently cooled and the features you are looking for your home are all to be a consideration.
Small or large home
The size of your property is a key consideration when selecting an air-conditioning unit. In units, apartments and condos which traditionally have a smaller space and access to roof cavities often split systems are the only option. While larger houses with many rooms may be better suited to ducted and zoned air conditioning that can be spread around the property. On the other hand, in large houses, often key areas such as master bedrooms and key living spaces can have split systems installed to offer similar conditioned air distribution.
How much am I looking to spend?
Cost is a key consideration when installing an air conditioning unit. Not just the initial cost, but the power consumption pushing utilities up during the Australian heat spells we are all used to experiencing. Ducted air-conditioning systems generally start at about $8,000 for a relatively small house and go up from there to add features such as reverse cycle, zoning and additional rooms that may not be included in the original costing of the units. Meanwhile, ducted systems have a purchase price from around $1000 – $2000 and additional units can be added to the home as budget allows.
What are the pro's and con's for each system?
While looking to compare the two systems for your home, it is best to take into consideration the above and what is best for your specific needs, however it is always best to compare key product attributes side by side:
Ducted air conditioning units
Pros
• The ability to heat or cool the entire house
• Zoned cooling allowing to segment
• One unit outside the house controlling all the heating/cooling requirements
• Very discrete system both internally and externally
• Has the potential to maintain an event temperature around the entire home
Cons
• High unit costs
• High installation costs
• High running costs
• High replacement and maintenance costs
• Unit has issue, whole house is without cooling
• Requires large amounts of space in wall/floor cavities
• Requires large amounts of time to install
• Difficult to retrofit into existing buildings
• Cannot be fitted into all homes
• The unit cannot heat only one room at a time
Split system air conditioning units
Pros
• Low unit cost
• Low installation costs
• Low running costs
• Unit has issue, other units in house can still run independently
• Can be installed in any room – despite not having windows – for window mounted units
• More flexible than ducted AC.
• Different rooms in the house can run different temperatures
• Better for single rooms and small premises
Cons
• Can only heat certain rooms or sections of the house.
• The internal and external units are visible on the walls
While both systems have their pros and cons, it is clear that through investing in a split system, homeowners can provide all year round heating and cooling for their families or their tenants alike, while managing installation, ongoing and replacement costs. When selecting your air conditioning unit this year, it is paramount that you consider all the options, so there are no nasty surprises when you open your next power bill. Opting for a split system air conditioning could save on energy costs and allows you to climate control your property simply and without expensive ducted air conditioning installation.