Inverter Air Conditioner Systems
As one of the leading electronics companies in the world, Mitsubishi is well known for its dedication to quality products and its dub to be one of the biggest air conditioning providers in Australia.
Mitsubishi is one of the world's most respected air conditioner manufacturers, with a long history of durability, high efficiency rating and low energy consumption. It's fair to say if you've ever looked for an air conditioning unit you've probably come across a Mitsubishi air conditioner unit.
Whether you are looking for a ducted air conditioning system, a wall-mounted or split system, a cassette system or a DVMS system, air conditioning by Mitsubishi is highly intelligent and world class.
Being one of the leading air conditioning and electronics manufacturers has meant that Mitsubishi has constantly innovated when it comes to technology. The inverter technology is one of the Mitsubishi's innovative breakthroughs in recent year.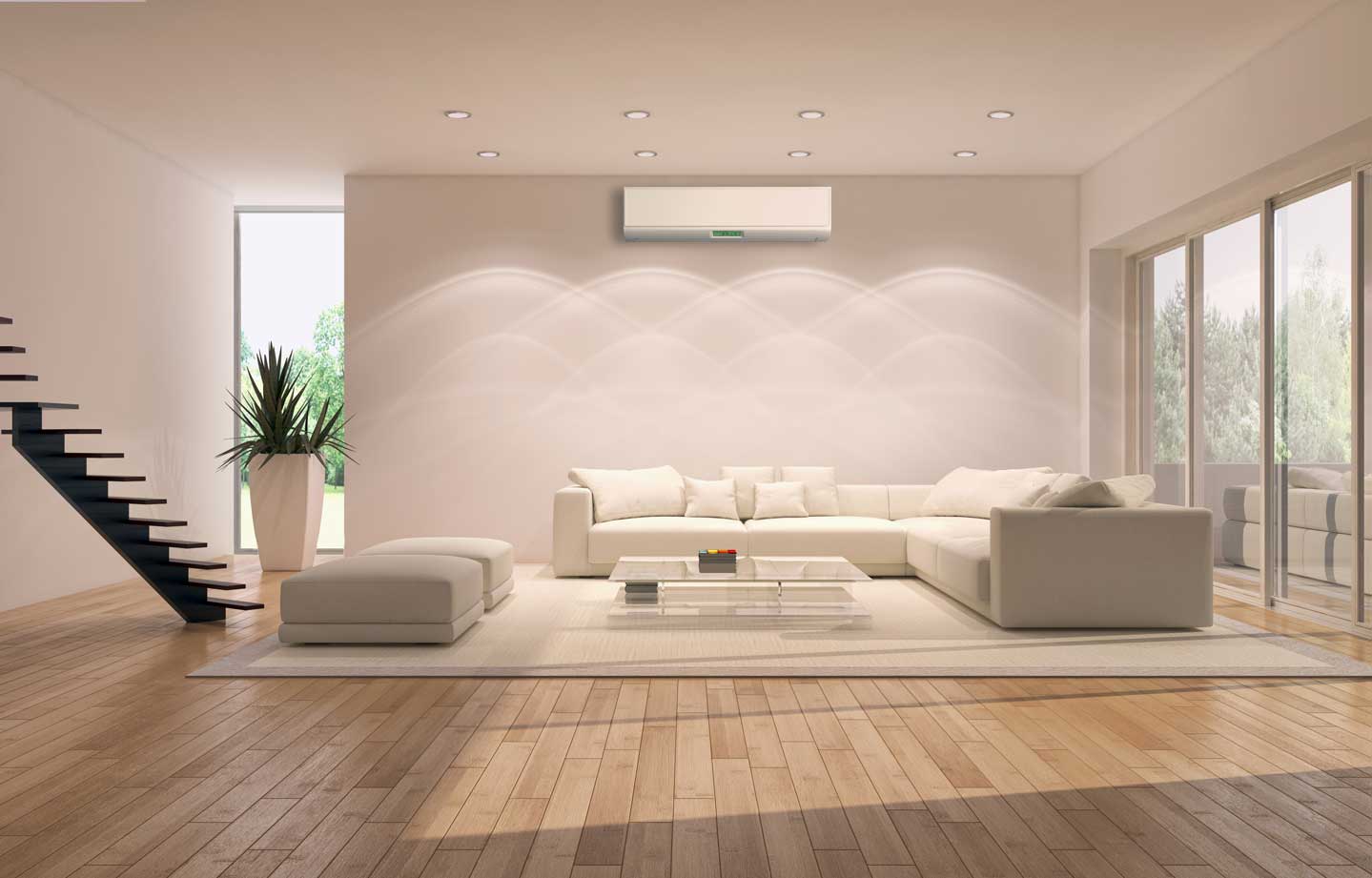 How does an inverter work in air conditioning?
Mitsubishi's smart inverter technology has been a popular innovation within the air conditioning marketplace.
The inverter technology is used by many reputable air conditioning companies however, the cutting-edge option offers a wide range of performance benefits that combined with Mitsubishi's features making this incredible air conditioner solutions difficult to pass up when you're looking for an air conditioning unit.
The Smart Inverter from Mitsubishi is basically a process which focuses on cutting your electricity bills and maintaining a comfortable climate controlled environment that's focused on performance and energy conservation.
The process of the inverter is simple; the air conditioning unit uses an inverter circuit that converts the air conditioning from the power supply into DC and then returns it to air conditioning.
The second conversion changes the voltage and the operating frequency which also changes the rotational speed of the compressor which regulate the output of the system. With such high end technology, the air conditioning is sure to be economical and produces far less noise.
Conventional air conditioning units without inverters have a constant stream of air that works without any change in speed whatsoever, whereas an inverter cleverly changes the power to high and low based on the needs of the room which can provide a wide range of benefits both for the humans in the room and also your electricity costs.
If you have ever sat in an air conditioned room and felt frozen, you'll appreciate the benefits inverter technology can provide and how the inverter circuit works to control the flow and output levels perfectly to ensure you're getting the best air conditioning experience from your unit.
Lower your power consumption with a Mitsubishi smart air conditioner
There are plenty of reasons why you should choose an air conditioner with an inverter, and your decision might be based on a range of features including affordability and output, however, there is more to keep in mind that these features alone.
Smart technology such as an inverter air conditioners works to provide even temperature control in the room or space that the unit is conditioning, which is one of the major issues for climate control as the conventional air conditioning pumps cold or hot air into a space without the ability to climate control the area.
Smart inverters not only reach the desired temperature quicker, but they also save energy and work to control the set temperature when it is reached, turning off the compressor as needed.
The inverter then waits to see if it needs to kick in gear again as the room heats up or cools down as people enter and exit the room and the environment changes with shade, or sunlight. The idea of perfect control of the output of power is a massive feature for inverter air conditioning units and one that you should be aware of as the key benefit of this type of air conditioning technology.
Our Most Energy Efficient Air Conditioners
Mitsubishi Electric Advanced Inverter Technology provides high-speed cooling and heating with extra energy savings compared to non-inverter models.
Energy Savings
Vector-wave Eco Inverter
This inverter produces the most efficient waveform in response to variations in compressor motor frequency. Operating efficiency is improved throughout the entire speed range, leading to a reduction in annual electricity cost.
DC Fan Motor
Our outdoor units are equipped with an extremely efficient DC motor. Depending on operating conditions, efficiency is up to 60% greater than equivalently rated AC motors.
Magnetic Flux Vector Sine Wave Drive
A microprocessor converts the motor's electrical current waveform into a sine waveform (180°conductance), enabling the motor winding ratio to be increased while energy loss is reduced.
"Econo Cool" is an intelligent temperature control feature that adjusts the airflow distributed in the room depending on the air outlet temperature. Temperature settings can be raised 2°C without any loss in room comfort. That's equal to a 20% gain in energy efficiency.
Boost your heating and cooling speed
You know the drill, you are sitting in your home, and you feel like it's too hot or cold, you turn on your air conditioning unit, and then you wait…. finally the heat or the cooling kick in a few minutes later and you can start to enjoy the benefits of the getting and cooling.
With an inverter, the room is air conditioned far quicker than non-inverter units as the motor powers to reach the perfect temperature as soon as possible using the power of the inverter technology.
Whatever way you look at it, the heating and cooling of a space with an air conditioning unit that has inverter technology can be up to 50% faster than traditional air conditioners which offers considerable comfort to individuals looking for not only an affordable and powerful system but one that is focused on optimum climate control.
Get the right climate within your space year round
It's pretty annoying as the seasons change the way conventional air conditioners fluctuate and Mitsubishi inverter technology is designed to offer optimum comfort year round.
While with other systems there is a lot of chopping and changing with the temperature, the Mitsubishi air conditioner systems are constant and work to ensure you get the right temperature without too many annoying adjustments.
Inverters work to intelligently adjust capacity of the system
Mitsubishi's air conditioning systems work to precisely control the speed of the unit's compressors and adjust capacity as the system runs. These slight tweaks work to improve the capacity of the system by around 94% for cooling and 103% for heating, which is an amazing improvement and can save you some serious money.
Mitsubishi inverter air conditioners are easy to install and maintain
It's often forgotten that the importance of ongoing maintenance for air conditioning units, and with Mitsubishi's inverter air conditioners installation and maintenance is a breeze-yea that easy.
Low-maintenance and well known for their integrated wiring system, the units are quick to install for licenced installers and have a charge-less refrigerant system that reduces installation time and makes the entire process super simple.
The refrigerant system is also charge-less, which means that the piping length is up to 15 metres without the need for extra charging. You can also get a piping that is 30 metres long if it's needed for split system units.
By having a simple system that doesn't have complicated wiring your installer can conduct the installation quickly which means your costs are lower.
Mitsubishi inverter air conditioners are the perfect solution
If you love a reliable and established brand with all the features and the benefits of world-class inverter technology you can't go past Mitsubishi.
As leaders in the electronics world, you have the peace of mind that whichever smart inverter unit you choose you're getting a reliable and functional piece of air conditioning that will heat or cool your home efficiently, quickly and for far less than conventional units.
Using a Mitsubishi inverter air conditioner offers a huge energy saving annually compared to a conventional system, and if you're a home owner, a property investor or a business owner, you should have a system that will be affordable and reliable.
Rite Price offers Mitsubishi inverter air conditioning units
Rite Price Heating & Cooling offers a wide range of intelligent Mitsubishi air conditioner systems all with inverter technology.
As a family owned and operated business, we understand our customer's needs and provide a great range of products all with the features and benefits you're looking for in an affordable and powerful air conditioning system.
We offer free onsite quotations, so you can meet an experienced air conditioning specialist at your home or office and discuss your air conditioning requirements. All of our quotes are obligation free, and we ensure a thorough quotation to ensure your system meets your needs and the square metres of your space.
Whether you're looking for ducted air conditioning, evaporative cooling or split systems, Rite Price has an extensive range of brands available to meet your needs and all with extensive warranties. We offer air conditioning systems for clients across Adelaide and are proud of our customer service and attention to detail.
Whether you have an existing air conditioning system you want to replace with a new innovative inverter system or you are building a new home, and you want the latest and the greatest system, Rite Price Heating & Cooling offers systems that are value for money and the highest quality.
Visit us at our Valley View, Munno Para or Clovelly Park store today to find out more.