What are the costs of ducted air conditioning
Ducted air conditioning for those who don't have it – want it – and those who do have it – wouldn't give it up for anything. Providing your family with year round heating and cooling solutions throughout your whole home, so you can go about your day as if the harsh Australian conditions outside were just a thing of imagination.
But what is the cost of such comfort? Although there are many heating and cooling solutions on the market, the ducted unit is by far the Mecca when it comes to, however, there are a range of things that need to be considered when looking at the costs of a unit.
What is the size of your house?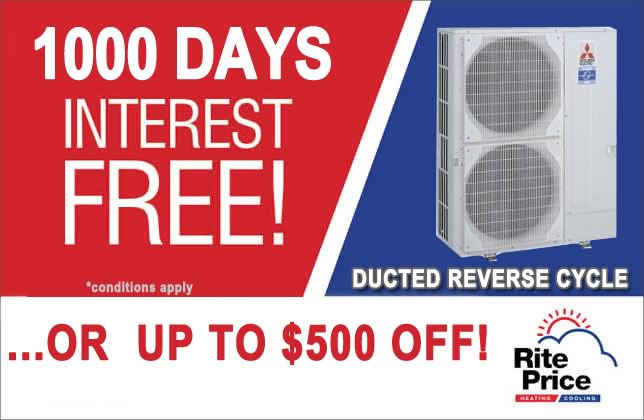 Depending on the size of your home, the costs of the unit itself and the materials required labour will vary. If you have a small three-bedroom home with one living area, you may only need a small system and a limited number of outlets or ducts. However, if you have a multi-storey, five bedroom, two living room home you are going to be looking at a much more expensive unit.
The size of your ducted unit is determined by the kilowatt (kW) or output, the higher the KW the more air can be produced. For a smaller home for example you may look at an 8kw, 12.5kw or 14kw system for your home – all of which may do the job. The key to remember is that the smaller the system the harder it will need to work in order to cool and maintain the ideal temperature setting you set your home. If you would like to know more about the benefits of ducted air conditioning please see our ducted air conditioner page for more information.
Do you need air conditioning upstairs and downstairs?
If your home is two or more story then you need to be prepared to add in additional costs. The system based on the ground level will need to be piped up and around the roof cavity of your home as well as through the levels on the bottom floor. This will require additional piping, a larger unit and more building costs to build in the system around the house – or retrofit the existing home.
More rooms = more cost
The more rooms you have in your home, the more the costs will be for your ducted systems. Again, there are more parts, more labour and increased complexity when building in a larger ducted system into your home. Your larger homes will require more ducts placed around the home to ensure the air is circulated and everyone can enjoy the benefits of the ducted air conditioning system.
What features are you looking for?
There are a range of features such as zoning (allowing you to only pump air into certain rooms or zones), Wi-Fi connectivity, sensors, vents and other functions that will add value to your experience, however will add costs to your build and should be factored into your budget if these are important to your build.
To brand or not to brand?
With the increase of the numbers of 'generic' or second tier brands entering the market, there are a range of alternatives out there that are cheaper and yet still entirely functional for your home.
However, when choosing a well-known brand name, they not only have a reputation for performance but also are typically backed by extended warranty on parts and in sometimes included servicing.
This provides a level of comfort to your family that you know that you can be guaranteed that your investment in the ducted air conditioning systems for your home was a solid investment.
New home or retrofitting?
Depending on your home, there may be costs that need to be considered when selecting ducted air conditioning. If you are installing the system into a new home build, then the AC technicians can access all areas of the home, the roof cavities and install everything as required, unimpeded.
In addition, if you are in a multi-storey home, there may be additional building work that needs to be completed to support the air travelling upstairs. In a new build, this can be factored into your plans and made relatively simple.
In a retrofit solution, where the system is being installed to your home once people are living in it, things become more difficult. There maybe complications in access to the areas needed, additional building works and requirements for the home to be vacated in some instances. This may add additional costs to your overall project and should be factored in.
So what are you up for?
With all the above being considered, there is no debate the ducted air conditioning system will be an added expense to your home and are not cheap. Installed for the smallest of homes will start from around $6000, however on average leaving yourself $10,000 to $15,000 is far more realistic. If you have a two story or extremely large single story home, you can expect to bay $15,000+.
What are the approximate running costs?
Also, the running costs of the system will see your power bills increase. You will be looking at $1.20 to $2 per hour running the system around your home. These running costs can be decreased by systems that offer zoning and sensors which decrease the amount of required airflow to rooms in the house that are not being used.
What is servicing going to cost?
Similar to your car, there is a need to get a service every 6 to 12 months by a licenced air conditioner company. This will prolong the life of your system and ensure that all the safety checks and balances are completed for your family.
Typically these services cost between $150 – $200 depending on who you use and your location. However, the long-term costs and implications of not getting the servicing done will be much higher if your system breaks down and needs replacing.
Why not buy now and pay later?
With the introduction of easy payment or flexi-payment options, the costs of installing a ducted system into your home are made easier with scheduled monthly payment options. Through your retailer or AC specialist, there are many payment options with limited fees allow you and your family to manage the costs and enjoy temperate controlled comfort sooner.
While there are indeed costs in the installation, running and maintenance of a ducted air conditioning system, through the Australian summer (or winter for that matter) people who have them will seldom complain about these costs when they are escaping the elements and enjoying a good night's sleep.
Whether your home is large or small, single or double, old or brand new a ducted air conditioning system installed will add a level of comfort, convenience and enjoyment that simply cannot be found in a home without it. There are certainly costs involved, however by speaking with a licenced, registered, professional retailer and installer of ducted air conditioning units you can get the best prices and the best advice for your home. Click here to learn more on why you should choose ducted air conditioning for your home.
Rite Price heating and cooling offer a range or Australia's best brands, installers and prices on ducted air conditioning, reverse cycle and evaporating cooling and heating systems. Rite Price would be a great place to start your ducted air conditioning journey. Ensure that you have your installer come to your home to review your specific needs and get some quotes to ensure that you are getting indeed the best deal for your home. Ducted air conditioning will give you and your family a new level of comfort and enjoyment all year around – it's something that is quite had to put a price on overall. Check out Rite Price Heating and Cooling today to find out more about the extensive range of Mitsubishi Electric AC options available for both homes and offices across Adelaide.