What's the best energy efficient rating for split system air conditioners
If you are in the market to buy a split system for your property in Adelaide you would have started to notice the energy efficiency rating on the front of all the electrical items.
While the price might be the deciding factor for you when you are shopping around it is important to note that for the on-going costs you should be taking note of the energy efficiency rating as this will affect your running costs of the item you purchase over the life of the item. In this article, we explore the energy rating system in Australia and how it has an impact on the item you purchase as well as the best energy rating for your split system air conditioner.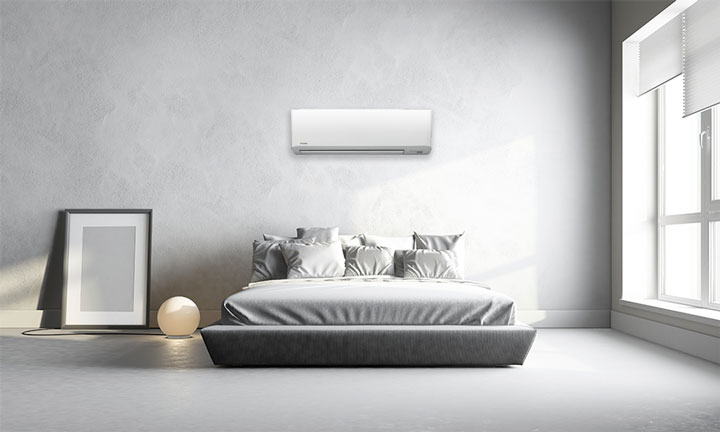 How does the energy efficiency rating work?
If you have spent any time in an electrical store or shopping for an electrical item online, you would have seen the energy rating system that has been set up by the Australian government. The star rating is a simple to understand system of an appliance that is determined from the energy consumption and size of the product. The rating is determined and calculated via the model's output per unit of energy it consumes.
In the case of a split system air conditioner, this means that the cooling capacity (output) would be measured compared to the energy (power) it uses. A calculation is then made and the rating is determined and added to the item for consumers to view. The labelling system is designed to provide consumers more information about the energy efficiency of appliances and allows for true and current information to be displayed along size comparison labels and other endorsements that brands can often make to market their products.
Energy rating labels shouldn't be ignored and are in fact a seal of approval to show the comparison between each item available for sale in a line of appliances.
If you walk into an electrical store, you will find the following items will have an energy efficiency label – air conditioners, clothes washers, clothes dryers, dishwashers, televisions, fridges, freezers and computer monitors. It's also important to note, if you are buying items online it is not mandatory to display the energy efficiency stars so you should be aware of the benefit bricks and mortar stores have by providing this information.
What's a good energy rating for split systems
Split system air conditioners are systems that heat or cool a space to improve the climate of the surrounding area.
A split system is the most common appliance in household air conditioners, and they have a compressor and a condenser. There is an indoor unit which is attached to a wall and also an outdoor unit. Split systems are not ducted into the roof or wall cavity. In Australia, split system air conditioners are regulated for energy efficiency and labelling is used to provide consumers with the energy rating for the system.
There are two energy rating sticks on a split system – one for cooling and one for heating.
In the case of split system air conditioners, the more stars the better the product. Air conditioners can be rated up to 10 stars with 6 product stars plus an extra 'super efficiency rating' band, which is used for cooling. The output figures of an air condition will tell you the amount of heating or cooling the unit can product and it is these figures you should be looking for.
In the case of a split system air conditioner the more stars the better – so you should be looking at 6 stars and extra starts for the super efficiency rating for cooling if possible and work your way back from there. At the end of the day, the higher your energy efficiency the lower your running costs so be sure to think ahead of the cost savings by outlaying slightly more for a more energy efficient system.
What should you look for in a split system air conditioner?
Choosing an air conditioning system is always a big decision for any home owners. Most especially when you are in the middle of completing your home with so many decisions to make, having to choose between a split system or ducted air conditioning can be very challenging. In this article we have gone through things to look out for when choosing an air conditioning system.
When you are in the market for a split system air conditioner, you should consider the following elements in the decision making process.
– The size of the room and ceiling height you need to heat and cool
– External wall materials – is it brick?
– Insulation in the property
– Do you have glazing on the windows
– Do you have space for an external unit
– Can you hang a wall unit in your property (might not be possible is you are renting)
– Do you need a system that is whisper quiet for bedrooms
Finding the perfect split system air conditioners for your needs is simple if you engage an air conditioning expert who understands your needs and offers a wide range of energy efficient products. To find out more information see our split systems page.
Rite Price Heating and Cooling offers an extensive range of energy efficient split system air conditioners to customers across Adelaide. If you are looking for a split system it's important to speak with the industry experts who have the knowledge and understanding to offer the most up to date information for your air conditioning unit. Rite Price Heating and Cooling has been in the industry for decades, servicing South Australian family without a tainted reputation. We are owned and operated by a beautiful Australian family that understand Australian value and culture. All our air conditioning professionals are specialists well trained in their respective endeavours. From our help desk all the way to our service men, we love helping South Australians enjoy their summer and winter with stand by air conditioning and heating systems. Call us today for a one on one consultation.