Rite Price Heating and Cooling
Rite Price Heating and Cooling are proud South Australians.
Rite Price Heating and Cooling is a South Australian family business success story. Hard work and diligence has seen the company grow into a thriving business that now installs around 4500 air conditioning systems annually. With stores across Adelaide, and a solid history of great service and customer satisfaction, Rite Price Heating and Cooling guarantees service, quality and installation by qualified experts.
Earlier this year Advertiser business journalist, Nigel Austin, featured the company as a 'Silent Achiever' and lauded the efforts of the husband and wife team behind Rite Price Heating and Cooling, Alison and Andrew Knowles.
After 25 years in the industry, Rite Price are now one of the major air conditioning sales and installation companies in Adelaide, with hundreds of satisfied customers and plans for further expansion.
A family business helping other families.
Rite Price Heating and Cooling knows that every home and every family is different. They are experts at designing air conditioning systems to suit individual needs. What works in one house may not work in another. Their custom built service is one of the ingredients to their success.
"We are successful because we are reliable, offer good value for money, exceed customer expectations and have a store of knowledge built up over 25 years," says Andrew Knowles, Managing Director of Rite Price.
Backed by years of experience, and the confidence that they have the formula right, Rite Price staff enjoy going out to customers' homes, apartments or offices to give home heating and cooling advice. Their product is not just sold off the shelf, but with operational knowledge that makes a world of difference to customers who can sometimes be overwhelmed by all the options available.
The emphasis on family is important to Andrew and Alison. Not only has the business expanded to employ their own family members, but they also employ over 100 staff who are able to operate as one big happy family within the industry.
"It's a big family business, we love it, because it's employing our grown-up children Brooke and Jacob and their partners and Andrew's brother also works in the business," explains Alison Knowles.
Rite Price are the ideal choice to assist your family, because you can buy in confidence knowing that the company you are dealing with is held in high regard as a reputable supplier.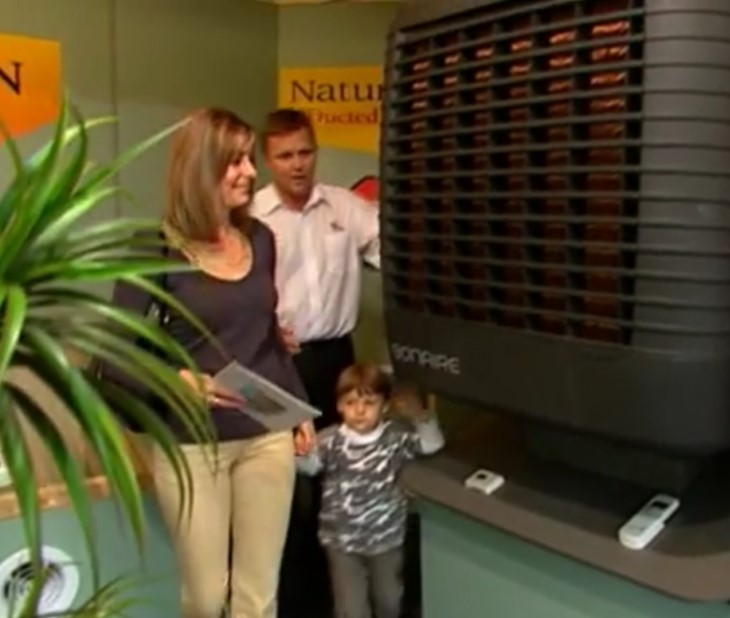 Rite Price partners with leading brands.
"We want to be able to offer the best products in the market to our customers," says Andrew Knowles.
Rite Price partners with the world's leading brands to deliver the best heating and cooling products. One of those partnerships is with Seeley International, manufacturers of Breezair and Convair air conditioners. When the partnership first commenced, Chairman and founder of Seeley International, Frank Seeley AM, had this to say about Andrew:
"Andrew Knowles is an outstanding operator and his stores are already doing a wonderful job of selling our industry-leading Braemar heaters, less than one month in," he said. "We're getting great feedback about how Rite Price staff are treating our mutual customers, and this is exactly what we love hearing about our partners in this business."
Other trusted brands include Braemar, Carrier, Coolair, Mitsubishi Electric, Samsung and Toshiba; all known for quality and reliability. As demand to provide better comfort, better operational efficiency and advanced energy savings increases, these brands are leading the way with new technologies for the future. Air conditioning is a specialised field of engineering that continues to be innovative in response to market needs.
Rite Price is up to date with new advances as they happen, bringing customers the world's best home heating and cooling solutions. Rite Price customers can choose from an outstanding selection of quality products.
The Rite Price with the 'Rite' Service.
Rite Price have worked hard to establish great partnerships with their suppliers, and one of the rewards is that they are able to buy at the right price. In a competitive market, passing their great prices on to customers has given them a real edge. Rite Price cleverly keeps prices down, without compromising on quality. You can buy with the reassurance that the system recommended for you will meet your budget and your needs for many years to come.
Throughout the year, a range of special offers and discounts may reduce the price for you even further. If you need finance, Rite Price can assist there too. For example, at the moment they are offering up to24 months interest free terms, or up to $500 off the buying price. Definitely worth investigating.
Rite Price Heating and Cooling services all suburbs.
Rite Price started in the northern suburbs but today the company supplies heating and cooling solutions all over Adelaide and has plans for further expansion.
Andrew started his career as an apprentice mechanical services plumber and gas fitter, learning how to install commercial air conditioning systems in high-rise buildings and multistorey apartments. On weekends, he and Alison installed air conditioners for family and friends, eventually building confidence to begin their own business.
Knowles Air Conditioning and Plumbing was started in 1990, and now as Rite Price Heating and Cooling the company has become one of Adelaide's busiest and most successful air conditioning retailers. Rite Price Heating and Cooling don't just sell and install air conditioning systems; they also offer a comprehensive after-sales service.
Rite Price's tradespeople are the best in the business.
Rite Price use only qualified and licensed tradespeople with many years of experience, industry and product knowledge. This is backed by a 10 year warranty on workmanship. Every member of the Rite Price team is an industry professional who is well versed in every aspect of heating and cooling. In additional to the installation of systems in new build and established properties, they service all makes and models from ducted reverse cycle and wall split systems to ducted evaporative units.
Get a free quote from Rite Price Heating and Cooling.
No-one beats Rite Price Heating and Cooling when it comes to friendly, personalised service. Rest assured, whether it's a quote to update your existing system, to have a new system installed, or to have a service technician call, you will be in expert hands. Quotes are provided free of charge and without obligation.
There are three Rite Price locations so select the store closest to you and give them a call. They will attend at your home at a time suitable to you, discuss your needs, and work through a checklist at your property to determine what type of system and size will be best suited.
Do you select an evaporative air conditioning system or a ducted reverse cycle air conditioning system? Do you opt for a wall mounted air conditioning split system, and if so, what brand best meets your needs? It can be a complicated and confusing decision, unless you ask Rite Price.
Rite Price store locations:
Rite Price Munno Para, Munno Para Shopping Centre, Main North Road.
Telephone: 8254 4011
Rite Price Valley View, 877 Grand Junction Road.
Telephone: 8261 2277
Rite Price Clovelly Park, 1116 South Road
Telephone: 8277 4292