How reverse cycle air conditioning works
With all the erratic weather Australia is having of late you'd be forgiven for thinking that there is no 'normal' weather and it's either super hot or super cold. Finding the perfect temperature and climate for you and your family can be hard, and creating the perfect environment can only really be done with the help of air conditioning using hot or cool air.
In this article, we explore how ducted reverse cycle air conditioning works and how your family or office can benefit from the features and advantages of a reverse cycle air conditioning environment.
Firstly, it's important to get an idea of the ins and outs of how reverse cycle works and why it is different to traditional air conditioning systems.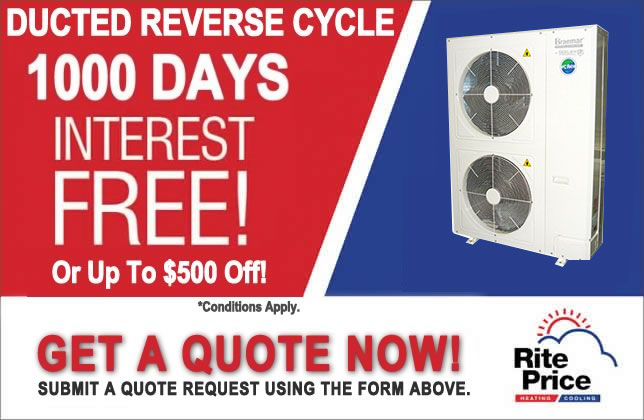 How does ducted reverse cycle air conditioning work?
So, how does ducted reverse cycle air conditioning work? A reverse cycle air conditioning system uses heat pumps and a refrigeration cycle so that during summer you can have a cool and comfortable home and during winter you can enjoy the warmth of a heated air system.
Thanks to a compressor, the refrigerant is pumped through a series of chambers before it reaches the condenser. As a result, you can adjust the setting to ensure that you have enough heat during the cold days in Australia. After the refrigerant is used to warm up your home, it will eventually flow to the evaporator. Then the system works to cool down the refrigerant so it can be used to warm up your home again.
In a nutshell, ducted reverse cycle air conditioning works to extract heat or cool air from the outside of the property and transfer it inside. The beauty of reverse cycle air conditioners is the system's ability to offer economical forms of heating and cooling, increased lifetime of up to 20 years, safer to use (especially in the case of portable bar heaters) and the ability to filter and dehumidify air as it is being conditioned.
Reverse cycle air conditioning systems are available in a wide variety of system options including split systems, multi-split systems, ducted systems and portable systems. visit our ducted air conditioning page for more information.
Features of a reverse cycle air conditioning system
Aside from the fact that you will be able to control the temperature inside your home, regardless of the weather outside, there are also several other perks for installing a reverse cycle air conditioner.
Warm in winter
If your property is located in a region of Australia that is often below 15ºC or less, you may be subjected to respiratory illnesses due to the cooler weather this is usually the case for the elderly or young children who do not have enough immunity for the cold temperatures. Being able to set a warm and heated home during the cooler winter months can help you avoid illness associated with drops in temperature.
Cool in summer
Likewise, the extreme heat can cause issues for the elderly and for young children, a climate controlled environment does wonders for respiratory issues and cool environments can help to keep down blood pressure, and any illness or discomfort suffered from extreme heat exposure.
Filtered air
On top of the benefits of complete climate control year round, a reverse cycle air conditioning system also filters the air inside the room as well. Without a proper filtration system, dust mites can breed within a home or office environment, making it dangerous and unsafe environment for people with allergies and sensitivities. If you're not aware of its risks, dust mites can cause skin allergies. It can also result to sneezing and watery eyes due to itching.
Energy efficient and affordable
Reverse cycle air conditioning offers energy efficiency and the ability to create the perfect environment in your home or office. They are efficient and clever and have the capacity to recycle air around a dozen times an hour so you can enjoy the heating or cooling benefits without the high energy costs of heating or cooling. Some experts state that reverse cycle air conditioning can lower energy costs by around 30%, which is a considerable saving for any home or commercial property.
Zoning capabilities
Reverse cycle ducted air conditioning units allow for zoned areas of heating or cooling, which means if you have a particular room that you want warmed or cooled specifically however you want to leave the rest of the property as it is you can pinpoint the particular zone and heat or cool it via a central controller.
What you should consider before getting a reverse cycle air conditioner
Not all homes or commercial properties can have this type of air conditioning installed in their properties, so before you purchase a reverse cycle air conditioning unit it is important to consider the following:
The floor plan
It is essential to consider the floor plan of your property before deciding on a reverse cycle air conditioning system. Whether you have a small unit and need a wall unit or you are looking to install a ducted reverse cycle air conditioning system in a five-bedroom house, there are plenty of things to consider and the floor plan is one of them. You will need to ensure that if you are looking at a ducted system you are getting a system that has enough zones for your property and you are also buying a system that has the right amount of kW for the space it needs to heat or cool. Purchasing a system that is too small will drive up your energy costs and make it difficult for the system to heat or cool your property effectively.
The kW can easily be calculated by your air conditioning expert and if you are not sure about the right size of system you need.
Insulation
Having the correct amount of insulation in your property before you install a reverse cycle system is essential as without good installation your heating or cooling will escape and you will need to work harder to climate control your home or office.
Number of rooms and people in the property
This is important, as the system will need to be adequate for the size of the property including the amount of people in the property. If you are installing reverse cycle air conditioning for a classroom with 30 children, it's a completely different system to a one-bedroom unit with two occupants. This is important to consider when looking for a reverse cycle system.
Outdoor space for the compressor
Based on whether you get a wall unit, ducted system or a multi-split system in your property you will need to ensure you have enough space for the outdoor compressor unit. For ducted systems this unit can be placed anywhere outside the home and away from bedrooms, however for wall units it will need to be placed directly outside the room. So it's important to keep this in mind when looking to install a reverse cycle air conditioning unit.
The price and your budget
One of the biggest factors that many are looking for before getting a heating or cooling system is the price. More so, they are after the running cost of the unit as well. Basing your decision on your available budget is essential and finding a system that is both affordable and good value is important. Most reverse cycle air conditioning units come with warranties which adds considerable value to the unit and should be considered in the decision making process for your reverse cycle air conditioning system.
The running cost for using the reverse cycle air conditioner is only a fraction of what you're paying for with your standard cooling or heating systems. You will be able to save hundreds of dollars every year, allowing you to save more for your family or other expenses. And because it consumes less energy, it is also one of the most environment-friendly systems to date.
If you're in the market for a reverse cycle air conditioning unit, it's important to speak with an air conditioning professional to check out the wide range of systems available to your your needs. Whether you're looking at Actron Air, Braemar, Mitsubishi Electric, Toshiba or any of the other well-known brands on the Australian market, it's important to engage professional air conditioning specialists to help you with the decision-making process to ensure you get the best system for your needs.
Check out Rite Price Heating and Cooling today to find out more about reverse cycle air conditioning, how it works, and its advantages today!