Reverse Cycle Air Conditioners For Adelaide Homes

Reverse Cycle Air Conditioners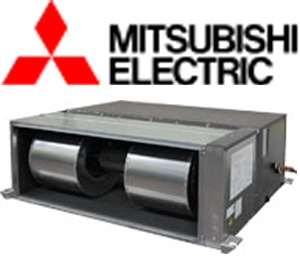 Reverse Cycle Air Conditioners have become the prime choice for home owners in Adelaide. Many home owners will choose a reverse cycle air conditioner for the fact that it can produce both hot and cold air – hence the term "reverse cycle".
This positions the reverse cycle air conditioner as an all-in-one system, that can keep a home warm in winter and cool in summer. There are inherent benefits to having reverse cycle systems, the most apparent being the lower upfront cost of having both heating and cooling in a single system.
This post shares some of the types and benefits of reverse cycle air conditioners.
Types Of Reverse Cycle Air Conditioners
There are generally two form factors for revere cycle air conditioning. They come either in Ducted or Split Systems. Each type has it's own set of benefits and shortfalls. Depending on your home layout and specific climatic needs, you may favour ducted over split system – or the other way round.
Ducted Reverse Cycle Air Conditioners
Most newer models of ducted air conditioning system come with the reverse cycle capability. Manufacturers now know that given a choice, customers will almost always opt for a system that does both heating and cooling. Ducted air conditioning uses ducts and air vents to distribute warm or cold air throughout a home.
There are many benefits to a ducted air conditioning system. It also gives an aesthetic and minimalist design to a home. Many home owners do not like their air conditioning to be visible. With ducted air conditioning, all the ducts are neatly hidden away in the roof space or floor joists, so it is completely out of sight. The only visible components of ducted air conditioning are the air vents which are installed flush against the ceiling or walls. This makes ducted air conditioning very un-obstrusive and it is easy to blend it into any interior decor of a home.
Ducted air conditioners come with an indoor and outdoor unit/compressor, and a network of ducts and air vents.
Split System Reverse Cycle Air Conditioners
Split Systems comprise of a compressor and multiple wall units that are also called fan coils. A wall unit is required to be installed into each room that requires air conditioning. While installation is simple, the wall units are clearly visible and some home owners do not prefer that. However, the newer models of split system air conditioners come in some very sleek designs and colour. And some home owners would use that to accentuate the interior decor of their homes.
Most newer models of split system air conditioners come with reverse cycle capability. Split systems are ideal for average sized homes, say a 3-4 bedroom single storey home. For larger homes, multiple split systems may need to be installed. In those cases, it may be more cost-effective to go for a ducted air conditioning system.
Benefits Of Reverse Cycle Air Conditioners
Versatile Implementation
Reverse Cycle Air Conditioners are ideal for complex floor plans or larger homes. Especially for multi-storey homes. These larger layouts usually require a much wider coverage and have harder to get to spaces/rooms. A ducted reverse cycle air conditioner will be able to deliver both heating and cooling to all areas in such a home, through it's series of ducts and air vents. This implementation would be the most ideal for such scenarios.
All-in-One Heating & Cooling
The benefits of having both heating and cooling in one system are obvious. Most homes require both heating and cooling for year round comfort. If you do not have a reverse cycle air conditioner, you will need to install a separate gas heating system. The upfront cost of installing separate gas heating could be avoided with going for a reverse cycle. In general, there are cost savings in opting for a system that does it all.
Economical
Energy efficiency has been a primary area of advancement for reverse cycle air conditioners. Most leading brands now have models that feature 5-6 star energy ratings. R&D has resulted in significant reduction of power consumption, especially with the continual improvements in the reknown "Interver" technology.
Inverter air conditioners are able to scale the operating mode/power up or down to optimally achieve the desired room temperature. This reduced significantly, any energy wastage when a desired room temperature has been achieved.
Reverse Cycle Air Conditioners vs Evaporative
Since both Ducted and Split System air conditioning comes with Reverse Cycle capability, the only other type of air conditioning that one should consider is Evaporative. This where home owners may need to give much consideration to.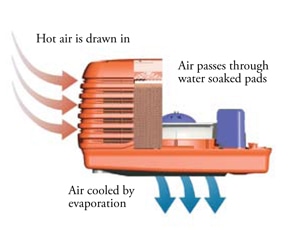 Evaporative air conditioning is almost a alternative route to mainstream air conditioning. Evaporative uses the process of evaporation to cool air. Warm air from a room is sucked through damp cooling pads to generate cooled air. This cooled air is then distributed throughout a home via ducts. So it is actually a form of ducted air conditioning.
Since evaporative air conditioners do not use a refrigerant and refrigerative process, it consumes far less power than refrigeration based air conditioning. A much lower running cost is one of the key reasons some home owners choose Evaporative. However, since it does not produce any heating, a separate heating solution will need to be installed. There are upfront costs to weigh in, and the running costs of gas if a gas heating systems is chosen.
The air produced by Evaporative systems is more humid, easier on the skin and lungs, and more like a fresh breeze. As opposed to the cold, crisp air from a refrigerative system. Some home owners prefer that while others prefer the colder air. It really depends on individual criteria.
Evaporative is usually more suited for families that prefer more natural air, have newborn babies or members with respiratory sensitivities.
Reverse Cycle Air Conditioners Brands
Almost every leading brand of air conditioning have reverse cycle models. Mitsubishi reverse cycle air conditioners are priced at a premium over other brands, and their implementation of the Inverter technology is one of the best. Toshiba, Samsung, Carrier, Braemar all have reverse cycle air conditioner models.
In terms of features, most reverse cycle air conditioners have similar offerings. When considering reverse cycle air conditioners, most home owners will start with their budget, to decide on the brand first, and then the type (ducted or split system or evaporative). Having decide on the type of air conditioner, they will then zero in on the model that suits them best. Some features like air ionizers are only available in split systems. If you would like more information on our ducted air conditioning pages please visit this link.
Need helping selecting reverse cycle air conditioning? Contact Rite Price today. Our consultants will help you choose the best system for your home.