5 Ways the Toshiba Reverse Cycle Air Conditioner Stacks Up on Benefits and Price
Installing a reverse cycle air conditioner can cost up to $10,000 but can also increase the selling value of your home. The choices you make when purchasing a unit, however, can increase the price benefits to offset the initial expense. This is because you have the option to customize your purchase in order to reduce ducted air conditioning prices. Toshiba has been getting good online reviews from homeowners who are looking for a dependable and energy efficient unit at a reasonable price. The difference with Toshiba over its competitors has to do with the immense selection they offer consumers to help them tailor the precise solution for heating and cooling their home. The history of Toshiba's AC presence is a history of residential air conditioning itself. They were first to introduce home units for the market in 1961, so you can be sure they know their AC solutions. Heating a house entirely with oil or gas can be costly because you have to heat all areas of the house; even those you're not really living in. Reverse cycle units can take a bite out of that heating bill but there are number of choices that can affect both the effectiveness and price point of a heating system. Ducted air conditioning prices depend upon a number of factors, such as: the size of your space, the amount of control you require and the general weather outside your home. For example, in extreme cold (below -10 Celsius) the outdoor heating coils in a split system may freeze over, making problems for heating functions. A ducted system suffers less in cold climates and can also work in conjunction with your pre-existing furnace functions.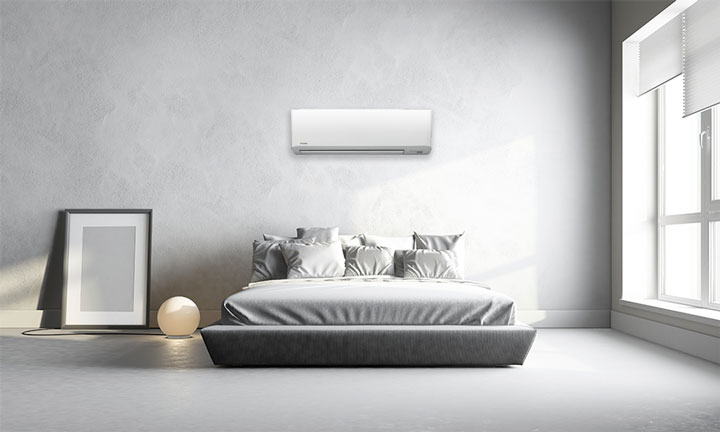 Ducted Versus Split Systems
While ducted systems do the job well, you have to deal with installation and structural issues. Some consumers turn to a split system that runs a cooling / heating line to the outside, without having to deal with ductwork. Both systems can provide adequate zone control, however the ducted system requires duct dampeners in order to control the flow of cool or hot air throughout your spaces. Each system therefore can be used smartly so you can control the specific zones or rooms in a house that require air treatment. Ducted air conditioning prices can change depending on the amount of control you need over your zones. Remember that no unit is working to the peak of its efficiency and energy output when your home isn't properly insulated. Regardless of the choice between ducted and split systems, be sure to deal with insulating and sealing air leaks in your home first.
External Static Pressure Offers Complete Cooling Control
Heating or cooling large objects within your space can be managed with external static pressure units. Toshiba offers users the ability to set pressure up to 196 Pa which can significantly affect the overall coverage and distribution across your entire living space. Again, maintaining an even output is a factor in reducing energy costs, so you can save some money by managing your pressure. What's better is that you have optimal control of pressure with Toshiba's three-phase-switchable static pressure system. This can be helpful throughout the year as you can set it to fit the weather conditions to provide ultimate comfort at any external temperature.
A Wide Range of Options Are Available
In order to manage your indoor air conditions, there are many add-ons and benefits offered by Toshiba's many products. Consider the benefits to adding a vaporizing humidifier, a long-life high-efficiency filter as well as a drain pump kit. All of these options can greatly increase both the life of your unit as well as the quality of air in your home. Humidifiers work to maintain the internal humidity of your home's air, which can help to reduce the number of allergens and particulates that live in dry air. A drain pump generally attaches to the wall sleeve base pan or the wall sleeve's outside corners and works to easily allow for the removal of condensation. Toshiba was first to introduce the "Daiseikai" plasma air purifier and air ionizer. Air quality is improved when particulates in the air are bonded with ions and turned into heavier compounds. Also consider the Toshiba self cleaning option that helps to remove moisture from the indoor unit, which can prevent mould from growing and affecting air quality.
An Energy Saving Option to Reduce Environmental Impact
Air-to-water heat pumps are quickly becoming the most energy efficient way to heat a home. They are currently considered a renewable energy technology because they greatly reduce the dependence on non-efficient sources of fossil fuels such as gas, oil and electricity. The way they work is ingenious. By efficiently transferring ambient thermal heat (or cold) found in the outside air, they can induct the energy to your indoor water system. When used in combination with pre-existing radiators, your furnace (and even a thermal floor heating / cooling system), they reduce the work that oil, electric or gas heaters must do. This means more power from less energy consumption.
Coolant Has Been CFC-Free Since 1998
Toshiba was the first to introduce "Green Air Conditioners" in 1998 that use a non-CFC coolant. As you may be aware, CFCs are harmful to the environment (they deplete our Earth's ozone layer), and are also somewhat toxic to occupants of your neighbourhood and home. While leaks are preventable, they are sometimes not detected for quite a while, which can mean that coolant can be silently leaching into the nearby ground. Of course, loss of any kind of coolant will greatly reduce the output of your unit, so taking precautions with monitoring and yearly inspections is advisable. Toshiba units are specifically designed to work with R-410A refrigerant (HFC). Talk to a Toshiba dealer or representative to learn more about the advantages to using this type of refrigerant. Also learn more about the proper fluid levels required for your unique home needs, and develop a schedule for maintenance and inspection to ensure lines are still holding strong.
These are only a few of the many features that have made Toshiba the number one choice among consumers. Toshiba has been a leader in technological advances since 1981 when it incorporated inverter technology into its design. Over the years they have been consistently driven to innovate and maintain their leadership in a highly competitive market. No matter what unit you select, it will increase your home's value, so be sure to talk to a professional to ensure that your unit will be working well into the future.