Preventative care – having your Air conditioner installation service at start of summer


Make sure your ducted air conditioner installation and other cooling systems are ready for the summer by arranging a full service or contact us for Air conditioner installation if you doubt the old air conditioner won't make it through the summer. Carrying out any minor repairs before they become more serious can save you a considerable amount of money in the long run, and will also ensure that your air conditioner does not fail you when you need it most.
Common summer Air conditioner installation problems
It's not just the heat that can be debilitating in the summer months, but also the humidity, and some people value their air conditioner's for their dehumidifying effects most of all. However, if your air conditioner was installed a number of years ago, its efficiency at cooling and dehumidifying may be impaired by over-use – with the average unit losing five per cent efficiency for each year of operation. If your air conditioner seems to be experiencing faults or is not achieving the temperature you desire, this may be a result of dust or debris blocking the fans, which will require removing and inspecting your condenser unit as well as arranging a service for your system.
What's involved in an air conditioner installation service?
A typical Air conditioner installation should cover all the components of your system, including cleaning the condenser unit, oiling fan motors and checking the coolant levels and power inputs to ensure there are no faults. Your technician will also be able to advise whether you require replacement parts and accessories, such as belts. Having your air conditioner serviced could reduce your electricity bills too, by restoring units to their optimal efficiency.
Portable air conditioner installation
Portable air conditioners and window mounted units can be convenient and cost-effective alternatives to ducted air conditioners and other home cooling systems in smaller properties.
Features of portable air conditioners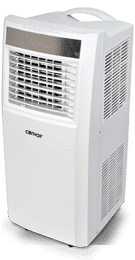 Portable air conditioners systems do not require permanent installation in properties and their mobility offers greater convenience for cooling certain areas of properties as and when required. There are various types of portable air conditioners available, including portable evaporative coolers based on the same principle as split system air conditioners and suitable for use in medium sized rooms. For more compact environments, smaller Portable air conditioners may be preferable, which can also offer power savings by operating at less than 60 Watts.
Other types of air conditioners installation
Portable air conditioners units cannot be beaten for their convenience, but their energy efficiency at converting electricity into cooling power is significantly less than larger, wall mounted units, especially in rooms larger than 20 square metres in area. If your home requires frequent cooling, installing a split system or ducted air conditioner could prove more economical in the long term, or you may be interested in evaporative coolers (also known as swamp coolers) as a more environmentally friendly alternative.
Portable heating and cooling systems in Adelaide
Rite Price Heating & Cooling provides energy efficient Portable air conditioners and central heating units in Adelaide, including portable air conditioners and heaters that are ideal for smaller rooms in properties. Call 1300COOLING for more information about portable air conditioners, ducted gas heating, ducted evaporative cooling and split system air conditioners in Adelaide.
Before winter sets in, you should make sure your home is prepared for the big chill, as arranging repairs to your central heating units and other systems or having new heaters installed once winter arrives could be more expensive and mean you have to wait in line
In this video for expertvillage, home repair contractor James Drew offers advice for households on things to check in their properties before the winter weather arrives. This includes identifying and closing off any exposed areas, which could allow in cold air or bugs, including gaps around the edges of windows. If you still have single pane windows, or your windows were fitted more than 10 years ago, you may also consider replacing these to improve insulation and warm air retention.
While most areas of Australia are not prone to extreme cold, if you do live in a particularly cold part of the country and you have any pipes, taps and other plumbing fixtures outside your home, these should be covered to protect them from freezing. You may choose to wrap these in cloths or buy specially designed foam coverings. Outdoor plants that cannot be brought indoors should also be covered or otherwise protected, if they are not used to tolerating the winter climate.
Making sure your Portable air conditioners systems are in good condition is another essential step, and summer is the best time to think about buying central heating units in Adelaide and other locations, as prices may be cheaper and you'll have time to get any problems corrected before the system is needed every day. Find out more by calling Rite Price Heating & Cooling
Making sure your home's central heating units are in good condition before winter arrives can help you avoid problems when the cold weather draws in.
When is the best time to think about heating?
Many people don't think about heating their homes until temperatures have already dropped, but this could put them at risk in the event that their Portable air conditioners malfunction or need to be replaced. Heating engineers are likely to be busier during the winter months, which could mean delays as well as increased call-out bills, so it can pay to get your central heating system and gas boiler installed and checked before you really need them.
Choosing efficient heating systems
Installing heating systems in the summer will also give you more time to carefully consider different units and find the one best suited to you. Just like air conditioners, modern heating systems are designed with energy efficiency in mind, and you could improve your home's green credentials as well as convenience by looking for split systems that provide both heating and cooling from the same unit. If your heating system is more than 10 years old, replacing it could also significantly lower your energy bills.
Heating and cooling systems in Adelaide
Rite Price Heating & Cooling supplies a full range of Portable air conditioners and central heating units in Adelaide, offering installation as well as repairs. Call 08 7007 0168 to find out more about split systems, ducted gas heating, wood heaters and gas wall furnaces.
Air conditioner installation and repairs in Adelaide
Rite Price Heating & Cooling provides a range of air conditioner services in South Australia, including full servicing for ducted and split system air conditioners. Phone 1300Cooling to arrange air conditioner installation or repairs. Or you can visit any of the listed stores: Valley view store, Clovely Park, and Munno Para Store.