Five ways to save major money on air conditioning this summer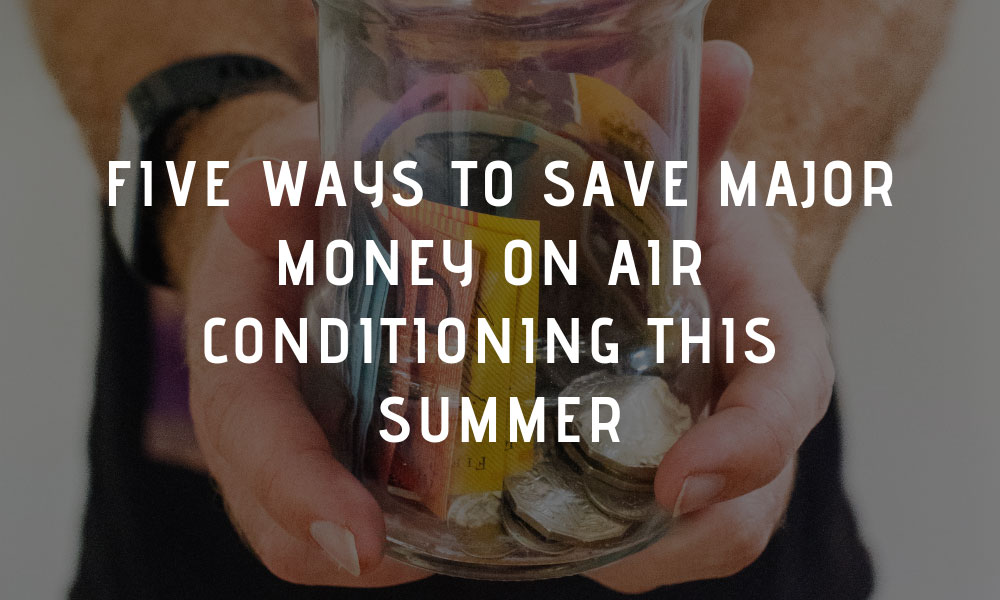 Summer is the best time of year…the beach, the BBQ's the board shorts & bikinis, Australian summers are fantastic. The draw back is, Australian summers are hot! If you're up north, the humidity literally feels like you have to push through it to walk anywhere, meanwhile down south you often feel as though you are walking through a heater – welcome to Australia.
As the weather heats up, more and more Australians turn to their trusted air conditioners to 'keep calm and carry on' over the hot days and nights of summer. However, like everything – that comes at a price. With household energy bills rising steeply and being one of the 'hot button' items of almost every political race around the country, the average Australian dreads opening their electricity bill.
So, add in your air conditioner – be it a fully ducted, split system, portable, window mounted or even an evaporative cooler – and you may need to sit down when you open your next bill!
However, there are several key ways that you can save major money on your air conditioning this summer, and here are five of them to guide the way for you and your family to enjoy an escape from the blistering heat, while also avoiding a nasty bill for your troubles.
How to save big bucks on your air conditioning this summer:
1. TURN IT OFF
Many people don't realise, that their TV, DVD player, microwave, computer all on stand-by mode are not only using power – which adds to your bill – but also emit a massive amount of heat. That heat although maybe not be noticeable to you or as we walk around our home, most certainly are contributing to the atmosphere within your home, the same home you are trying to cool.
So, if you can only turn things on as you need them, then off at the wall when you are finished, you will be ahead of the game before you even start.
2. KEEP IT CLEAN
When was the last time you got your air-conditioner serviced? We are so caught up in our busy lives that we don't always clean the filter on our air conditioners and for most of us, unless you are a qualified air-conditioning specialist, we wouldn't have a clue about servicing the system.
Just like your iPhone or your car, your air conditioner needs updates, needs to be cleaned and most certainly needs servicing as per the manufactures warranty & instructions. If you fail to do so, your system will be running inefficiently, it may be pushing dust and grime around your home and it most certainly will be increasing your power bell more than necessary.
3. KEEP IT SHUT
It is amazing to see how many people have the air conditioning units on, doors & windows open and blinds/curtains tied right back, and yet they don't have a clue why their power bills are so high!
Firstly, unless you are running an evaporative cooler, you can't leave the doors and windows open, as you as simply letting the cold air out and the hot air in. Secondly, if you are sitting in your home with the air-conditioner on and the window coverings up, you are literally throwing money out the window.
As the summer heat beats down on your windows, it wrestles with the cold air on the other side of the glass for superiority. Mother Nature will beat even the best Daiken, Mitsubishi or Fujitsu system every time for keep your windows, doors and any outdoor course to ensure you keep your cool air indoors and your costs low.
Help your air conditioner help you by shutting all the curtains or blinds that are facing the sun at the least, then look to shut as many as you can while letting as much natural light in as possible. This will reduce the amount of cool you lose, heat you let in and costs to your home – a win, win, win situation.
4. TURN IT OFF AT NIGHT
We all love a good night's sleep, but why bother having your air-conditioner blaring while you sleep leaving you pulling up your doona when it's the middle of summer? Why not keep the air conditioner running throughout the heat of the day, keep the house cool and as the night time breeze comes in and the air temperature cools outside you can then turn your system off.
Turning off your system at night will save energy while your house stays cool. There is nothing against cooling your room before your head to bed, but if you turn it off while you sleep your energy bills will thank you for it.
5. USE THE TECHNOLOGY AT YOUR DISPOSAL
There is little chance you don't know how to use your phone applications, order an Uber or book a flight online, so why do you know about the functionality of your air conditioner. All the major manufacturers – even the budget brands and models – have exceptional technology built into their systems, most of which people choose to actively ignore.
From smart system that change the temperature up and down as people come and go, timers, economy modes through to efficiency systems, sleep modes and many more, your air conditioning system "aren't what it used to be".
Even if your system is a little old, odds are you have some features that if you spend a few minutes reading the manual, or if you have lost it simply Google the make and model of your system, you will see what you can save.
There is little doubt that air conditioners offer a high level of comfort and convenience to Australian's from all states and territories, but thought using a little common sense, taking a little advice and reading the manual from tie to time, your family can save money on your use of the air conditioner and put it towards enjoying the fun times over summer.
For information regarding a new or existing systems, sales, service or solutions for your air conditioners, speak to the team at Rite Price Heating and Cooling today for all your air conditioning and heating needs.