Ducted gas heating vs. Ducted reverse cycle heating
No matter where you live in Australia, heating can be costly, and if you need to take the edge of the winter chill by using heating, you might want to be up to date on the best heating solution to meet your needs. The main options for heating your home or office safely in the Australian market are electric, gas or reverse cycle with the final two options being the most popular due to the high cost and inefficiencies of running an electric heater for long periods of time.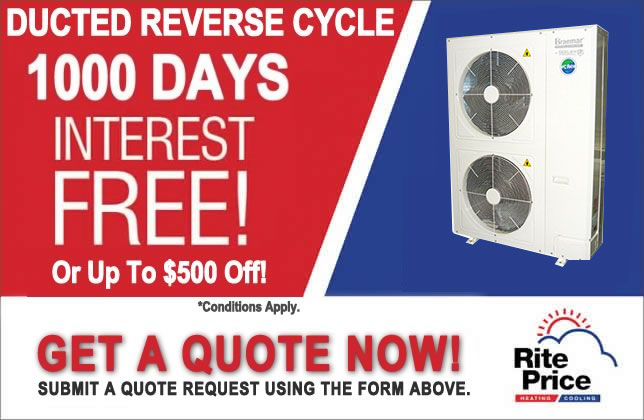 So if you are tossing up between ducted gas heating and reverse cycle heating, what are the pros and cons and what should you know about each option to ensure you are making the best decision for your property?In this article, we explore both ducted gas heating and reverse cycle heating to provide you with the benefits and features of both and which one offers the most energy efficiency for your needs.
Ducted Gas Heating Overview
Efficient to heat your home, gas heaters are one of the most efficient ways to heat your home and provides a broad range of benefits for property owners looking for a cheap and efficient gas heating option for their home or office.
Gas heating is well known to be kinder to the environment than electricity and generates one-third of the amount of greenhouse gas emissions, added to this gas can heat large spaces quick which can reduce heating bills and provide a cheaper alternative for heating spaces.
Using natural gas is often practises as a cleaner alternative as it emits lower levels of emission and is a more natural alternative to other heating options. It also leaves fewer impurities and causes less pollution.
Ducted gas heaters use natural gas to heat the air, which is then circulated via a blower or fan through the ducted network throughout your home or office. A return air vent recirculates air to the furnace of your system, and the cycle begins again. In the furnace is a heat exchanger, which is installed in the roof of your property.
Overview of benefits for ducted gas heating include:
– A reliable supply of natural gas – the system used natural gas which is easily available and won't be affected if there is a power shortage or an electrical fault in your area.
– Instant heat – natural gas provides instant heat to your specific space, so there is no waiting for the system to heat up. As soon as the system is activated the heat will flow through the ducted system within your property and heat up the specific zones you are targeting.
– Clean burning – when you use heating methods such as wood fires there is leftover ash, smoke and odour, while with natural gas there is nothing to clean and there is no need to have to clear out unwanted odours once the heating has taken place.
– Zone control your heating – ducted natural gas heating allows you to heat specific zones within your property without the need for the entire house or office to be heated. If you just want bedrooms heated or a living space heated, you can isolate the zones within your ducted gas heating system without needing to heat the entire property.
– Low carbon emissions – ducted gas heating system have low emissions compared to other fossil fuels which means that you won't be damaging the environment when you heat up your home or office. There is also no solid waste from your system.
– Plenty of supply available – another great feature of a ducted gas heating system is the bountiful supply of gas available which means there is unlikely to be a shortage of gas to fuel the system for many years to come.
Natural gas systems are becoming popular heating options for commercial, industrial and residential properties due to the clean nature of the energy and the wide range of uses for cooking and heating purposes. Due to the fact that natural gas is colourless and odourless, it is a great option for homes and properties looking for a viable heating option. Gas ducted heating is also popular in the cooler southern states of Australia as it is not dependent on the outside temperature.
Reverse Cycle Heating Overview
Reverse cycle heating works to heat your home or property using reverse cycle air conditioning.
In the case of a reverse cycle heating system, a heat pump in the air conditioner is reversed in the refrigeration cycle which produces heating instead of cooling in the inside of the property.
Using reverse cycle heating for heating your property is far more affordable than heating with an electrical heater as well. The reverse cycle heat pump takes heat from the air; the fan forced the air into an evaporator and then the heat is changed to gas which is then recirculated by a compressor into the space requiring heat.
Benefits of reverse cycle heating:
– Even distribution of heating – the air is circulated throughout the property not just in pockets making for a more enjoyable environment.
– Thermostat controlled temperature – the air conditioning temperature is controlled by a thermostat allowing for no overheating or wastage to occur.
– The system can be automated – some reverse cycle systems can be activated via smartphones or set to an alarm to start or turn off when you require. This allows for no wastage of power and also for the heating to be climate controlled for when you need it. On top of this, you can always automate the system so that if you are heading home from work, you won't need to wait for the temperature to stabilise in your property.
– The system is used year round – reverse cycle air conditioners operate the best when they are used year round and having using reverse cycle heating means your system doesn't sit dormant for six months of the year which could lead to issues when the time comes to cool your home or property again. Leaving the system dormant for long periods is not ideal, and you should be running the system on a regular basis to ensure that is performing and running at peak condition.
– Safe system – a reverse cycle heater is safe and offers plenty of benefits if you have children or require a safe solution for your heating needs.
If you're looking for a warm space in winter and a cool space in summer, reverse cycle could be the way to go. Reverse cycle units can be used for both cooling and heating and offer a range of options for property owners that need both options to climate control their property.
Making the choice between ducted gas heating and reverse cycle heating
If you are torn between whether you should choose a ducted gas heating system or a reverse cycle air conditioning system the real decision comes down to whether you need heating and cooling in the one system.
While ducted gas systems will provide better coverage for extreme cold, a reverse cycle air conditioning will allow for both heating and cooling if required in climates that experience both ends of the scale when it comes to climate.
The running costs will also be a factor for whether you choose a ducted gas heating system or a reverse cycle system for your property. It's important to review the energy rating of whatever systems you are looking to purchase to get a better insight into what to expect for energy efficient.
Look for 5-star energy efficiency where possible, and you will be able to save on the overall running costs of your system in the long run.
To make an informed choice on whether to purchase a ducted gas heating system or a reverse cycle system, it's important to not only get a quote for the purchase and installation of your system but also for the expected running costs so you can determine which system meets your budget.
At the end of the day, whether you choose gas heating or reverse cycle heating is a personal choice and one that will be determined on where you live in Australia and the breakdown of what you need in terms of climate control for your property.
If you're looking for a quick heating option that is affordable and offers the temperature you need for chilly environments gas heating is a great option, on the flip side if you're looking for a versatile option that can heat and cool for environments that experiences both sides of the coin when it comes to environment a reverse cycle air conditioning system could be the way to go.
To find out more about whether to purchase a ducted gas heating system or a reverse cycle system to heat your property in Adelaide speak with the experts from Rite Price Heating & Cooling. Our team of experienced heating and cooling experts can provide a wide range of options and information on both systems and can also arrange an onsite quote to provide a detailed overview of a system that best suits your property and budget requirements. For more information on ducted air conditioning systems please follow this link.