Ducted air conditioner prices – what to look for in your system

Ducted air conditioner prices – what to look for in your system
Ducted air conditioning systems are worth their weight in gold and the prices for systems vary depending on the size of the property, the number of levels and the square metres the system needs to cover.
Whereas small systems for an apartment may start from $6,000 a larger system for a big family home with multiple levels and lots of bedrooms could be closer to $12,000.
Whatever system you are looking at, there are plenty of things to consider ahead of making your decision on a ducted air conditioning system.
Ducted air conditioner prices – what to look for in a system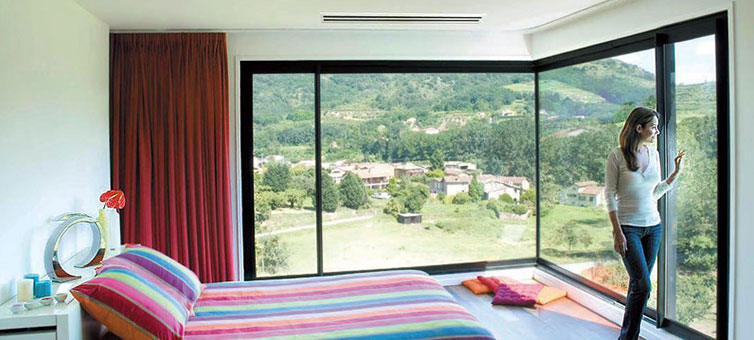 Before we look at ducted air conditioner prices, let's first take a look at what they are.
Residential ranges of ducted air conditioners cool or heat the entire home and create the perfect climate for the environment. Each and every room is controlled via a centralised control panel and conditioned air is pumped quietly in through ducted ceiling vents offering a seamless look and feel without noisy wall mounted split system air conditioning units.
Ducted air conditioners are popular due to their quiet and efficient operation and the ability to maintain the perfect temperature throughout the entire home.
A ducted air conditioning system operates from a centralise compressor unit which is located outside the home to keep noise levels to a minimum. This control unit sends cool and conditioned air to different rooms across the home or commercial property via ducts which are set within the ceiling.
While ducted air conditioners are not expensive, the installation of the air conditioning systems is, due to the fact that the system needs be hidden behind walls and until the floor and the mounted to the ceiling via ducts. All the work needs to be done by a licensed installer making the process a sound investment.
How much should you fork out for a ducted air conditioner?
The answer to this question isn't simple, and there is a wide range of factors to consider ahead of making your decision and handing over your hard earned cash so you can live in air conditioned comfort.
The size of the system
Whether you choose a 10kW, a 12.5kW or a 14kW system, the size of the system should be calculated on a wide range of factors.
While it can be tempting to choose a system purely on budget or to save money, the size required is measured in kilowatts and you should ensure your floor area, ceiling height, building type and rooms required to cool are all kept in mind when making a decision about the size of system you need for your home or commercial property.
A small system will only cool a small area and while you might save money by installing a smaller system, you will spend more due to the fact that you need to run the system for longer to cool the space. Your energy bills will skyrocket, and you will soon realise the larger system would have been a better option.
How many levels is your home
Having a multi-level home does make a difference for the heating or cooling needs, and you should expect to pay slightly more for ducted air conditioners for two level homes.
Ducted air conditioners for a 2-story home can be between $10,000 to $15,00 and all come down to the floor plan, square metres of coverage needed and whether the home will require vertical ducting.
Installing a small system for a two level home will just not be effective so it is important to be aware that a larger system is essential for optimal comfort.
Do you need an inverter or non-inverter system?
Non-inverter ducted air conditioning systems provide heating or cooling via a fixed power with the compressor running at a fixed speed, meaning the compressor starts and stops as required. Inverters have a controllable compressor that pinpoints the exact conditioning required to heat or cool the space at a constant level.
Often there are different prices for ducted air conditioning systems based on whether the system has an inverter or is a non-inverter so it is worth checking this out with the company you are getting quotes from for your ducted air conditioner.
Traditionally, inverters are quieter and use less energy and more energy efficient systems will save you money in the long run so it is worth determining what option is best for your needs.
The price for your ducted air conditioner is going to be unique, so unless you have a home with the exact floor plan and size as a friend or family member it's not really like comparing apples with apples.
To get a clear price for your ducted air conditioning system it's worth sitting down and discussing your needs with the experts so they can determine whether the size of the system you are looking at matches the area of your home, the number of zones you require, the levels of home you need to air condition and the model you wish to use.
There are so many factors to consider purchasing a ducted air conditioner and price alone should not be focused on as in the life of the air conditioning unit, the small saving you might make today will be a mere pocket change over time.
Whether you're looking for powerful, inverter, eco friendly or slim line, your ducted air conditioner is personal to your exact needs and finding the perfect ducted air conditioning system take times but is worth the effort.
Talk To Us & Get The Latest Ducted Air Conditioning Prices
Speak to us today to explore the features, benefits and ducted air conditioner prices to suit your home or commercial property. Call 1300-cooling now. If you want more information on ducted air conditioning, please visit our page.