The benefits of reverse cycle air conditioners
Australian summers are hot, while Australian winters in Adelaide in particular as we all know…are not! When it comes to heating, and cooling your home, there is a range of options from portable heaters, a range of fans, air conditioners, evaporative coolers, central heating – you name it.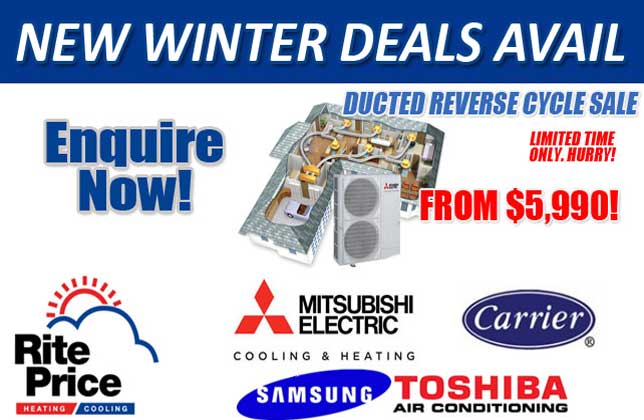 But when it comes to comfort, practicality, safety and reliability there is only one option that is best for your family home, office or just about any building really – the reverse cycle air conditioner.
To demonstrate the capabilities of the reverse cycle systems, we will go through the benefits of these continually innovative systems and how your home can benefit. There are plenty of great features of reverse cycle air conditioning, and most people will find that once you have a reverse cycle air conditioning system, you'll never go back!
Here are some key features to consider for reverse cycle:
Versatility – warm your home in winter and cool in summer
This is one of the most important things for your home, as it can warm your home in winter while keeping your home cool in the summer. Your air conditioning unit is your year around machine, and the unit uses far more energy efficient heating system than conventional heaters, by absorbing the heat from the outside air & heat/cooling it.
A system to meet every room and every budget
With reverse cycle systems that are fully portable, to wall mounted units and of course the fully ducted systems, there is something to fit everyone's needs. If you are a renter but are looking for all year-round temperature control, there are 'window units' & 'portable units' which offer heating & cooling capabilities, but don't leave a mark on your walls – perfect to take with you when you leave. These systems can start at around $680 for all round comfort.
But if you are the homeowner and are looking for something more permanent, there is, of course, a range of single room units such as wall mounted split system units which also come in multi-room head unit systems that allow each room to be either on, or set a different comfort level depending on the occupant. These systems start at around $800 through to $4500 depending on the number of head units, the size of the system and its output. These systems are ideal for homes with limited roof space, as the condenser sits easily on an outside wall and a small number of pipes connect the head unit through the wall.
Finally, there is the fully ducted system, which starts from around $8500 through to $20,000 or more offers a complete turnkey solution for your family home. Being the largest of the solutions, these require space around the roof and access around the home through a series of large foil tubes to push warm and cold air to every corner of your home.
Energy efficiency
With the continual updates in technology, the systems have increased in efficiency in ways that are almost 'space age'. These include sensors that detect when the room has people in them, adjusting the temperature when not one is around to the most energy efficient levels. This coupled with the increased condenser capacities, and zoning capabilities makes for a highly efficient, all year around heating and cooling system for your home
Great zoning options
The zoning capabilities of the larger ducted systems are something that creates an extremely efficient and family friendly solution to heating and cooling your home. Where sections of your home can be provided cut off, allowing them to not be heating or cooled as the situation arises.
For example, someone may be in bed, so they don't want the heating running in their room as well as their blankets during a winter's night, but other people in the same house want to watch TV or be active in other rooms. So, the bedroom can simply be switched off, so that people can enjoy their sleep, while others can enjoy the heat around other areas of the house.
Clean and filtered air
The functionality of the modern air conditioners is more efficient and cleaner than ever before. With a range of filters and self-cleaning mechanisms that work every time your air conditioning unit is working, dusty air that may be filled with particles, cleaning product or even bacteria is taken in and extracted from your home, while clean, filtered and fresh air is recirculated back into your home.
Safe for families
With winter comes the cold, with the cold comes the use of heaters and sadly with the use of heaters comes house fires. Portable heating units, even coil heaters when resting against fabric can light up and cause catastrophic outcomes for you and your family. You may have saved a few bucks by purchasing a cheap heater, but if you are putting your family in harm's way, is it worth it?
With small children walking around having either portable heating units that have extremely hot elements or in many cases, the whole unit becomes home is not something you want to have to experience at the best of times.
When it comes to your cooling options, fans with blades spinning at breakneck speeds, just begging for little fingers to be shoved inside causing any amount of untold harm.
Air conditioning units on the other hands are primarily out of reach, have little to no safety concerns and those units which are portable, on the floor don't have any parts which can do harm to children without some serious technological know-how and a set of tools to get inside the system itself.
Removes the humidity from the air
What keeps you awake, tossing and turning throughout the hot summers nights is not the heat usually itself, but the humidity in the air – especially in the northern part of our great country. Where fans simply push the air around, and evaporative coolers don't work at all, the air conditioner removes the humidity from the air, creating fresh, cooled air to be circulated your home or room providing complete comfort to your home.
One system to do it all
When you are looking at all the heating and cooling options for your home, the reverse cycle air conditioner provides a one-stop shop, a turnkey solution for all your heating and cooling needs.
If you are building a home or own an existing property that doesn't have a heating or cooling option, you are faced with putting in either fireplaces, portable heaters, ducted heating or a combination of the three just to heat the place over the winter (and in many cases the autumn months).
In contrast during the stifling summer, with temperatures around the country skyrocketing over 40 degrees regularly, you have a range of options from wall-mounted fans, portable fans or even an evaporative cooling system. The evaporative cooling system, which are exceptionally energy efficient, filter air through water and brings cool air throughout your home. However, they can't handle any air with humidity in them, offering little to no solution for humid areas of the country.
All of these solutions offer a range of cooling and heating options that work in one way or another, however, they all pose one issue – they only do one thing.
Arrange your quote for reverse cycle air conditioning today
A reverse cycle air conditioning system will provide you with heating, cooling, humidity removal in one or all the rooms of your house in one turnkey solution. While in the case of the fully ducted reverse cycle air conditioning system, you can't even notice the system is even there except for a small control panel on the wall!
So when it comes to the heating and cooling of your home, there is so much more that a homeowner or renter needs to look at that simply the functionality of your system. There is your family safety, the cost efficiency and the fact you may have half a dozen heaters, fans and other systems kicking around in your cupboards when you could simply replace them all with a reverse cycle air conditioning system for your home.
Your budget or home layout may not support one or more of the reverse cycle air conditioning systems that are available on the market, however if you speak with you licenced, professional dealer you can review a range of solutions for your home or business, from a wide range of suppliers to suit every budget or situation.
Speaking to a professional air conditional specialist, not just an appliance retailer is paramount, as they fully understand the capabilities of each and every system. This is important as a retailer simply wants to sell you the 'product they get the best commission on' where as a professional will look at your building plans or come to your home to review what system will work the most effective and efficiently for your needs, within your budget.
Speak to Rite Price Heating and Cooling today to get an obligation free, quote on your specific needs and begin enjoying your temperature controlled comfort for your family sooner. With payment arrangements available, there never has been an easier time to keep comfortable. If you think that evaporative cooling is the solution for your home, visit our page for more information.
To arrange your personal quote on site at your property and to get expert advice for heating or cooling your home with reverse cycle air conditioning, Rite Price Heating & Cooling are here to help with all your air conditioning needs. Our business is family owned and operated and ready to be at your service!