Split system air conditioner prices
If the summer heat and the muggy temperatures are getting the better of you and you have decided that an air conditioner is needed to get you and the family through the summer months, you're probably on the hunt for affordable and well-priced split system air conditioning unit you can install at your home or commercial property.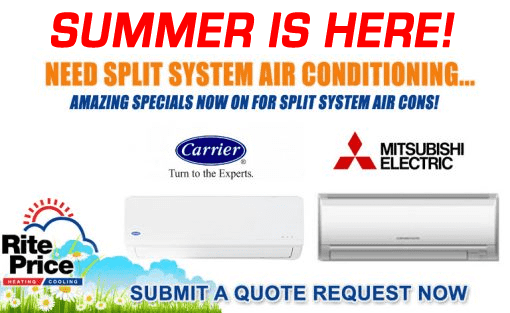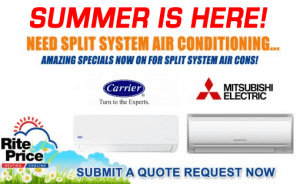 Before making a final decision on an effective and versatile split system air conditioner for your property, there are many considerations that need to be addressed before making your purchase. Take the time to do your homework and ask around for recommendations and features split systems that are suitable for your property to get a better idea of what features you need and what will work best with your property.
Have you thought about the size and space of your room that you split system air conditioner will be required to heat/cool? Are you looking for reverse cycle (heat/cool) or just a cooling system for summer? Do you potentially have size restrictions either internally where the split system air conditioner is fitted to the wall or externally where the condenser unit does all the work? Do you have multiple rooms that required the comfort of a split system air conditioner?
All these considerations and more will not only affect the type of split system air conditioning unit you install, but also the price of the units themselves. To make heads or tails of the available options and their pricing considerations we've put together some key considerations for you to get your head around during your air conditioning research.
How to purchase you split system air conditioner
With a range of different methods to purchase your new split system air conditioners the traditional walking into a shop and asking for an air cond is a thing of the past and there are a few more modern options for how to purchase your split system air conditioning unit which are outlined below.
Purchase your unit online
There are many benefits to purchasing online, such as lower prices, increased range and often free delivery to your home. There are many reputable online appliance retailers that will match any quoted price given to you by a competitor and their warranties and guarantees are as good as their 'bricks and mortar' retailer cousins.
However, key drawbacks can be the need to hire an electrician or split system air conditioner installation specialist, which can add additional cost to your project and possibly blow out your budget. In addition to this, not having the expertise of the air conditioning specialist to size up and recommend a unit that suits the needs of your home could in the end cost you more money.
In some cases, it is a benefit to get a few quotes in your home or space you need the air conditioning installed, however if you have done your research and you are trying to get a red hot deal this could be a good place to start in your split system air conditioning price journey.
Retail appliance store purchase
With many retail appliance store options available, as a customer, you can walk around the store, review the features of each product, test the product and find out how it will work for you. In the major retail stores, air conditioning units are set up so you can get an idea of the unit when it is fully functioning, including the noise, and features. As well as this, you can determine if the look and shape will be suitable for your space and whether the outdoor unit is the correct size for your property.
Often there are catalogue specials and deals to entice sales or upselling you to a higher spec model – which is fine if this is within your budget. With national buying and warehousing power, these retail outlets will offer extremely competitive prices, and match one another's quotes – so do your homework and play them off each other to get the best price possible. As well as this, they can have interest free offers which can be a benefit for people looking for an extra incentive to buy.
The big watch out with the retail stores is in many instances there can be 'salesperson incentives' on the brands, so often they push you towards their 'preferred brand' even if it is not 100% accurate for your needs. In addition to this, the retail stores generally will always charge shipping to your home or commercial space, therefore something like a split system air conditioner could cost you an additional $200 in freight than you originally budgeted for.
Similar to the online purchase, the retail purchase will require you to also invest in hiring a licenced split system air conditioner installation specialist to ensure everything is done correctly.
Air conditioner specialists
Many air conditioning companies also provide the units to be installed into your home or office. The specialists have a range of split system air conditioners available that will not be as extensive as the previous two outlets and they will always have a supplier that they use and receive rebates from, however, the benefits being is that the whole 'end-to-end' solution will be completed in your home.
The prices will not be as competitive as the online or retail stores due to the buying power of the previous two, so there are pro's and con's for every avenue.
What features you are looking for in you split system air conditioner?
Split system air conditioners across all the brands have a range of features that can change their overall costs of the products.The obvious features include reverse cycle – the ability to be able to hear and cool, the kilowatt (kw) or power output of the system, the indoor sound level which can get as low as 19db on some systems, accessories, Wi-Fi controllers and a host of other features that you may decide you may or may not require.
When you're looking to buy your split system air conditioning unit it's important to do your research and determine what features you must have, and also the features you would love if the budget is available.
How much Kw do I really need from my split system air conditioner?
• As a general rule a 20sqm room would required a 2.8kw system, prices start at around $899 or $682 on special through a range of stores.
• A 30sqm property would require a 4.2kw system, which prices sit around $1399 or $1060 on special.
• Larger rooms of around 40sqm would require units of 5.6kw or greater to effectively and efficiently cool the area, these can be purchased for around $1234 on sale or $1549 list price.
• 50sqm rooms require 7kw systems, which can be purchased at $1550 on a sale price and $1999 as a regular every day price.
• Finally, the 60sqm 8.4kw, which is the size of many metro apartments are priced from $1856 on sale and $2299 regular retail price
Where possible it's a good idea to get your area professionally measured so you know the exact square metres you are working to cover.
A system that is not powerful enough will work harder and the running costs will be higher, so it is important to ensure you have a unique that is powerful enough for the space you are trying to heat or cool.
Multi split system air conditioning units
Another consideration for a split system air conditioner is that manufacturers such as Mitsubishi now have systems that have multi- split system air conditioners that can service up to eight rooms from one outdoor condenser.
These units for a 4 room unit start at around $4960 and save a great deal of space in your outdoor areas, while enabling 4 rooms to run independent climate control around the house. The multi split systems are slightly more expensive than purchasing 4 x single split system air conditioner units, however if space is a premium and the ongoing running costs of 4 condensers vs 1 larger condenser is a consideration, this could be a viable option.
The cost of a split system air conditioning is going to vary based on the size of the property being cooled, the brand, the kW of the system and your exact features you want from your system. It is tempting to get the absolute cheapest system when you're shopping around for a split system air conditioner, however finding and installing a system that meets not only your budget but also the features you are looking for in a split system is the best option.
If you're looking for a split system air conditioners unit and comparing the prices a dedicated air conditioning specialist is probably going to be able to give you the best information that is unbiased and designed for your exact needs. As a general rule, it's important to take the time to arrange a free quote at your property and look around for systems that offer a generous warranty, once you've done all these steps you can sit back and enjoy the comfort of your perfectly climate controlled room all via your new split system air conditioning unit.