How much does ducted air conditioning cost to install?
Ducted air conditioning for your home or office is a popular choice for new homes and retrofits across Adelaide and South Australia at large. Designed to climate control properties and to condition the air, ducted air conditioning is the premium air conditioning option for property owners and takes the edge off Adelaide harsh heat and cool winters. While it is a premium air conditioning option, it can be difficult to find information on the cost for ducted air conditioning for installation.
In this article, we explore the benefits of ducted air conditioning, the steps for installing ducted air conditioning and the cost for installation.
Ducted air conditioning video
Benefits of ducted air conditioning systems for your property
If you're not a fan of the super hot days and the ultra chilly days, a ducted air conditioning system could be a great idea for covering multiple areas at the same time.
Benefits of ducted air conditioning include:
– The ability to be used in hotels, multi-storey buildings, houses, shopping centres, schools and any complex for that matter. Whether it is a home or a commercial property, ducted air conditioning can be ducted throughout any property. Ideally installed during a build, ducted air conditioning distributed cold or heated air-conditioned air when and where you need it.
– All air conditioning can be temperature controlled to suit the environment, and the temperature is controlled via one central controller, which is usually placed in a main room, hall or entrance to the property.
– Zoning the air allows for certain rooms to be conditioned and others to be left without air conditioning when the room is not being used. This allows for heating and cooling to only be used in certain spaces and saves on overall energy efficiency and running costs.
– The air is filtered and conditioned and is suitable for individuals with respiratory illnesses such as asthma,
How to choose the right ducted air conditioning system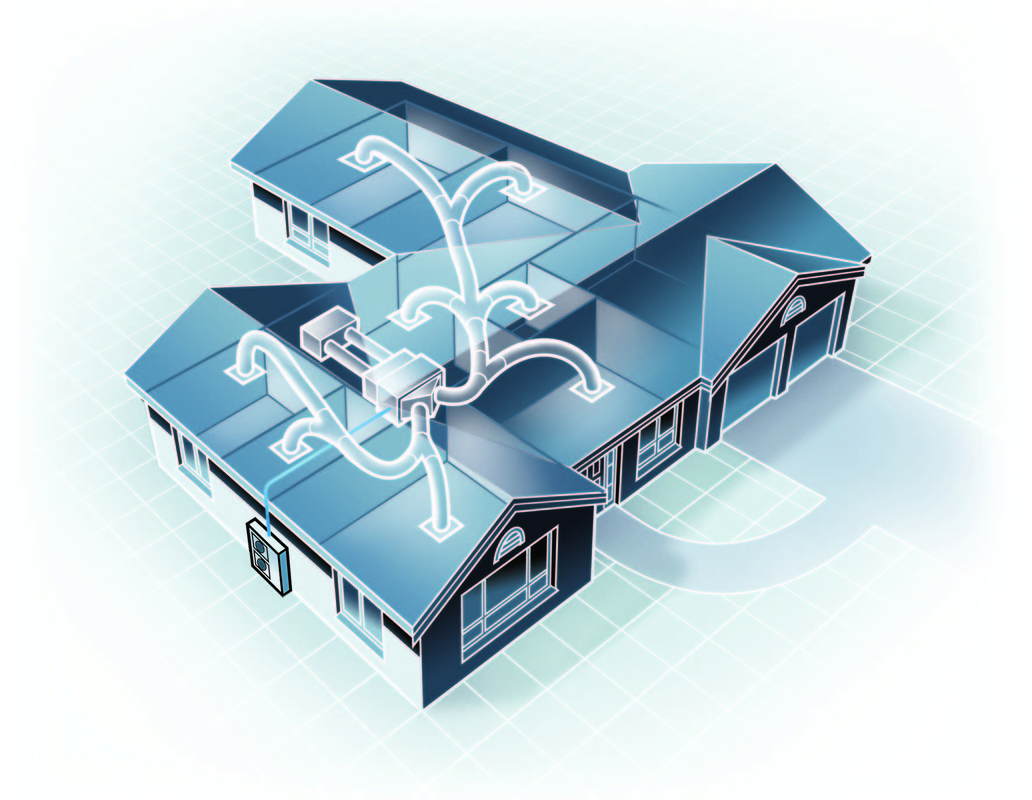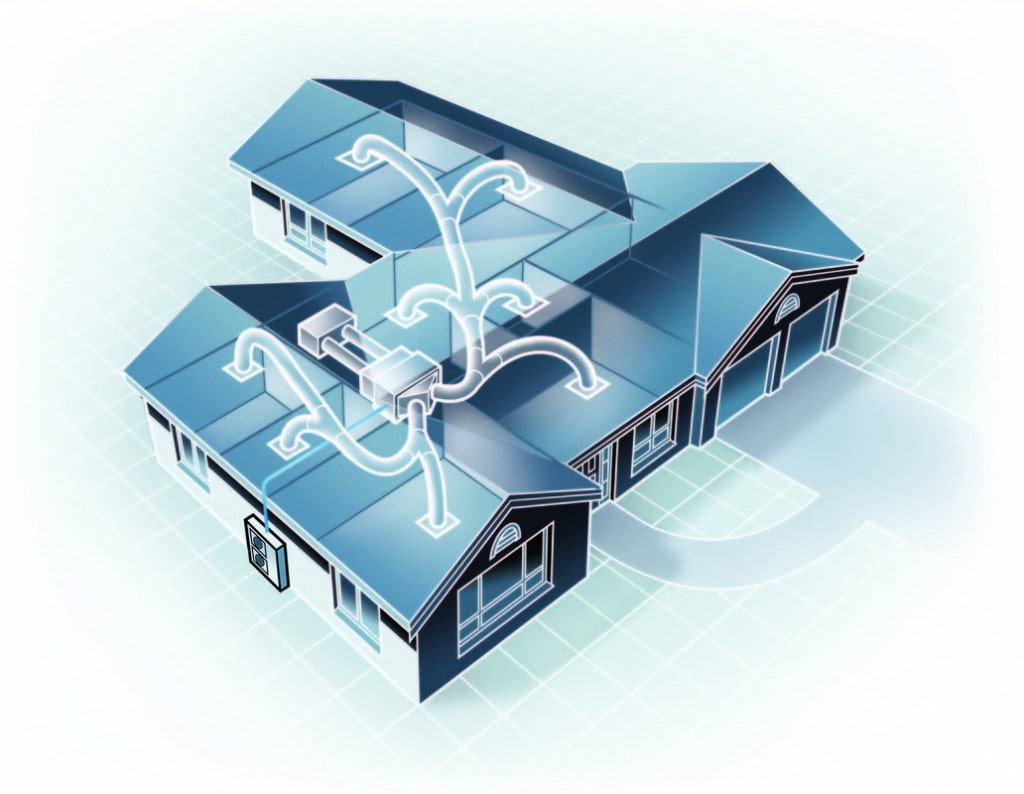 There will be a few considerations when choosing your ducted air conditioner, namely budget, home layout and your heating and cooling needs.
These three are the basics; as it will usually come down to the cost of the system, which will end up being the key decision maker for your ducted air conditioning system. There are also other things to consider when you are looking to choose the best ducted air conditioning system to install:
Cooling capacity
You will want to explore the cooling capacity for your ducted air conditioner to ensure you get the right size system for your needs. You can usually decide between a wide range of kW systems that all work to distribute air throughout the rooms of your property.
When you are deciding on the cooling capacity in kW for your ducted air conditioning, consider the floor plan and total square metres of the cooling space, whether you have shade in some of these spaces that might keep cool requirements to a minimum and also the peak temperatures your home or commercial property will be exposed to in the hottest or coolest parts of the year.
Noise levels
It's important to understand the level of noise your air conditioning system will output when you're in a residential or commercial environment. Noisy systems won't work if they need to be run all year around particularly in commercial environments, and they also won't be too comfortable if you are using them in a residential environment if people want to sleep.
Some of the leading ducted air conditioning systems promote their whisper quiet features and low output noise, which can be a major feature for many property owners. It is important to get an idea of the output and put a premium on purchasing a system that has the lowest levels of noise possible.
Compliance
If you have been looking at air conditioning systems, you will be aware of the MEPS set of standards, which stands for the minimum energy performance standards that are thrown out to manufacturers of air conditioning systems to ensure the very best energy efficiency. In Australia, it's important to find an air conditioning unit that is MEPS compliant to ensure you are getting a system that offers great energy efficiency and the best features for your needs.
Professional installation with maintenance
Using a professional installation group that guarantees its ducted air conditioning systems is essential.. Using a professional installer will ensure the ducted air conditioner is installed properly the first time and you will get the best heating and cooling for your needs.
Certified and experienced air conditioning installers will also be able to provide a run down on how to use the system, basic maintenance tips and also information on zoning, temperature control and other features you should be aware of when operating your system in your commercial property or residence.
Maintenance requirements
If you have a system that needs to be maintained more than once a year it could be a deal breaker when you are making the decision regarding which system to purchase. Maintenance requirements for a standard ducted system is usually once a year unless there is a breakdown and undertaken regularly a yearly maintenance and service should be enough to ensure your system works at optimum levels throughout the life of the ducted air conditioning unit.
Steps for your ducted air conditioning install
The basic steps for installation of a ducted air conditioning system for an existing property are outlined below:
Ahead of the install, property owners will need to do the following.
– Decide on the preferred location of the outdoor unit – ensure it is away from bedrooms, away from neighbour's bedrooms, away from outdoor living spaces and close to power and the switchboard
– Decide on where you want the central controller to be located – in a home this will usually be in the main living space or kitchen and an office this will usually just be directly inside the entrance to the office and in the foyer area if possible
On the day of installation, the following will take place:
– Installers will inspect your roof cavity and will plan the location of the indoor and outdoor units.
– Ceiling hole for the return air grill will be cut into the ceiling.
– Indoor unit will be fitted into the ceiling cavity, and safety tray added.
– The outdoor unit is placed in position including refrigeration pipes and electrical set up which connects indoor and outdoor unit.
– Holes are cut for air supply diffusers, and these are fitted.
– Air ducts are laid and collected to branches in the ceiling and run back to the indoor unit.
– Control cables are run to the zone motors and the wall controllers of the indoor unit.
– The system is turned on, and functionality is checked thoroughly to ensure the system is working correctly.
– The installer will provide a full run down on how to use the system and the features of your central controller.
How much does it cost to install ducted air conditioning?
Ducted air conditioners can range in price considerably based on a number of factors including whether it is heating and cooling, the size of the property and also energy efficiency.
You will struggle to find a system that is less than $5000 including installation, as the cost can be up to twice that amount based on the size of the system.
Average systems for a four bedroom home are around $8000 and for larger two level homes with more than this amount of bedrooms you can be looking at up to $12,000 to $15,000 plus. It all comes down to the brand of air conditioner you choose and also the features.
The other factor to consider is the running costs, which will wind up being considerable if you choose to install a system that is not energy efficient or designed to offer plenty of cost effectiveness.
Running costs will depend on a range of things including:
– Type of system
– Energy efficiency rating
– The time you are running the system
– The layout of your home
– The electricity tariff
– The temperature you choose to run your air conditioning system at
Whatever system you end up deciding upon for your ducted air conditioner, it's important to be aware of your day-to-day running costs and choosing a system that is energy efficient.
You can also help to reduce the costs of running your system over the life of your air conditioner by engaging regular service and maintenance to ensure your system is in the best possible condition.
For more information, please visit our ducted air conditioning page.