Finding the perfect system for your property – exploring inverter ducted air conditioning systems
When you're looking to install an air conditioner system you can get caught up in all the features, benefits and prices, but one of the most important areas you might want to focus on is energy efficient and cost to run, as at the end of the day once your air conditioner unit is installed it is the ongoing running costs that you will need to cover, and that's really where your focus should be laying in the long run.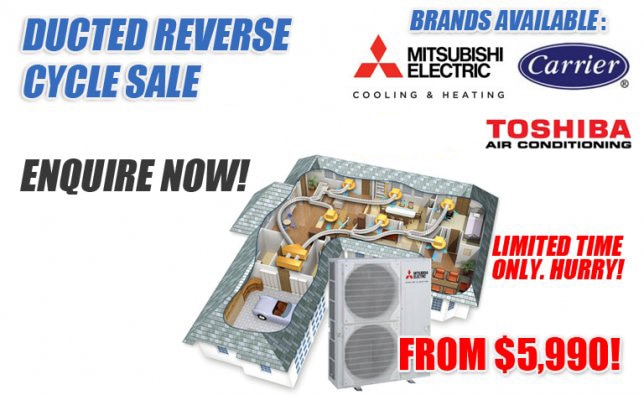 If you have looked at inverter ducted air conditioning systems, you're probably aware of the benefits, however, in this article we outline why you might seriously consider inverter technology for your ducted systems. While the overall cost of a ducted system might be higher due to the fact it has an inverter, the long-term benefits and energy efficiency far outweigh the initial installation and purchase price. If you would like more information on ducted air conditioning systems please visit this page.
Here are some benefits of inverter ducted systems:
– Up to 50% cheaper to run and less power is required than a traditional air conditioning system
– Quicker to achieve the desired temperature, meaning your home or office gets cooler or warmer quicker so you can enjoy climate controlled comfort
– Quieter than traditional ducted systems
– No temperature fluctuations from the system, meaning you're able to maximise the comfort level in your home
– Can be used for heating and cooling the home or office
Overall the major difference between inverter and non-inverter units is the ability for the inverter to deliver a fixed amount of power via a fixed speed to the property – this means that the unit does not start and stop which can cause a spike in AC expenses and can increase running costs of your system. The basic idea of an inverter is to keep the system running at a consistent level and to ensure that energy costs are kept to a minimum in the long run so you can run your system for longer without the hefty bills.
Inverter technology is something to look for in a ducted air conditioning system and they are a popular option for new ducted system installs due to their environmentally friendliness and energy savings for home or property owners.
Comparatively non-inverters will use daily power consumption of 9.51kW which is 3471 kWh per year in total, whereas an inverter unit can be as low as 4.83kW per day and a total of 1763kWh per year, making a saving of 49% in energy, which can be directly passed onto your energy bills and is a particularly viable option for individuals trying to make the decision between non-inverter and inverter units.
The idea of reducing your energy bills by up to 50% is enough for any property owner to consider inverter technology, however you should also keep in mind that not all properties are suitable for ducted with inverter technology and you should speak with a professional for more information.
Of course, every property is unique and if you are looking at installing a ducted system with an inverter, it's best to speak with the local experts in Adelaide to find out which brand and system suits your needs perfectly. Don't settle with just any other company when comparing inverter ducted air conditioners for your property. Let Rite Price Heating and Cooling guide you when you're shopping for the right cooling system for the space you wanted.
Schedule an appointment with Rite Price and discuss prices, features and options today for your system in Adelaide. Rite Price Heating & Cooling can give you free quotes whether you're looking for a heating or cooling system for your home.