Zoned Air Conditioners, Best Way To Control Your Home Comfort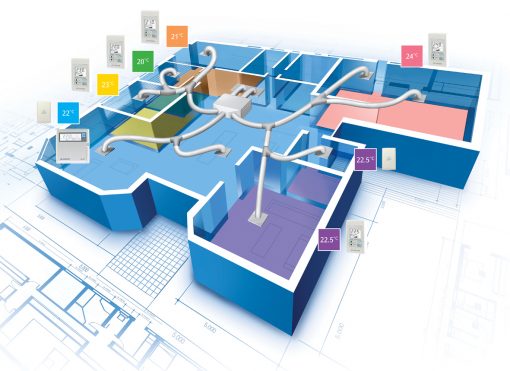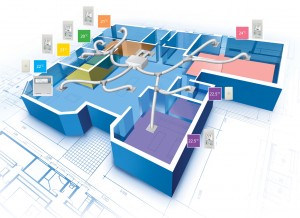 Think about zoned air conditioners this way: imagine if all of the lights in your home were on one switch? You might turn them off when you're asleep or away, but whenever you're home, every single light bulb in your home is on. That would be an incredible waste of energy and your light bulbs would wear out and need replacement quickly. Hence, you'll be spending more money than usual.
Well, this is the exact air conditioning situation many home owners face when they fail to opt for a zoned air conditioner in their house. Every room, whether there's someone in them or not, is heated equally. That is, of course, unless you have created zones in your home. HVAC zoning systems include different thermostats for each zone. As a result, you can control how much energy your home uses to heat and cool, save on utility bills and increase indoor comfort.
With zoned temperature control, each zone you create in your home has its own thermostat and each thermostat can be set at a different temperature. All thermostats are connected to an overall control panel that operates your heating and air conditioning system. The result is total control over your home's environment. For example, you can keep your bedrooms cooler while bumping the temperature way up in areas of your home that are rarely used.
Keeping your home comfortably cool or warm while controlling your electricity bill can be a big challenge. If combating rising energy costs while maintaining a high level of comfort is important to you, you have likely already tried tactics such as adjusting your thermostat or having ductwork sealed. You can take your savings to the next level by choosing an air conditioning system configured to your needs and designed to help you cut down on electricity bills. One of the easiest ways to save money is to have your heating and cooling system zoned so that you can control the temperature in each room or area individually. Rite Price Heating & Cooling can help you explore your zoning options and get energy costs under control.
Zoned Air Conditioners Give you the rite to choose
Whether you are choosing an entirely new air conditioning system or want to have modifications made to your current system, you have many configuration options. Choosing the right system for your home requires carefully evaluating your needs and determining what type of system is best suited to your space. Before you shop, you should also familiarise yourself with how much energy air conditioners use. Doing so will help you pick an energy-efficient system and accurately predict the average yearly running cost of a new air conditioning unit.
Deciding to Install Zoned Air Conditioners
It's always important to make the best decision when you are choosing an air conditioner for your home. And the most important decision you will have to make is deciding between a zoned air conditioner or non zoned air conditioner or central air conditioner.In order to use a central air conditioner, your home must be fitted with ductwork that can carry treated air from the central unit to individual rooms or areas. While these systems are not the most efficient option on today's market, they can provide for decent energy savings and excellent reliability.
If you choose a ductless system, you will not need to have any ductwork installed in your home. Instead, an outdoor heater, air conditioner or heat pump will be paired with individual indoor units via a small refrigerant line. These indoor units, called indoor air handlers, can be mounted high on your walls, against your baseboards, against the ceiling or in existing horizontal ducts. Ductless systems provide for excellent efficiency, but you may need to buy more than one outdoor unit if you want to zone your system.
During the stage where you have to shop around for your air conditioner, remember that size matters. Choosing an air conditioning unit that can efficiently cool your space is absolutely essential to enjoying total comfort while controlling your electricity bills. Be sure to calculate the total square footage of all the areas that you need to cool before shopping or have one of the expert from rite price heating and cooling come over and get it all done together. It is also a good idea to know the square footage of each individual room or area that you want to cool if you are planning on using a zoned air conditioners.
Why should I Choose a Zoned Air Conditioners
After you have chosen the type of system you want to use in your home, you can decide whether or not you will have that system zoned. Choosing a zoned air conditioners can be a great way to cut down on energy costs and increase your overall comfort level. If you are still a few years away from replacing your current air conditioning unit, talk with a contractor about modifying your current system to use zones.
Zoned Air Conditioners, What we think of them.
When you choose a zoned air conditioner, you will be able to control the temperature in different rooms or areas of your house individually. This can be a big boon for homeowners who use only a few rooms on a daily basis. Zoning is also an ideal solution for families who cannot agree on how hot or cold it should be in the home. Many homeowners prefer to combine the power of system zoning with a programmable thermostat, which can also play a big role in cutting down on energy usage.
What does it cost to have a Zoned Air Conditioners
Most contemporary central air heating and cooling systems can easily be converted into zoned air conditioner with the use of advanced thermostats and duct design. Most homeowners will need to use only one indoor heating or cooling unit to provide treated air for a zoned central air conditioning system. If you prefer to use a ductless heating and cooling system, you may need to buy more than one outdoor unit in order to complete zoning. While buying more than one unit can seem daunting, it is important to remember that an efficient, zoned air conditioners will pay for itself over time.
Zoned Air Conditioners come with benefits
Over the years, we have seen increase in demand for Zoned air conditioners from homeowners and business owners in Adelaide. We believe the popularity is based on it efficiency and the fact that if give you the absolute freedom to choose where to cool while you save some money.
Thanks to the flexible options that they provide, zoned heating and cooling systems can increase your overall home comfort and ensure that everyone feels great in their own space. Of course, zoned air conditioners can also help you control energy costs by eliminating the need to heat or cool unused rooms.
When you opt for a zoned air conditioner, your benefits are not limit to:
Lower monthly energy bills
A more comfortable indoor environment
Less wear and tear on your system
By connecting your zoned air conditioners with programmable thermostats, you could save up to 30 percent more on heating and cooling costs. When it's time to upgrade your system or if you are building a new house, you definitely want to consider customizable, energy efficient air conditioning system.
Search for a local expert in air conditioner
After a very long day at work or out and about, what we all want and need is the maximum comfort and retaliation when we return home. This is every home owner's top priority. We all want to enjoy the comfort of our home. At Rite Price Heating & Cooling, we are here to help you enjoy total comfort by pairing you with the best air conditioning professionals in your area. We have stores one all the major suburbs in Adelaide. If you live in Adelaide, one of our friendly contractors is standing by to take your call. Call us on 1300heating or 1300cooling today.