Hitachi Split System
---
Mitsubishi Electric | Samsung | Toshiba | Carrier | Hitachi
Simple Comfort … even before you get home with wall split system air conditioning.

Easy to use LCD Remote Control
Keeping your home at the right temperature couldn't be easier. The handy infrared remote control allows you to accurately and easily select your desired room temperature from your armchair. All commands are shown clearly on the LCD display, while a smart system of one-touch buttons allows you to select the perfect temperature with ease.
But why wait until you get home
you can set the temperature and timer before you go out, so you'll come home to comfort no matter what the temperature's like outside – what could be better?
Key Features
Easy control with the Auto/Cool Heat and Dry settings
Quiet and comfortable Night set back mode
Always comfortable with fan speed control High/Med/Low/Sleep/Auto
Comfort in the whole room with Auto Swing Lourve control
In control with the 24hr timer
Cosy heating with the Hot Start function
Quick comfort with the Rapid Start Up Inverter compressor control
Commercial option of wired remote and central controls for controlling multiple units
Reliable comfort from the Auto restart
Multizone – affordable Comfort for your whole home wall split air conditioning.
Enjoy a flexible whole home solution with a Hitachi wall split air conditioning Multizone
Now you can enjoy the benefit of ducted air conditioning without the cost. Our Multizone – Inverter Multi Split system offer a simple, cost-effective solution for your entire home.
You can heat and cool your house from a single outdoor unit and use central temperature controls without needing ceiling or under-floor space for ductwork.
By combining a range of wall split air conditioning, cassette and ducted components, Multizone – Multi Split system can be installed in buildings with concrete slab floors and cathedral ceiling are concrete slabs.
Plus, Multizone – Multi Split system uses easily concealable refrigerant piping so it won't affect the interior of your home.
This flexible system can be configured to suit a wide variety of building designs.
Key Features
Easy to use controls.
Compact indoor unit for that smaller space.
Long lasting with outdoor coil anti corrosion treatment.
Floor Standing Split system
Superior technology from the ground up
Compact and extremely efficient, Hitachi's inverter floor-standing split system air conditioners are ideal if you want to position your unit at floor level – either by preference or because you wish to avoid using a wall mounted unit on an apartment common wall.
The units efficiently distribute air right across your whole room. The Power Active Module(PAM) Inverter system minimizes power losses and ensures efficiency even when temperatures drop to -15 degrees. Plus, with the Twin Inverter rotary compressor, you can be assured of a smoother, quieter operation.
Add Cooling to your Heating
Hitachi's floor standing split system is the perfect fit for your fireplace or ideal when replacing a gas heater.
It can even be semi-recessed into the wall. So you can enjoy heating and cooling from the one efficient unit.
Key Features
Compact indoor unit for that smaller space.
Easy to use controls.
Long lasting with outdoor coil anti corrosion treatment.
Clean air from the washable antibacterial filter.
The Perfect blend of innovation, technology & comfort for your home.
wall split system air conditioning for your home is all about comfort. No matter what Australia's harsh climate can dish out. From summer scorchers to winter chills, Hitachi DC Inverter split system air conditioners offer the best possible levels of comfort.
They are the smart and affordable way to cool and heat everything from single rooms to large spaces in today's open-planned homes. They're discretely good-looking too, with a range of innovative features that will work brilliantly in your home. Features like Hitachi's new DC Inverter Vector control mean you'll benefit from enhanced efficiency and reduced running costs.
Helping you choose the right unit for your home
To ensure maximum performance and optimum operating economy, it is important to choose the right wall split air conditioning system for your space.
This brochure has been designed to make that process easier, by looking at the different rooms found in every home and matching them to the units which will make them more comfortable.
Operating range
Hitachi's wall split air conditioning systems have a wide operating range, cooling and heating from -15 degrees to 46 degrees. that's got you covered for all seasons.
Breathe easy with Nano – Titanium Air Purifying Filter
Hitachi wall split air conditioning Nano – Titanium filters are designed to substantially reduce bacteria, prevent mould growth and deodorize the air distributed by your air conditioner.
With up to 99.9% of bacterial particles prevented from traveling through the filter, your family can enjoy a cleaner, healthier living environment.
Choice Magazine's large wall split air conditioning system of the year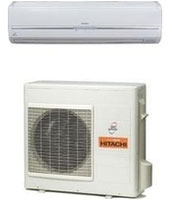 The Hitachi range of DC Inverter Wall Split System air conditioners have been developed to provide exceptional comfort, easy operation, substantial power savings and full automatic control for homes, apartments, shops and offices.
The Hitachi DC Inverter Wall mounted Split System air conditioners are designed to offer the best possible efficient and effective comfort at the touch of the button, even under extreme outside temperatures. Selecting the most suitable system is key to maximising performance, optimising comfort and minimising energy consumption.
The new DC Inverter vector control in all models generates the same rate of power within the compressor with a reduced voltage supply, offering less running current therefore increasing efficiency and reducing running costs compared to previous models.
Hitachi's original pre filter covers the entire air inlet to prevent dust and other particles from entering. A nano titanium coating on the surface of the filter also captures and neutralises odours and bacteria. Even oily particles are removed with a wipe without using water for easy cleaning.
Contact us now for your free in-home quote on Wall Split Airconditioning