Mitsubishi Air Conditioner
| Mitsubishi Electric | Toshiba | Carrier | Actronair | Braemar |
About Mitsubishi air conditioner
When it comes to comfort, efficiency and durability, Mitsubishi split system has a distinct advantage over the opposition. It's called MEQ – Mitsubishi Electric Quality, simply put it is a superior standard. While other wall split system may meet stringent industry standards, Mitsubishi split system continually strives to exceed them. MEQ delivers air conditioning systems at the leading edge of technology that operate efficiently in extreme weather conditions, year in, year out, keeping you cool in summer and warm in winter.
MEQ has three important advantages: Comfort – Mitsubishi air conditioner has created products that are designed to provide you with exceptional comfort in your home, all year round. Efficiency – We strive for the perfect balance of performance, reliability, low power consumption and a long operational life span for all our products. The result is an air conditioning range that is rated amongst the best in the industry in terms of design, quality and energy efficiency. Durability – We subject the indoor and outdoor units of all our systems to rigorous durability testing, which includes harsher temperature extremes than are likely to be found anywhere in the world. This allows us to produce higher quality products that protect your investment through years of reliable service.
Simple comparison of air conditioner operation control with and without an inverter.
Increasing the compressor motor speed by controlling the operation frequency ensures powerful output at start-up, and brings the room temperature to the comfort zone faster than units not equipped with an inverter. Hot rooms are cooled, and cold rooms are heated faster and more efficiently.
Room Temperature Maintained
The compressor motor operating frequency and the change of room temperature are monitored to calculate the most efficient waveform to maintain the room temperature in the comfort zone. This eliminates the large temperature swings common with non-inverter systems, and guarantee a pleasant, comfortable environment.
Impressively low operating cost is a key advantage of inverter air conditioners. we've combined advanced inverter technologies to achieve a synergistic effect that enables improvements in heating/cooling performance efficiency. Better performance and lower energy consumption are the result.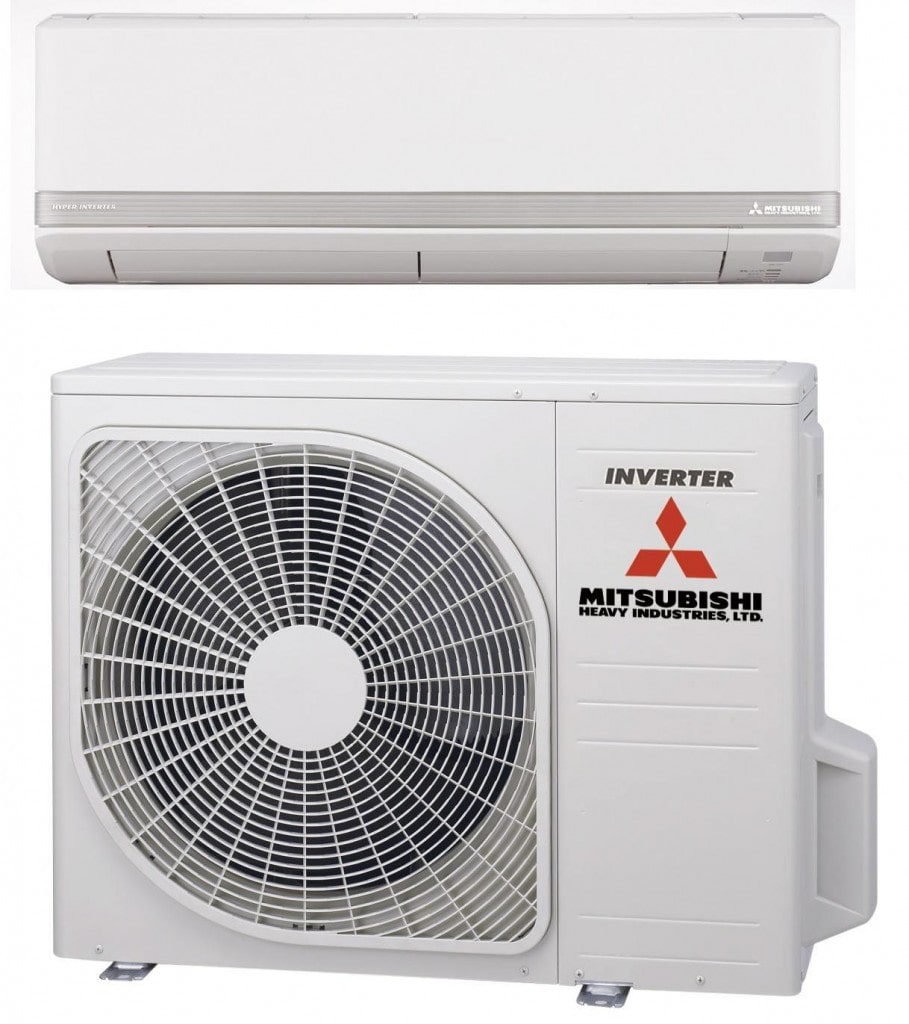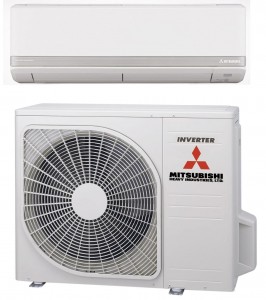 Mistubishi Split systems allows you to air condition your home without having to install the indoor units on your wall, making your home look neat and tidy.
The Mitsubishi air conditioner story:
Our commitment to quality, service, research and development has helped us gain a leading position in today's marketplace.
Mitsubishi split system have a proud history in the manufacturing and supply of leading edge electrical and electronic equipment for both domestic and commercial use. Our efforts to make indoor life more comfortable began in 1921, with the introduction of our first electric fan which became an instant hit. Some 10 years later we began to manufacture coolers, which were just as popular. Since then our understanding that technology is the driving factor of change in our lives has seen us become a world leader in energy efficiency air conditioning systems. However our development of breakthrough technologies and products is not just restricted to heating and cooling. Since 1980 to the present day the pace at which Mitsubishi air conditioner has introduced and refined products that benefit society, industry and individuals, has been nothing less than astonishing. These technologies include the world's first large scale LED Screen for sports arenas, the world's largest CRT television screen for the consumer market, the world's first spiral escalator, the world's fastest elevators, the antenna technology behind the world's first in-flight internet service, solar cell technology and much more. Today Mitsubishi Electric wall split system is a global giant with operations in over 35 countries, with more than 97,000 employees. Our commitment to quality service, research and development has helped us gain a leading position in today's marketplace in a wide variety of areas including heating, cooling and air conditioning. Mitsubishi Electric's wall split system today technology provides climate controlled comfort wherever you live, work and relax. Whether it's consistent heating and cooling for the home or office, Mitsubishi Electric wall split system offers you state-of-the-art technology that is quiet, simple to use, reliable and above all, energy efficient. High efficiency Mitsubishi Electric reverse cycle inverter heat pump air conditioning units featuring stylish design and ultra quiet operation. We know you won't be disappointed. Read more about air conditioning on our home page.
More Advantages with Mitsubishi Air Conditioners
JOINT LAP DC MOTO
Mitsubishi air conditioner has developed a unique motor, called the "Poki-Poki Motor" in Japan, which is manufactured using a joint lapping technique. This innovative motor operates based on a high-density, high-magnetic force, leading to extremely high efficiency and reliability.
MAGNETIC FLUX VECTOR SINE WAVE DRIVE
This drive device is actually a microprocessor that converts the compressor motor's electrical current waveform from a conventional waveform to a sine wave(180 degree conductance) to achieve higher efficiency by raising the motor winding utilization ratio and reducing energy loss.
VECTOR-WAVE ECO INVERTER
This inverter monitors the varying compressor motor frequency and creates the most efficient waveform for the motor speed. As a result, operating efficiency in all speed ranges is improved. less power is used and annual electricity cost is reduced.
Features
Elegant stylish design
High efficiency inverter saves energy
i-save Mode
Ultra quiet operation
Quick clean
Anti-allergy enzyme filter – standard
Catechin filter
24-hour timer
Auto restart – after power failure
Optional extras including centralised controller,group controller,M-NET connection and connectivity to MXZ multi-split system outdoor units.
The MSZ-GE Series is a popular choice of split system air conditioning providing convenient features and reliability. The series is also available in air conditioners up to 8 kW. If you are looking for air conditioning for small rooms, consider the MSZ-GE25VA 2.5 kW Mitsubishi air conditioner.
Other great reasons to choose Mitsubishi wall split system
Elegant stylish design – features a simple ergonomic square shape and pure white colour that blends in with a greater range of interior designs. High efficiency inverter saves energy – advanced inverter technology gently increases or decreases power to suit the prevailing conditions reaching the desired temperature quicker, more efficiently without severe temperature fluctuations. i-save Mode – the "i-save" Mode is a simplified setting function that recalls the preferred (preset) temperature at the press of a button on the remote controller. The function ensures the most suitable air conditioning settings are used contribute to reduced power consumption. Ultra quiet operation – operates at an incredible 19 dB(A) (MSZ-GE25/35) in quiet mode and yet still maintains a comfortable indoor climate. Quick clean – air supply louvre is easily removed to allow fan to be cleaned, which improves operating efficiency. So, if you would like a FREE home visit and quote, then call a member of the friendly Rite Price heating and cooling team. We look forward to hearing from you soon and solving your heating and cooling needs. Contact us now for your free in-home Mitsubishi air conditioner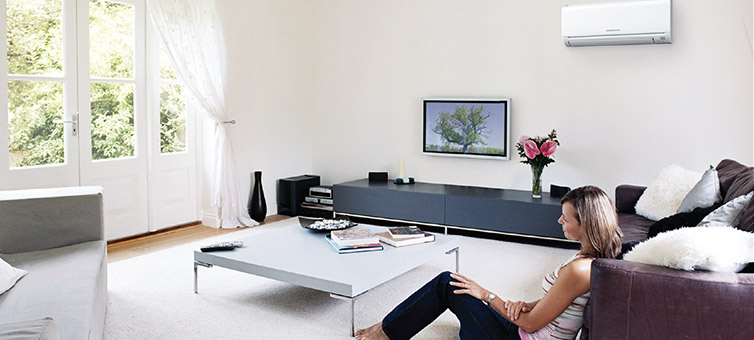 Inverter Technologies
INVERTERS – HOW THEY WORK
Inverters electronically control the electrical voltage, current and frequency of electrical devices such as the compressor motor in an air conditioner. They receive information from sensors monitoring operating conditions. and adjust the revolution speed of the compressor, which directly regulates air conditioner output. optimum control of which directly regulates air conditioner output. optimum control of operation frequency results in eliminating consumption of excessive electricity whilst providing the most comfortable room environment.